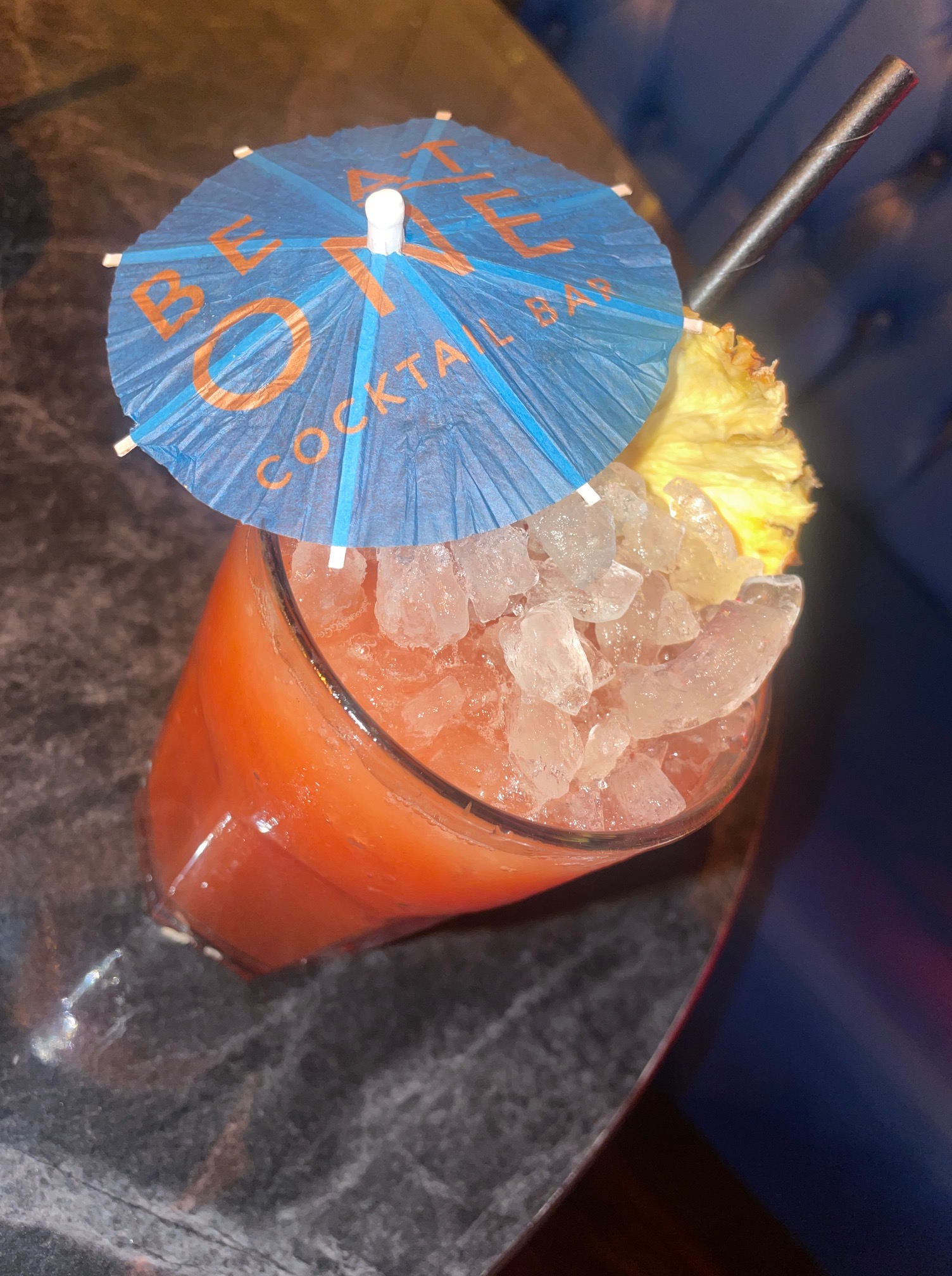 Food&Drink writer Joi Foote reviews Be At One's new range of tasty cocktails, claiming that visiting your nearest Be At One should be a priority this summer 
One of the UK's leading chains of cocktail bars Be At One has introduced 11 new drinks to their already extensive line of cocktails, just in time for summer. The nationwide rollout will see the likes of Raspberry Beret, Pretty Whisky Business and Heatwave coming to a bar near you. 
I would be lying if I said I was not excited to partake in some daytime drinking, especially considering the heatwave we are currently experiencing in the UK. Here I tried just five of the new cocktails on offer and ended my time at Be At One by taking on their new shot 'Myst Salted Caramel'. 
Whether you're looking for your next night out or like me, are in need of some daytime fun, I'm certain that visiting your nearest Be At One should be pretty high on your list of things to do. 
Raspberry Beret (£10)
So, I thought I would start with what quite possibly could be my new favourite drink. The Raspberry Beret went down a treat so much that I went in for round two. The drink is made up of the Swedish vodka Absolut Raspberri, complemented with a Chambord Black Raspberry Liqueur, Blue Curaçao, cranberry, raspberry, lemon, and lemonade. As a drink that was even recommended by the bar staff on shift, it surely was not one I was ready to miss out on. 
The only way I can describe the taste is both sweet and sour, but you know what they say: opposites attract. The lemon juice complimented this cocktail so well and allowed for a refreshing drink, perfect for the hot weather. Not to mention the sprinkle of dried raspberries on top that gave it an Instagram-worthy look. There is no doubt I will be returning just for this cocktail alone. 
Sunshine (£10)
The next drink we indulged in was Sunshine, in what can only be described as a taste of summer. Whilst I was told it had a taste similar to that of a smoothie, this is not a description I myself would use. That being said, I invite you to try it and see what you think. 
This is one of the tequila-based cocktails, using the Olmeca Altos Blanco tequila paired with a variety of fruits including strawberry, mango, orange, and passion fruit. You're instantly hit with the fruit on your first taste followed by the tequila that comes through at the end. The umbrella in the cup was also a nice touch and added to the summer vibes the drink already gave off. 
White mocha (£10.60)
An espresso martini is a drink as old as time and Be At One's take on the timeless classic is definitely one for the coffee lovers. The Cazcabel coffee tequila is paired quite nicely with the Mozart white chocolate cream liquor that has a smooth feel and texture. As someone who tends to prefer their coffee over ice and hidden behind several pumps of caramel, I thoroughly enjoyed this drink.
Delicious As (£10.60)
I think it is only right that I preface this by stating that Delicious As was not particularly my favourite cocktail. This drink is described as a 'twist on a fruity classic', featuring both the 30/ 40 Calvados and Rinquinquin peach wine. If you are looking for a drink that is more on the stronger side, then this is certainly the one for you. This was one of the easier on the eye drinks, with a frothy top and the perfectly placed dried fruits, if only it tasted as sweet as it looked. 
Bananarac (£10)
Again, like Delicious As, whilst this may not have been one of my favourites, it is very much suited to those looking for a cocktail that really packs a punch. The banana-infused Jameson Whisky mixed with the Vanilla and Orange bitter, whilst giving off a sweet and fruity fragrance, is no match for the generous amounts of alcohol in this drink alone. 
Myst Salted Caramel (£5 per shot)
So, we thought we would end the day by taking on their brand-new tequila shot. The caramel flavouring was not too overpowering, and it went down really smooth, both of which are bonuses in my book. Although we were missing our little orange wedge to finish off the look, this drink is a 10/10 in my eyes. 
Be At One also has a daily happy hour that sees you get two of the same cocktails, and only the cocktails, for the price of one. These fall from 4:30pm – 8:00pm on all days apart from Saturday which is from 2:00pm- 6pm.
---
Looking for more places to enjoy a drink this summer? Check out these reviews: