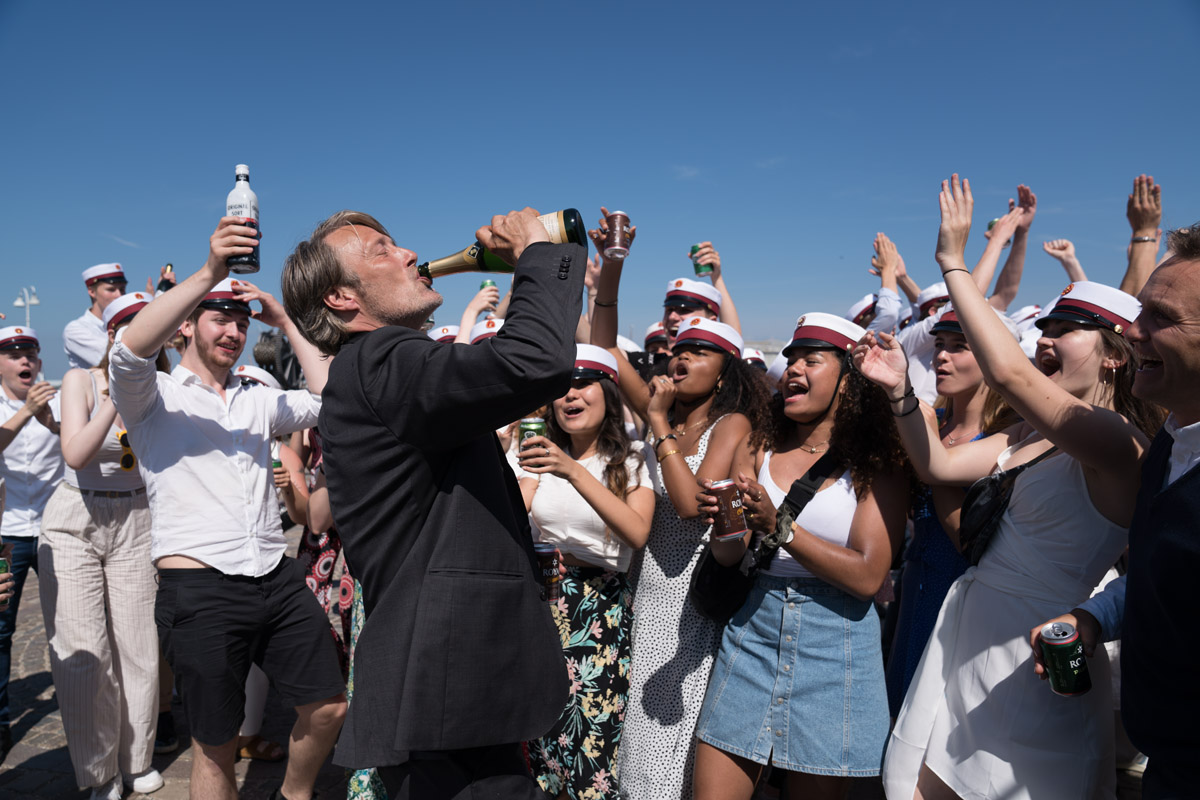 TV Editor Josie Scott-Taylor is impressed with Thomas Vinterberg's Another Round, praising its raw and refreshing portrayal of human life
Content warning: this article contains discussions of excessive alcohol use and grief
Full of tragedy, comedy, and wild drunken nights out, Thomas Vinterberg's Best International Feature Film winning Another Round seeks to 'celebrate life' and explore the fine line between boredom and being alive again. Norwegian scientist Finn Skårderud once suggested that humans are born with a blood alcohol level that is 0.05% too low, which four friends and colleagues endeavour to investigate in a desperate attempt to better themselves and find true happiness. The original Danish title, Druk, translates directly to 'binge-drinking', suggesting that their experiment does not go exactly as planned.
Drinking is a huge part of Danish culture, with a 2019 study discovering that a staggering 30,000 young people in Denmark have an alcohol problem that requires some form of treatment. Another Round reveals a snippet of this culture to audiences in the first five minutes of the film, which shows the joy and exhilaration of the students partaking in a somewhat peculiar drinking game, which involves racing around a lake, stopping at every bench and downing a beer until the case is empty.
Mads Mikkelsen plays Martin, a tired and bored history teacher and ex-jazz ballet dancer – Mikkelsen actually used to be a gymnast and dancer, adding a more realistic touch – whose marriage is drifting dangerously close to an empty and loveless territory. His students find him dull and soulless, and his kids seem uninterested in conversations with him that consist of more than four syllables. He and his friends become increasingly frustrated with their stagnant lives, until one day they decide to begin a 'science experiment', involving consuming just enough alcohol on weekdays to allow their blood alcohol levels to reach 0.05%, in order to achieve their 'maximum potential'. The rules of the experiment are strict: no drinking on weekends or after 8pm. However, 0.05% quickly becomes double that, then triple, and so on, until chaos ensues. Relationships crumble, careers become endangered and blood is shed.
The film is more personal than it may seem on the surface, as it is dedicated to Vinterberg's late daughter Ida, who tragically passed away in a car accident in 2019, just four days into shooting. Ida was supposed to star in the film as one of Martin's children, and parts of the film were actually shot at her high school, meaning her memory is woven throughout the entire picture. He also dedicated his Oscar win to Ida, emotionally recounting her excitement and enthusiasm after reading the script, telling viewers that he 'ended up making this movie for her as her monument'. She felt seen by the film, so in his grief, instead of simply making a film about alcohol, Vinterberg decided to create a more nuanced final product. The finished version of Another Round perfectly encapsulates the process of trying to come to terms with your own life.
Vinterberg manages to capture the vulnerability of the bored and restricted human minds in this film, aided by Mikkelsen's standout performance and a memorable soundtrack. The stark contrast between sober Martin and 0.05% blood-alcohol Martin demonstrates the allure of alcohol, perhaps justifying why the experiment pans out the way it does: it fills a huge, gaping hole in the lives of the four men. The void the friends believe needs to be replaced by alcohol is actually screaming out for more fulfilling relationships and connections, but the excessive drinking allows them to cleverly avoid coming to this realisation until it is perhaps too late.
The moments of humour add to the film's realism, and alongside the raw and authentic dialogue, a thoughtful and true-to-life depiction of human behaviour is created. Vinterberg manages to do this without using an underlying moral message, instead leaving Another Round and its ambiguous ending open to interpretation. A film that, on the surface, seems to be about Denmark's alcohol problem actually goes much deeper into the human psyche.
Verdict:
Mads Mikkelsen steals the show in this performance of a lifetime, and Vinterberg masterfully succeeds in making audiences think about how content they are in their own lives, without preaching or patronising. It teaches us to embrace life despite the tragedies we may face, which is precisely what Vinterberg sought to do in memory of his late daughter. Another Round is refreshing, captivating, and definitely worth seeing in cinemas.
9/10
Another Round is out now in cinemas
---
Looking for more Oscar winners from this year? Check out these Redbrick Film articles: