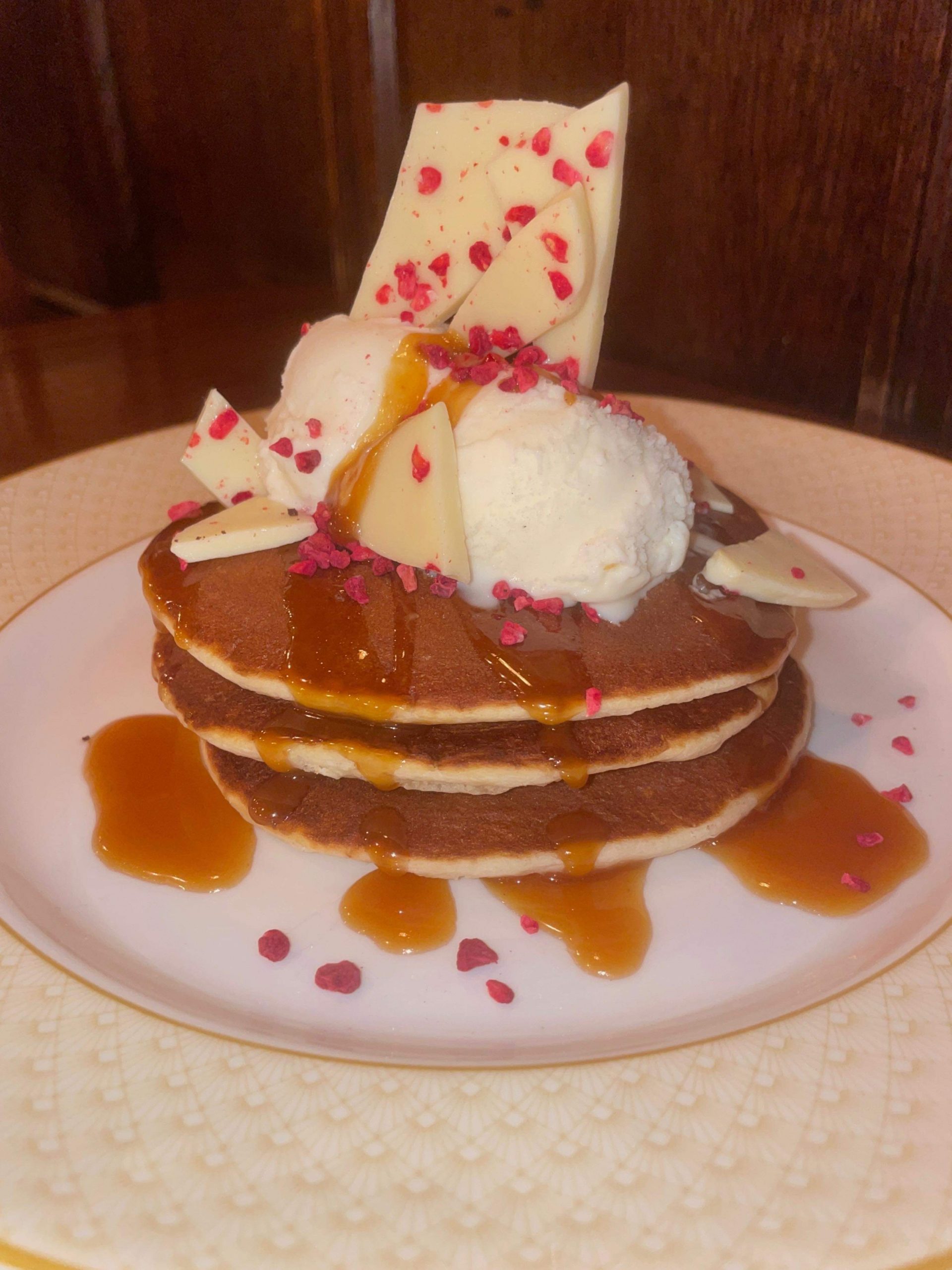 Food&Drink writer Jasmine Sandhar reviews Cosy Club's dinner, drinks and limited-edition Pancake Day menu
Standing proudly at the top of Bennetts Hill is a beautiful pillared building that looks like it has come straight from Greece. Once the old headquarters for the Birmingham Banking Company, it is now home to one of the many Cosy Club restaurants dotted around the country. With a dark and romantic atmosphere with endlessly high ceilings and long lanterns covered in art deco patterns, it feels as though you have been transported back in time to a 1920s speakeasy. With modern covers of old-timey jazz music playing in the background, we found ourselves swaying along to the catchy tunes as we dined. 
The space is split into two sections. To your right is a bar with cushioned, vintage leather armchairs, and to your left, a little further in is the restaurant with dark wooden tables meticulously laid. Both areas were packed with people looking as though they were having a delightful time. As we waited to be seated, the buzzing atmosphere was certainly promising. 
To begin, we decided to go for the two for £11.95 cocktail deal (4pm-8pm, Sunday-Thursday), which my friend and I thought was an absolute bargain and perfect considering our party size. I opted for the English Garden (usually £8.25) which has a dry gin base refreshingly paired with tones of apple and elderflower. Perfectly balanced, it wasn't too sour or too sweet. My guest chose the Cosy Colada (usually £8.50), which stayed true to the traditional pineapple and coconut flavours of a Pina Colada, but was interestingly pink in colour. Both cocktails were truly impressive in terms of taste, managing to retain the flavours of the alcohol rather than falling into the all too common trap of tasting too much like syrup or juice. Likewise, the presentation was excellent and demonstrated a real skill from the bartenders, with our drinks being served in tall glasses with pretty garnishes. 
The menu was largely split between the choice of burgers or salads, so we decided to go for one of each. With main meals arriving quickly, the star of the show was the Dirty Chicken Burger (£14.95) which was huge! It came with a side of fries and slaw, making it certainly worth the price tag. Stacked with a gorgeous piece of deep-fried chicken, a mac and cheese fritter and generous helping of streaky bacon, this burger is not one for the faint-hearted (I struggled to eat the whole thing). My only critique would be that it could have been lightened with the addition of a little more salad. The sharpness of the slaw helped to balance the heaviness of the burger, and the fries? They were too good to leave behind.
Our other dish chosen was the Burrata & Warm Harissa Baked Squash Salad (£13.95). The dish, light and modest in size, had clearly fresh ingredients. The addition of fruity cranberries and pomegranates were welcome surprises. While the meal was tasty, we felt that it missed a little crunch. Despite claiming to contain crispy chickpeas, the textures of all the components were rather soft, perhaps missing the odd crouton or addition of sunflower seeds that could have given the salad that extra 'oomph'. 
Given that Shrove Tuesday was fast approaching, we had to try out the special Pancake Day Menu that was on offer. We chose to indulge in the signature Black Forest Gateaux Stack (3 for £9.95) and then decided to be adventurous with the Build Your Own Pancake Stack option (3 for £8.95), selecting the three free toppings of salted caramel sauce, white chocolate bark and vanilla ice cream. 
Upon arrival the stacks were picture perfect. They had a nice, even, rounded base with plenty of sauce drizzled around the plates. The pancakes themselves were a thick, golden and fluffy American-style, completely melting in your mouth with every bite. Inundated with chocolate and the salted caramel sauce, it was a rich experience. There's certainly an art to the Build Your Own Pancake experience. We found that returning again, we'd go lighter on the chocolate, and (by fault of our own design) be sure to spread the filling throughout all of the layers – rather than dumping it all on top! 
Absolutely stuffed (and admittedly now feeling a little sick), we had a great experience at the Cosy Club. Though the food is on the pricier side of its competitors such as The Lounges chain, we did enjoy our meals. However what set Cosy Club apart was the service which was beyond excellent. Our server, Ellie, with her lovely, light-hearted small talk all throughout the evening, ensured that we were constantly attended to at all times, making for the most pleasurable dining experience possible.
---
Hungry for more? Take a look at some other reviews!