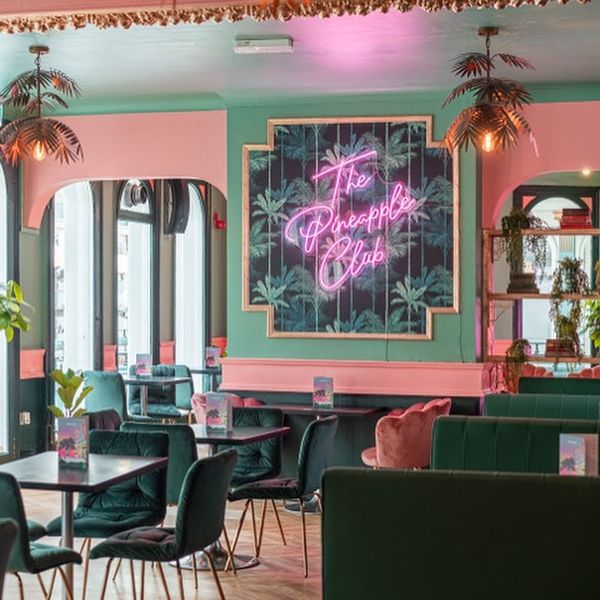 Food&Drink Writer Charley Davies shares her experience of the Pineapple Club press event
Attending The Pineapple Club's Christmas press event this Sunday supplied a juicy end to a dry week of completing assignments. Located upstairs in the Great Western Arcade, this independent cocktail bar hits the sweet-spot with a fruitful menu and friendly staff, as well as weekly live music and bottomless brunches, all to be enjoyed within only a short walk from New Street station.
The Pineapple Club opened in September 2020, but when it was hit with November's lockdown, it closed until the May 2021 re-opening. The Beverley Hills aesthetic holds a lot of appeal. Bubble-gum pink paint meets palm-leaf wallpaper, fake plants and moss-green booths and chairs. Oh, and we must mention the cute features like the LED angel wings, singing to be photographed.
From the offset, The Pineapple Club is the perfect place to meet friends, colleagues or family to escape the frosty autumn nights.
Redbrick's Digital Editor Tamzin Meyer and I spent part of the evening tasting some of the Club's cocktails from their Christmas menu. Our personal favourites were the 'Alpine Hot Chocolate,' made with alpine botanical liquer, and the punny 'Jangle-bells,' which was served with a spice flower and tasted like an apple crumble in cocktail form. Alongside the Irish Coffee, for anyone wanting a caffeine fix in their cocktail, these listed drinks were served warm and can even be made vegan.
Tamzin and I were then introduced to the Club's alcohol selection in their developing bottle shop on the ground floor. We learned about their collaboration with Trinity Brewery and the British Bourbon society, and the aim to double their personal selection of craft beer by next year and become Birmingham's optimum seller. As this happened, we sampled daiginjo sake with vegan sushi, then Noix Saint Jean sake with Cornish cheese. Combinations such as these reflected the desire to curate a collection of local and international brands.
For food, we dabbled in small plates such as stuffed peppers and pigs in blankets. Hearing that the chef was Colombian explained why chorizo sausages were served, and these were perfectly complemented by homemade apple sauce. Though we arrived on empty stomachs, the food (plus drinks) sufficiently satiated our hunger needs. As someone who is gluten intolerant, I was satisfied by having a choice of three options, though slightly disappointed that all three contained meat.
Something which really helped with creating the Club's fun yet relaxed ambience was the live music supplied by musical and real-life partners, Rachel and Elliot. Their covers to well-known hits like Ed Sheeran's 'Shape of You' created a sense of down-to-earth familiarity in what was, to us, a reasonably unfamiliar area of Birmingham. The couple perform every Sunday at The Pineapple Club, to coincide with the weekly bottomless brunches served.
To conclude, we would recommend The Pineapple Club to anyone looking to enjoy a fun new cocktail bar. Though it immediately appears unassuming within the beautiful Great Western Arcade, the bar is certainly worth a sip.
---
Check out these articles for inspiration on places to visit for food and drink: