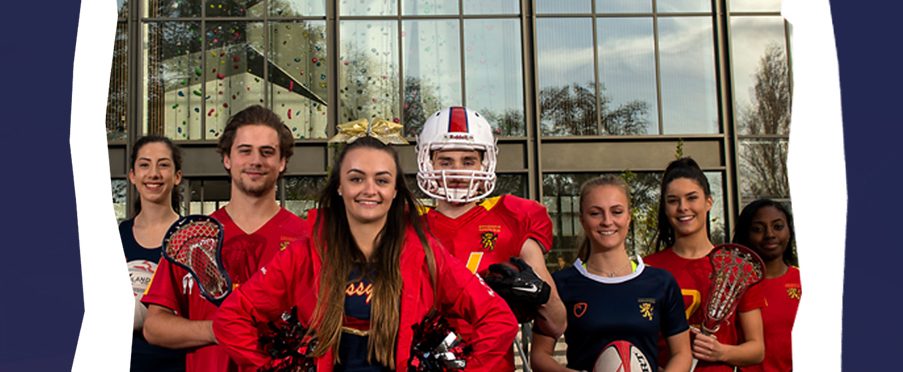 Over December, UB Sport's 'Safe Sport Champions' Programme is recognising the individuals whose efforts have allowed sport to continue during the pandemic
In the lead-up to Christmas, UB Sport will be celebrating the 'Safe Sport Champions' of the University of Birmingham. These individuals have gone above and beyond to keep student sport alive over a term like no other, and their dedication, enthusiasm, and selflessness deserve recognition. Redbrick Sport will be keeping track of the winners as they are announced, finding out just what makes them so special.
---
Day 23: Luke Gunn
Luke Gunn, Head of Athletics at UoB, has not let the pandemic prevent his squad from training and competing this year. Back in July, he successfully lobbied for the reopening of the university's athletics track, one of the first facilities on campus to resume services after the first national lockdown. With the British Championships taking place in September, Gunn's efforts ensured UoB's best athletes could use the summer to prepare for their competitive return.
In August, as the academic year drew closer, Gunn took 12 members to Font Romeu for a training camp. Courtesy of his meticulous planning that travelling during the pandemic demands, Gunn gave students the opportunity to hone their craft against the picturesque backdrop of the Pyrenees.
Gunn did not let up when summer ended, ensuring the club's transition into a new season was as smooth as possible. In situations where restrictions have prevented in-person training, his Zoom conferences on nutrition and RED-S (relative energy deficiency in sport) have been informative and offered members a welcome distraction from the chaos of COVID-19.
Whatever hurdles have confronted UoB Athletics during 2020, Gunn has found a way past them. – Kit Shepard
What students said about Luke:
'Luke has been an irreplaceable asset this year when it comes to getting our athletes back training.'
'Luke's optimism and determination for athletics to continue ensured that we all had the best experience possible in spite of the circumstances.'
Day 22: Liam Snook and Sian James
Swimming Co-Presidents, Liam Snook and Sian James have worked tirelessly to ensure the smooth and safe running of the club this term, making sure members can still experience all that UoB Swimming has to offer despite the pandemic and the restrictions in place because of it.
James was instrumental in conducting trials for the club's competitive and development teams at the start of this team, putting in place all the correct measures needed to make them COVID-secure. Such measures included allocating a lane for each swimmer as well as a specific space in that lane, keeping detailed records of all participants during trials and training sessions.
Snook has organised regular virtual swim meets with clubs across the country in order to keep the club going and provide regular contact and opportunities to their members throughout these tough times. He set up the University Super league, a performance league allowing UoB to compete with other top ten Universities from across the UK, whilst James set up something similar at the development level: the Northern Development League. Their hard work and dedication has ensured all members were still able to have a great and safe term 1 experience with the club. – Lauren Coffman
What students say about Liam and Sian:
'The procedures they both put in place helped many swimmers stay training and safe through this most difficult time.'
'Sian and Liam worked tirelessly to ensure all groups were able to attend Zoom calls to clearly set out procedures and training in line with Swim England Guidance.'
Day 21: Becki McWhinnie
With students returning to Birmingham for the 2020/21 academic year, student sports clubs were well prepared to welcome new and returning members into their fold. Becki McWhinnie, UB Sport's Club Development Manager, was a key player in orchestrating the safe resumption of university sport. Working diligently behind the scenes, Becki ensured that all the necessary safety measures were in place to allow students to play sport upon their arrival. With the uncertainty of the pandemic persisting throughout the first semester, Becki has had to deal with issues ranging from membership queries to risk assessments, whilst having fewer staff to assist her. Looking after all 55 sports clubs, Becki deserves recognition for helping both indoor and outdoor sport to take place in one form or another because it simply would not be possible without her. – Jack Wooldridge
What students say about Becki:
'She has acted quickly with there being so many changes taking place to help the students gain access and train as safely as possible.'
'Badminton have managed to run 5 weeks of training from the start of term…Without Becki's support this would not have been able to happen.'
Day 20: Lucy Green
Lucy Green of UoB Squash has been essential to keeping the club running during the pandemic. Since the start of the academic year, she has conducted a weekly online circuit session, before adding new forms of virtual training, including a yoga class, once the second national lockdown began.
The classes have boosted the health of members, allowing them to stay in shape a find some valuable headspace amidst the chaos of the pandemic.
'I am really honoured to have been recognised,' Green told Redbrick. 'I am super pleased that I have made such a positive impact on the members of my club this term.
'I am very thankful for the support from all the members of the club, especially our committee team and coaches, during such a difficult time for everyone.' – Kit Shepard
What students say about Lucy:
'Lucy has gone above and beyond, since the start of term, to support the return to training.'
'These sessions have had an extremely positive impact on the physical and mental health of all those who have attended.'
Day 19: Lottie Robinson
This term, UoB Netball has been lucky enough to have Lottie Robinson with them. Robinson has played a crucial role in enabling matches to continue in a manner that is COVID-safe and responsible.
She was also heavily involved in the organisation behind the scenes with this season's Campus League. Due to the restrictions in place, umpires were higher in demand than ever before. Robinson was able to provide overwhelming enthusiasm and motivation to the umpires that were stretched so thin.
Not only a great motivator at the scene of the action, Robinson has also been monumental in making the league possible at all. – Clara Morate
What students say about Lottie:
'Lottie helped motivate the umpires[…]by explaining the positive impact they can have on the experience of others.'
'[Robinson] helped provide a friendly atmosphere for the teams each week.'
Day 18: Matt Simmonds
UoB Hockey president Matt Simmonds has already achieved much for Hockey in the autumn semester; highlights of his tenure so far include a successful pre-season, weekly training sessions and competition at the highest level throughout the term. Though it was Simmonds' professionalism, especially when dealing with club stakeholders, which has garnered much praise from within the club.
With innately gifted leadership, Simmonds has coordinated his committee and fostered new skills within the club's hierarchy. As a result, Hockey has been able to make the best of a bad situation through athlete engagement, top-level competition and growth in participation, Simmonds is more than deserving of his nomination.
Simmonds told Redbrick Sport: 'it's a real honour to be nominated.
'It's been such a tough term for so many reasons and so receiving even the smallest bit of recognition is really welcomed.'
Forever humble in victory, Simmonds was keen to point out Hockey's fortunate position as one of few UB sports clubs able to continue playing competitive games since September. He also offered praise to the hard work of club coaches Chris Davis and Richard Chamber. – Timon Burford
What students say about Matt:
'He is a role model for sporting students and puts 110% into everything he does.'
'Professionalism…with natural leadership.'
Day 17: Steve Harris
Today's Safe Sport Champion is Steve Harris, an unsung hero whose efforts to keep sport going at UoB should not be underestimated. COVID-19 has thrown up new and unexpected challenges for all this year, and Harris has met these challenges head-on, to his credit. The day-to-day running of UB Sport is something that we take for granted, but this year, a difficult job has become an even tougher task. Harris' work to ensure that the things that kept university sport going, like signage or risk assessments, were done has been crucial and has not gone unnoticed by his colleagues. He has helped UB Sport prosper in these daunting times, and deserves the appreciation and plaudits from all those who have benefitted from his hard work this year. – Owain Pryce
What students say about Steve:
'His focused dedication, drive and passion are unparalleled.'
'Steve has gone over and above for student clubs this year.'
Day 16: Grace Leppard
With lockdown halting in-person activities, UoB Taekwondo's Grace Leppard has taken it upon herself to ensure training, socialising and fundraising continues. She has been praised as a friendly face for newcomers, being happy to answer questions and this has been key to encouraging more members to join despite the restrictions. Leppard has produced short training videos focusing on different techniques and daily tips to help members train at home.
Grace has also been involved with breast cancer awareness and involved the club in the UoB Uni Boob Team's Battle of the Sports, which has boosted club morale. She has also organised events over Christmas to keep everyone in the Taekwondo team connected over the holidays. – Dan Hunt.
What students say about Grace:
'Grace has taken it upon herself to coordinate multiple events within our club to keep training, socialising, and fundraising going.'
'[Leppard's] contribution to club cohesion and allowed us all to keep doing the sport we loved.'
Day 15: Hootan Parsapour
Throughout the struggles of the pandemic, the passion that Hootan Parsapour has for UoB Table Tennis has never faltered. Parsapour has shown his determination in the early starts, tape measure in hand, to ensure the club is following all relevant guidelines, as well as organising all set ups to maximise members' playing time. When the restrictions meant that table tennis had to stop for a while, Parsapour never dropped his head, and now his infectious positive energy is driving the club towards term two and the possibility of playing again. – Jasper Watkin
What students say about Hootan:
'Hootan's passion for table tennis and the club is clear.'
'He is always a pleasure to talk to!'
Day 14: Joanna Seifert
Joanna Seifert of UoB Lacrosse has seen additional responsibilities and commitments emerge during the pandemic. Seifert has not shied away from the challenge, going above and beyond to ensure the safety and well-being of her team-mates. This kindness and selflessness to others extends beyond her vigilance to the health and safety guidelines, as she offers a friendly face to anyone in need. Seifert has been instrumental in bringing the club closer together, which has been extremely valuable for the team. Communication relating to the pandemic, such as making sure members can anonymously inform the club if they develop symptoms, allows Seifert to make players feel comfortable. Her work has not gone unnoticed and has not wavered. Congratulations to Seifert who, since the start of a long and difficult term, has been a worthy Safe Sport Champion. – Clara Morate
What students say about Joanna:
'Joanna has been working hard since before term started to ensure training is safe and welcoming.'
'[Seifert] continues to act as a point of contact for anyone in the club who has any concerns regarding COVID-19.'
Day 13: Adam Copestake
Today's Safe Sport Champion goes to Adam Copestake from the university athletics club Cool Runnings. The award is well deserved as a result of Copestake's specific efforts to manage the club under Covid-19 ruling and use his technical skills to create a customised track and trace system for members. This meant that all of this term's runners, both new and returning, felt safe and secure when coming to training and attending group runs. Additionally, no one was made to feel pressured or intimidated in coming forward to report a positive case to committee as everyone was made confident through the system.
Not only did Copestake achieve all this in one term under the conditions of a pandemic, but this is also his first time as a coach for the club. As an introduction to coaching, Copestake had the extra difficult position of having to adapt whilst learning, but certainly came out on top under the pressure. It has also been mentioned the great the enthusiasm and encouragement this champion spread across to all the freshers, making sure they felt they could join no matter what skill level and even during such tough times.
It is clear how Copestake has gone the extra mile (pun intended) for the athletics club this term. By ensuring the safety of students and maintaining a positive and confident environment for training it is well deserved of Adam Copestake to take the crown for this one. – Rachel Higgins
What students say about Adam:
'Adam is dedicated in ensuring all new members to the club feel welcome and accepted, with his leadership skills evident at every session.'
'There isn't anyone at the Cool Runnings club more deserving of recognition for their hard work in ensuring a safe return to sport.'
Day 12: Sophie Prosser
Welcoming new members to sports clubs has been a difficult task this year, with the pandemic making socials, training sessions and even the annual Sports Fair a markedly more difficult task than usual. However, Karate president Sophie Prosser has gone above and beyond to rise to this hefty challenge, making the club a warm and welcoming place for all members.
Prosser ensured that taster sessions were as accessible as possible, meaning it was not just seasoned karateka that felt accepted into the club, but complete novices too. She has also often taught the beginners training this term, and has constantly strived to continue that welcoming atmosphere as a Sensei in these sessions.
Prosser has shown immense dedication and hard work in ensuring the club runs as smoothly and safely as possible in these difficult times. When in-person sessions have been able to take place, she has worked tirelessly to make training as COVID-safe as possible, including organising the dojo into small squares and creating sessions with more of a focus on individual work. Once lockdown hit, she has ensured that members could still attend sessions on Zoom that continued to push them and teach them new skills.
The work she has put into the club this term, to make it safe and accessible to as many people as possible, shows exactly why Sophie Prosser is a Safe Sport Champion. – Lauren Coffman
What students have said about Sophie:
'I am a sporting beginner and was upset that many sports did not run this year. I joined karate with no knowledge of the sport as Sophie was so lovely at the zoom sports fair.'
'Sophie is organised and hard-working and has inspired many new members despite such a difficult time.'
Day 11: Archie Hallett
Archie Hallett, Sailing's Development Team Captain, has kept the club on track, even though turbulent winds in the form of the pandemic has meant it has been far from plain sailing. Unable to have a thorough handover when the new committee came in, Hallett had to learn the role through his own intuition and acclimatize to the difficult conditions which the club found itself in.
Hallett has ensured that sailing sessions on Wednesday afternoons continue to be safe and fun, demonstrating excellent leadership and organizational skills. A game of COVID-safe sailing rugby was planned by Hallett, the last session before the second lockdown, which lifted everyone's spirits.
The club uses the reservoir and facilities at Bartley Sailing Club, located on the outskirts of Birmingham, and Hallett has worked well with Bartley's members to ensure university students can practice safe sailing on the site alongside them.
Reacting to the award, Hallett told Redbrick, 'I really appreciate the kind words for the effort that goes into the club as it has been a difficult change from being a member to running each session, but also one that's very rewarding.' – Jack Wooldridge
What students have said about Archie:
'He is good at organisation, taking initiative, and delegating tasks so we can get the most out of our sessions despite the limits of COVID.'
'He has been a real support and I know I can rely on him.'
Day 10: Fran Atkinson
While not all students are blessed with the ability to compete at BUCS level, every individual on campus deserves the opportunity to participate in university sport. It boosts physical and mental health, offers a chance to meet new people and, above all, is brilliant fun.
Fran Atkinson recognises what student sport can achieve, as demonstrated by her tireless efforts behind the scenes in netball Campus League. Neither ability nor whether a student's department has its own netball team matters to Atkinson, who has ensured that everyone has the opportunity to play in a welcoming, enjoyable environment.
A model team-mate and a friendly face to Campus League novices, Atkinson's work has helped students enjoy the benefits of university sport at a time when it is needed more than ever. – Kit Shepard
What students say about Fran:
'She has been especially kind to those teams who are new to Campus League.'
'She has enabled students to play Netball safely this term.'
Day 9: Dan Franco
As an assistant coach, Dan Franco has had to be adaptable in leading Ninjutsu through these unfortunate times. Franco prepared UoB Ninjutsu for socially distanced training, and helped to advertise the club and welcome new members.
However, Franco's greatest contribution arguably came during the second lockdown, when he volunteered to continue running sessions on Zoom. By transforming his conservatory into a makeshift dojo, he ensured that all members had the ability to continue training online.
Franco adapted martial art techniques that would typically require close contact or large amounts of space into forms that could be practised solo or with sufficient distancing, ensuring that there was never a halt to training.
Speaking to Redbrick Franco said: 'I love what we do as a club at UoB Ninjutsu, so I've been more than happy to find ways to share [training techniques] with our members.
'It has been a difficult year, but we have managed to keep going and I'm looking forward to getting back to normal.' – Timon Burford
What students say about Dan:
'He's gone above and beyond the call of duty to prepare, adapt and continue coaching Ninjutsu all year.'
'[Dan] has been a constant source of support for new members, with almost all our new members commenting on how welcome they feel.'
Day 8: Tom Drewett
Considering the close-contact physicality which rugby entails, any efforts in keeping the sport going during the pandemic should be applauded. That is what head coach Tom Drewett has done this year, and why he is a Safe Sport Champion.
The community aspect of rugby cannot be underestimated, and Drewett's dedication has been key to the club flourishing and attracting new players over the term.
With BUCS rugby being so important to the sport at UoB, the fact that Drewett has managed to enter two women's sides into the competition this season is a major success. Speaking to Redbrick, he emphasised the work of women's rugby captain Niamh Frost and her committee, who 'have been a credit to themselves, the university, and the club.'
Drewett was also keen to praise all club members, adding that 'the players and coaches have adapted to the ever-changing rules and restrictions outstandingly well.'
Though quick to commend others, Drewett's humility epitomises why he has been recognised.                                                                                                                                                                                       – Owain Pryce
What students say about Tom: 
'He will stop at nothing to help our club.'
'We would not have had such a successful intake and enjoyable club experience without Tom's dedication and support.'
Day 7: Pip Stewart
The pandemic has created huge dilemmas and obstacles for the women's hockey teams and Stewart has been determined in her unflagging work this year to allow all 12 hockey teams to return to competitive playing, as well as coordinating all six of the ladies' hockey teams. 'It's been a tricky term,' Stewart told Redbrick, 'but with support from the Campus League we have managed to offer every member regular hockey.'
One of the largest barriers presented by COVID was the financial one, and Stewart played a vital role in bringing in new sponsors, allowing positive development in these testing times by giving the club stability and assurance.
Even more impressively, whilst providing this foundation and help for her peers, Stewart has continued to play a part as an integral member of the Ladies first XI, competing at the highest level and inspiring all of those around her on and off the pitch.
'It's great to be nominated as we really have tried to give everyone the best experience despite the difficulties,' she added. 'We can't wait to get back next term.' – Jasper Watkin.
What students say about Pip:
'Pip has worked tirelessly over the last 6 months to allow all 12 hockey teams to return to competitive leagues.'
'Pip has led by example on the pitch.'
Day 6: Natalia Orgonova
Windsurfing Instructor, Natalia Orgonova gained plaudits for her implementation of a track-and-trace compliant booking system to ensure her sport can keep on running. She has also been praised for her introduction of women and non-binary sessions, which have aided inclusivity and made more members feel welcome and more confident in the sport. As well as this, Orgonova has collaborated with the sailing club to launch 'Girls on the Water', to create a community of women in water-sports.
Alongside beginner rep, Sam Birch, Orgonova has overseen huge developments within the club, with record numbers of participants developing from beginner to intermediate level despite severe time constraints. Orgonova also deserves Safe Sport recognition for her support of freshers this year, who have come to university in very strange circumstances, and helped them to feel at home. – Dan Hunt
What students say about Natalia:
'She really deserves some recognition for all the amazing things she does.'
'Natalia has been a key reason why I personally have felt confident in continuing to windsurf this year.'
Day 5: Dean Miller
Today's Safe Sport Champion is none other than Dean Miller from UoB Athletics. For those that don't run in the athletics circles, Miller has been instrumental in the implementation of a new system that has allowed over 100 people to continue training and retain some sense of routine during the pandemic.
Not only has Miller performed organisational and logistical miracles, he has also dedicated immense amounts of his own time to the continuation of his fellow runners' training, attending as many sessions as he can. In addition to his strategic wisdom, iron will, and dedication, Miller has also been a continuous source of motivation and enthusiasm for the whole club including its coaches, committee, and members of which have seen a sharp increase this year. It seems that Miller's physical endurance is able to match his continual reserves of optimism, dedication, and discipline, as a leader and now a champion. – Clara Morate
What students say about Dean:
'Without Dean's efforts, it would have been impossible for us to offer the level of training that we have done this term.'
'He has been a continual source of support.'
'Dean has been monumental in ensuring our endurance athletes have been able to get back to training.'
Day 4: Freya Bignell & Georgia Pexton
The Safe Sport Champion award provides something new for today as the title goes to a very special duo from the women's netball club. Freya Bignell & Georgia Pexton have gone above and beyond during these difficult times in sport, especially for teams like netball who have so many new prospects and high rates of interest coming each year. Despite this, these two managed to successfully organise trials for over 180 students which has enabled both a safe, comforting, and fun experience for all members this term.
Additionally, Freya and Georgia consistently kept up with Covid-19 ruling as they always make sure teams have sanitiser and monitor track and trace procedures as well as informing the coaches on anyone in isolation. The duo worked hard to maintain safety in training too and even without a BUCS league this season, kept competitive spirits high all in preparation for any positive changes next term.
At such a crucial time both girls' level of communication has been impeccable and not gone unnoticed. It is clear Freya and Georgia are highly deserved of this award and they have handled great responsibility with deep consideration, dedication, and skill. – Rachel Higgins
What students say about Freya and Georgia:
'The girls have made such a difference on our team this year'
'I definitely felt safe at training and both Freya and Georgia put a lot of effort in to make us all feel okay about coming to netball'
'As a fresher, I'm so happy I still got to come to trials and get involved with my favourite sport at uni'
Day 3: Bex Ward
Today's Safe Sport Champion, Cheerleading President Bex Ward, has really gone above and beyond to ensure members can still get involved with cheerleading in a fun and safe way this year.
Understanding how important the sport itself and the community surrounding it is to so many of the club's members, Ward has been determined to keep sessions and events running whatever the situation may be, making sure the club is there for everyone in this difficult time.
Cheerleading has been one of the only indoor sports that has been able to train this year, and that is largely down to Ward and the time and effort she has put into making sure all the appropriate safety measures are in place. And once this was no longer possible she has worked tirelessly along with the other coaches and committee members to continue running virtual training sessions as well as holding weekly meetings.
Ward has dedicated so much of her time to making sure everyone can still get the most out of Cheerleading this year, and has been a beacon of light and support within the society as well, regularly checking in on all the members and providing a friendly face and a helping hand to anyone who may need it. She is a true Safe Sport Champion! – Lauren Coffman
What students say about Bex:
'She has such a drive to keep the sport running and is aware of the positive impact that the cheer community at UoB has on all its members and we appreciate that so much. Just an all around legend!'
'She has put countless hours into ensuring Cheer can still run safely. From her weekly zoom meetings, to completing risk assessments and keeping on top of NGB guidelines'.
'She is always there for anyone who's having issues and is constantly checking in on everyone in meetings.'
Day 2: George Christian
Rowing President George Christian has taken to the role like a boat to water in the extremely challenging circumstances that have arisen to due COVID-19.
He inherited what had been a major issue for the rowing club and it was not the pandemic. Damage was sustained to a large number of boats in the flooding early last year. With the outgoing president, he organised the safe inspection of all boats, alongside their transportation to the repair workshop, whilst abiding by government guidelines.
Christian continued to follow the guidelines to create a safe environment for the university's rowers. He adapted rowing's intensive training programmes, increased access to small boats, and introduced the cleaning of all vessels both before and after use. Christian has also had to deal with the increased risks that come with training at off-campus locations, such as transportation to these sites.
His attendance at every session has been a reassuring presence, whilst he has stayed in constant contact with all committee members to coordinate their objectives. Recruiting 40 new members at a time when the attraction of starting rowing was at an all-time low was no mean feat either.
Coupled with his work putting in place vital precautions, Christian's leadership has clearly created an enjoyable and safe environment for rowers. This is why George Christian is a Safe Sport Champion.                                                                                                                                                                       – Jack Wooldridge
What students say about George:
'George had worked tirelessly to ensure that we can still train both on and off the water in the rowing club.'
'He has made every effort possible to ensure the safety and happiness of every club member.'
'Due to the atmosphere and organisation headed by George as president, the club has recruited 40 new members.'
Day 1: Archie Belfield
When all Uob Gymnastics activity was moved online just a few weeks into the term, members may have feared the worst. After all, few student homes come equipped with a pommel horse and parallel bars. They had little to fear though, as club captain Archie Belfield would not let the term go to waste under any circumstances.
Belfield's virtual conditioning and skill sessions, which began last spring, are immensely popular. Meanwhile, his creation of  'families' has allowed members to satisfy their competitive itch through friendly, intra-club competitions.
More importantly, Belfield has recognised the psychological threat of the pandemic and, through organising a mental health workshop for the committee, he has ensured that every gymnast at UoB has someone to turn to if times get tough.
Speaking to Redbrick, Belfield said: 'being recognised for the efforts myself and the whole Gymnastics committee have gone to in order to turn difficult circumstances into an opportunity to better ourselves makes me extremely proud.
'If just one person benefited from the activities we have put on in the last few months, then it would have been 100% worth it.' – Kit Shepard
What Students Say About Archie:
'He is always trying to keep everyone engaged as he knows it's a very challenging time for people and anything can help.'
'He has made sure everyone still has a club and a society in their lives, even with all the current challenges.'
'Archie has been so kind, motivating, and just an integral part of the gymnastics club and so many people are so grateful for what he does.'
---
Like this? Check out more from Redbrick Sport:
Premier League Mid-Season Re-Predictions
The Matera Affair: Is Rugby Doing Enough to Fight Racism?
Sports Personality: Meet the Contenders