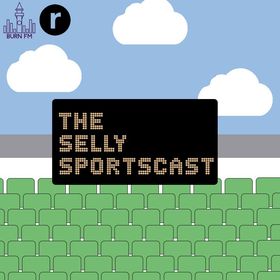 As Redbrick and Burn launch a new sports podcast, here is a teaser of our interview with Guild Sports Officer Rob Hegarty in the pilot episode
In the first episode of the Selly Sportscast, brought to you by Redbrick Sport and Burn FM, we spoke to the new Guild Sports Officer Rob Hegarty. We talked about his journey to becoming an officer, how he has settled into the role, and his aims for the upcoming year. Of course, no podcast in 2020 would be complete without some COVID-19 chat, so Rob also got us up to speed on how the pandemic will alter university sport in the coming months.
Here are three things we learned about Rob during our interview.
Rob Got Really Lucky in the London 2012 Ballot
The ticket ballot for the London 2012 Olympics was ridiculously competitive, with most applicants coming up empty-handed, and those lucky enough to get a place were tremendously lucky, even if they saw a sport they had never watched before.
Rob's family, though, struck gold.
'We managed to get tickets to see the athletics and we watched Usain Bolt win the 200 metre final and it was just a surreal day,' he reveals.
'[David] Rudisha broke the 800m world record that night as well, and it was so amazing, we went as a family, and just the atmosphere of sport, and how many people [were] there, thinking that I was there and how many millions were watching as well, it'll probably be something that I'll never ever forget.
'We applied for so many [tickets], my parents are really big on their rowing and we thought we might get one rowing or something like that, the one that we did get was the shot in the dark that we were just being hopeful for, so it was amazing.'
Being a Sports Officer Involves More than Just Sport
The title of Rob's new position is deceptive. Although he is primarily responsible for students' sporting experience at UoB, tending to everything from BUCS fixtures to gym memberships, his job goes beyond athletic achievement and participation.
'The role is actually very broad. Although I was going for Sports Officer, I was quite thrilled to find out you do a lot of other stuff.
'For example, you chair the Ethical and Environmental Committee, which is all about how we can be more sustainable, you work closely with the part-time officers, and there are just many other strings to the bow.'
Rob also faces the challenge of meshing with his fellow officers, many of whom he has not been able to meet yet.
'I love the team that I work with, we're all very enthusiastic, the full-time officers and the part-time officers that I've spoken to, everyone's really keen [and] we're all aware of the challenges we have ahead.
'It has been weird, I must admit, just doing it on Zoom, Skype, and Microsoft Teams, because a lot of us in the team have never met in person, so you're doing most of your introductions online.
Filling the void left by the absence of face-to-face interaction is a big focus for Rob ahead of a unique year. '[On] Friday afternoons, if we're all free, we chat about our weeks and get to know each other a bit better because I think that's essential for working together.
The Pandemic is a Chance to Remove Some 'Bad Habits'
Despite all the chaos of the past few months, some aims for the Guild Sports Officer never change.
'The main thing that every Sports Officer wants to do is encourage lots of participation in a great way, and this is as true as ever. We want to keep people active in the COVID pandemic, but make it as safe as possible.
'It might mean that people aren't going to do the sports they are used to. [Instead of] a big sport where there are people mixing, they might have to try something else like tennis or running.
'But we just want to try and keep people active essentially and resume participation, making sure it's in a safe environment.
However, coronavirus demands adaptation, and Rob is determined to take any positives he can from the disruption.
'I'm using the pandemic as a sort of fresh start to rid any bad habits of some sports that they might not even be aware of, and just to create a fresh start to make sure that they're as welcoming as possible.'
To improve inclusivity, Rob has set up an 'inclusive legacy team', which includes officers representing traditionally marginalized groups in sport, such as disabled persons, ethnic minorities, and members of the LGBTQ+ community.
'We've met before on Zoom and we've got some really great ideas.'
To hear more from Rob, including the how BUCS will operate this year, why he is improving communication with lecturers, and how he won an election dressed as a shark, download the Selly Sportscast.
---
Like this? Check out more from Redbrick Sport:
IPL Preview: Who Will Come Out On Top in UAE?
A Reserved Return for the Nations League