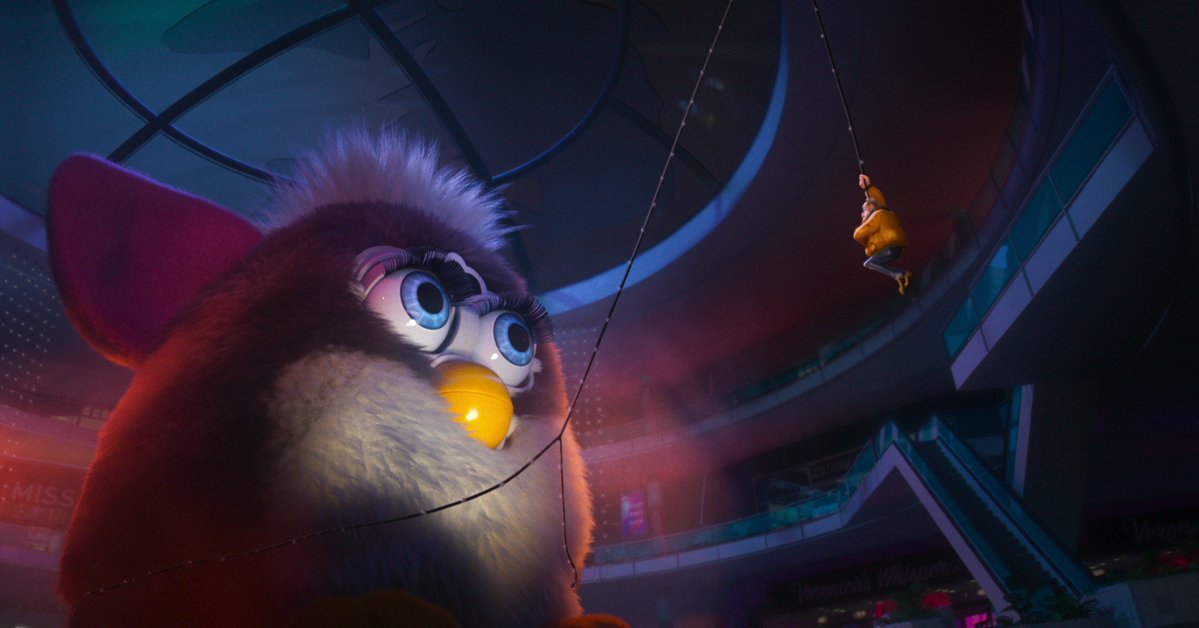 The Redbrick writers and editors take a look back over their favourite films of 2021
The French Dispatch
Like many of the films on this list, The French Dispatch's delayed release was much awaited by Wes Anderson fans, and it did not disappoint. Meticulous to the point of self-indulgence, the film chronicles the works and lives of three writers for The French Dispatch, a travelogue magazine based in the fictional town of Ennui-sur-Blasé. Each featurette depicts Anderson's typically quirky characters, based on writers and stories from the real life New Yorker magazine, and executed with his signature precision, symmetry and distinctive colour palette. As Arthur Howitzer Jnr would say, Anderson really makes it look like he shot it that way on purpose.
The French Dispatch takes Anderson's self-aware avoidance of naturalism to new heights, and the use of black and white in contrast to colour highlights what each writer focuses on: within each story, their meditations on art, youth and food are in glorious colour, and similarly the writers themselves, the director's focus, are shown in vibrant hues. Far from being a predictable addition to Anderson's repertoire, The French Dispatch could be the (current) peak of his directorial genius. It is not the meticulous nature of his style, but rather the visibility of that meticulousness that is so unique in mainstream cinema, undoubtedly making The French Dispatch a standout film of 2021.
Georgia Brooks, Film Critic
Luca
A coming of age story from Disney, Luca follows Luca and Alberto, who take the journey to the summer of a lifetime in the seaside town of Portorosso. Luca (Jacob Tremblay) is a shy sea monster who longs to learn more about what is above the surface. He then meets the bold Alberto (Jack Dylan Grazer) who pushes him to follow his dreams and try to win a Vespa so they can both explore the world and what it has to offer together. The dreamy colour palette of Luca is reminiscent of Studio Ghibli films, such as Kiki's Delivery Service and Ponyo. Enrico Casarosa's debut film explores the nostalgic, carefree summers that every child longs for and that audiences hope to see in the theatres.
The film focuses on the strengths of friendship and what you can gain if you are surrounded by the right people; this is further solidified by the fantastic Emma Berman who voices Giulia. A film definitely to remember, Luca explores the coming of age and discovering who you are in a crazy, fantastical world and I could not recommend watching it enough.
Halima Ahad, Film Critic
Encanto
Set in a magical, Colombian village, Encanto tells the tale of the family Madrigal who have been given a 'miracle' that manifests in magical powers. These include powers such as cooking that can heal, super strength, shapeshifting, and telling the future. Protagonist Mirabel (Stephanie Beatriz) is the only one in the family who is gift-less and so 'lesser' to her family, especially the family matriarch Abuela (María Cecilia Botero). The film so easily could have opted for her to magically gain a power, or give her a destiny tied to a romance, but instead, Encanto shows Mirabel's heroism through her lack of gift. It is a film of unconditional love, knowing your worth, and the burden of generational trauma.  
Encanto marks a change for Disney with a lack of a true antagonist, magical realism, and a movie entrenched in Latino culture: actors with a Colombian background, Latinx filmmakers, Spanish songs like 'Dos Oruguitas' and 'Colombia, Me Encanto' and a true representation of the racial diversity of Colombia. With gorgeous visuals, an incredible soundtrack by Lin-Manuel Miranda and pockets of humour, Encanto preaches the importance of family, culture, and acceptance, making it a must-watch, especially for POC.
Zenna Hussain, Film Critic
C'mon C'mon
Mike Mills is an expert at capturing the raw emotions found in the human experience, crafting films that feel like a snapshot of real life. C'mon C'mon is a gentle yet poignant insight into the unpredictability of life, following radio journalist Johnny (Joaquin Phoenix) as he embarks on an unexpected cross-country trip with his eccentric young nephew Jesse (Woody Norman). Shot in black and white, and paired with an atmospheric and emotive score by Aaron and Bryce Dessner from The National, C'mon C'mon is a genuinely beautiful masterpiece – Mike Mills' best film yet, and an undoubtable highlight of 2021.
Johnny and Jesse are an unlikely pair, brought together after Johnny offers to temporarily care for him whilst his sister Viv (Jesse's mother, portrayed by Gaby Hofmann) goes to look after her estranged husband. As Johnny conducts radio interviews with kids across the US, we see how nine-year-old Jesse processes his feelings about his father's mental illness during the trip. Joaquin Phoenix is brilliant in his role as Johnny, but it is Woody Norman that steals the show in his breakout role, giving a phenomenal performance that reminds the audience how frightening the world can be when you are a child in a grown-up world. 
What makes C'mon C'mon so beautiful is the true respect it displays for children's thoughts and emotions, coming together to create a compassionate insight into what it is like to navigate the world as a child living in this age full of unpredictability. Jesse reminds us, 'whatever you plan on happening, never happens; stuff you would never think of happens; so you just have to c'mon, c'mon.' Heartbreaking yet ultimately uplifting, C'mon C'mon is even more poignant after the past two years, and certainly stands strong as one of the best films of 2021.
Samantha Hicks, Film Editor
The Mitchells vs The Machines
The Mitchells vs. The Machines was exactly the fun infused film that I needed last year. Telling the story of Katie Mitchell (Abbi Jacobson), film fanatic who is leaving for college, and her family as they embark on a road trip before she leaves, the film twists into a sci-fi battle of human versus the machine. The Mitchell family are left to fight an army of robots controlled by an evil smartphone to rescue human-kind. Except the Mitchell family are extremely dysfunctional, and this is what makes their battle against the machines so wonderful.  
Ultimately, this film is about Katie's somewhat fractured connection with her father before she leaves for college, and how that bond grows during their adventure. But, every single character, down to Monchi the family dog, is vibrant and colourful within their own right. The animation for the film is captivating and bold, and the high-energy nature of the film ensures that not a single moment is wasted. The jokes land a punch, and when you think that they are done it hits you again to the point where the absurdity of what is happening will have you in stitches. A giant Furby in the shopping mall is truly an image I will live with forever.  
The Mitchells vs. The Machines is an incredible burst of energy, laughs and fun, and I can guarantee it will warm your heart at the same time. 
Sammy Andrews, Music Editor
Shang-Chi and The Legend of the Ten Rings
Raised by his emotionally distant father (Tony Leung Chiu-wai) and grieving the loss of his mother (Fala Chen), Shang-Chi (Simu Liu) is tasked with facing the demons of his past as he confronts the threat of his father's global criminal organisation: The Ten Rings. One of Marvel's latest ventures, Shang-Chi and The Legend of The Ten Rings feels like a breath of fresh air when surrounded by the franchise's current, constant flow of material from the Disney machine. Tackling themes of grief, heritage, family, and morality; Destin Daniel Cretton creates a grounded sense of humanity that feels rare when plastered against the backdrop of the extravagant Superhero genre.
The tumultuous father-son dynamic portrayed by Liu and Chiu-wai, paired with the clear importance of culture and family shown through Shang-Chi's relations, portrays emotional depth that huge blockbusters like this can easily forget. It feels to me like Marvel are breaking new ground with this feature, exhibiting a rawness that proves the potential for greatness that this new phase of the Marvel Cinematic Universe has to offer. 
Jessica Parker, Film Critic
No Time To Die
No Time to Die wraps up Daniel Craig's tenure as the MI6 agent with a satisfyingly action-packed story that gives Craig the swansong he deserves. Director, Cary Joji Fukunaga, ensures Craig's Bond remains intact to the end; as both a ruthless agent and a tortured man; still mourning what he has lost. Whilst not Craig's cleanest adventure, with a plot that can at times feel like it is stretching to tie everything together; a solid supporting cast makes these minor issues very easy to overlook.
Bond's friends in MI6, Q (Ben Wishaw), Moneypenny (Naomie Harris), and M (Ralph Fiennes), are reliable as always despite limited screen time. The villain, Lyutsifer Safin (Rami Malek), is not given much to do, but his performance still crackles with a haunting quality. Fukunaga wisely puts all of his attention where it counts, squarely on Craig's shoulders. His last Bond film is not his best, but with excellent action set-pieces, a beautifully melancholic theme from Billie Eilish, and the endearing relationship between Bond and Madeleine Swann (Léa Seydoux), No Time to Die stands as one of the best films of 2021. Craig will be remembered as a generation-defining 007, and his final outing cements this legacy.
James Evenden, Film Critic
The Lost Daughter 
What does it mean to be a mother? Literally, the term is determined by whether one has a child. However, from a conceptual angle, the sociocultural significations define mothers as nurturing, selfless and unconditionally loving creatures. In her directorial debut The Lost Daughter, Maggie Gyllenhaal presents motherhood as the antithesis of this. 
Initially, the unassuming nature of the plot, which simply follows the protagonist Leda (Olivia Colman) – a middle-aged college professor of comparative literature – on her 'working holiday' in Greece, appears to be at odds with Netflix's categorisation of psychological drama. Nevertheless, there is an ominous tone from the very outset, established by grainy vintage filters, a haunting blues-inspired soundtrack and the uncomfortable close-ups taken on a handheld Ronin camera by cinematographer Hélène Louvart. Indeed, the tragedy really sets in through the flashbacks Leda has, allowing the audience to slowly piece together the logic behind her peculiarity. 
I think that is the beauty of this film: you have no idea where it is going. It is almost impossible to solve the puzzle when the only clues you are given are orange peels, navel references and a missing doll. In a similar vein to the eponymous book this film is based on, Gyllenhaal refuses to end in perfect resolution; instead, we are left questioning whether the 'crushing responsibility' of motherhood is worthwhile. I think Leda would lean towards no. 
Jasmine Sandhar, Deputy Editor
tick, tick… BOOM!
Lin-Manuel Miranda's directorial debut tick, tick… BOOM! serves as a tribute to the life and work of Rent creator Jonathan Larson, played brilliantly by Andrew Garfield. Through a mixture of scenes showing Larson's performance of his semi-autobiographical 'rock monologue,' tick, tick… BOOM!, and flashbacks to the time in Larson's life that it discusses, we see a portrayal of life as a struggling artist in New York in the height of the HIV/AIDS crisis that is at once heart-wrenching and hopeful.
The performances from Andrew Garfield, who learnt to sing specifically for the role, and all the supporting cast are phenomenal, and it is clear that this is a film made with a true passion for Jonathan Larson and his work. The soundtrack allows for Larson's lesser-known material to get its place in the spotlight, and its themes of fearing time running out feels both universal and poignant with the knowledge of Larson's untimely death 5 years later as he was reaching the brink of success. A special mention must also be made to Bradley Whitford's portrayal of musical theatre legend Stephen Sondheim – a touching portrayal made all the more poignant because of his passing shortly after the film's release.
tick, tick… BOOM! successfully balances the emotional weight of its storyline alongside an uplifting message and loving celebration of Larson's life, and stands out to me as one of the best films of 2021.
Emily Wallace, Film Editor 
Titane

 
Julia Ducournau's Palme d'Or winner Titane is an adventure in completely fearless filmmaking. Genre- and gender-bending, Titane is a French body horror stuffed with raw emotion, graphic sexuality, and even more graphic violence. 
The victim of a childhood car accident which results in a titanium plate being implanted in her skull, now grown-up Alexia (newcomer Agathe Rousselle) is a metal fetishising go-go dancer and serial killer. Ageing fire captain Vincent (Vincent Landon) is reunited with his son who went missing 10 years ago as a child and they negotiate their relationship as each struggles with their masculinity. That is the most specific summary I am willing to give as this is a film I believe should be experienced with as little fore-knowledge possible – the official summaries released give even less detail, one being simply a definition of the element titanium. 
Following the success of her excellent debut, cannibal/coming of age film Raw, Ducournau clearly knows what she wants to make, and she is very good at it. Titane is an enigmatic film with a complex plot and tone which, in less capable hands, would simply not translate. In Ducournau's hands, Titane is a strange, horrible, hilarious, heartwarming masterpiece which finds comedy in scenes others would find too disturbing, and heartbreaking emotion in scenes which others would play for laughs. It is certainly not for everyone but, if you have the chance, and do not mind a bit of nudity and some horror with it, I would highly recommend you give it a go.
Martha Roche, Film Critic
The Green Knight 
The Green Knight, by David Lowery, provides a fresh revisioning of the saturated Arthurian mythos. The film stars Dev Patel as Sir Gawain, King Arthur's tenacious nephew, who presumptuously embarks on an arduous quest to fulfil the Green Knight's challenge. The eponymous character, portrayed by Ralph Ineson, who, while making full use of his signature baritone, provides a poignant and nuanced performance in spite-of his all-consuming tree-like prosthetics. However, despite Ineson's impactful portrayal, Dev Patel's intrinsic ability to simultaneously inhabit both strength and fragility is what epitomises the emotional core of the narrative.
The film is as fantastically weird as its 14th century source material- with its titular botanical character, and its unreliable narration (not to mention a talking fox)- it encourages understanding but is fabulously ineffable. The feature is pensive, wild, engaging, and beautiful, and consciously disregards the fraudulently masculine, chivalric recklessness typical of its thematic predecessors. Daniel Hart's haunting score serves as the manifestation of the horror's folkish and surreal tone, and echoes through the sublime landscapes and other-worldly set design. Lowery's work is entirely intoxicating, visually stunning and wholly beautiful; from its historical ambivalence, innovative storytelling, and perfectly ambiguous ending, you will be left undeniably awestruck. 
Alex Taylor, Film Critic
Red Rocket 
The end of 2021 saw the release of Red Rocket, American independent filmmaker Sean Baker's first project since his critically-acclaimed 2017 film The Florida Project. Baker's most recent work follows the misadventures of a washed-out former pornographic actor named Mikey Saber (played by Simon Rex), who decides to retire from the industry and return to his impoverished home on the Gulf Coast of Texas. The two-hour flick is an account of Saber's attempts to move in and reconcile with his ex-wife Lexi and her mother, who while away their days smoking and idling in front of the television. Alongside his many funny and humiliating confrontations with Lexi and his drug-dealing neighbour Leondria, Saber becomes besotted with Strawberry, a 17-year-old girl who works at a local doughnut store.
Red Rocket is without doubt one of the most impressive films of 2021. Consistent with his previous works, Baker includes non-professional actors and improvised dialogue to lend his film an uncanny air of realism. He juxtaposes his trademark pretty, pastel-tinted cinematography with voyeuristic insights into the desperate and unforgiving world of the American underclass. The film's tone is balanced almost perfectly, shifting seamlessly from hilarious fragments of everyday conversation to bleak and unnerving depictions of poverty. It is hard not to see why Red Rocket was nominated for the Palme d'Or.
James Simpson, Film Critic
Spider-Man: No Way Home
Three Spider-Men, five iconic villains, countless references and a dramatic score, Spider-Man No Way Home was the best cinematic experience of the year. In an homage to Spider-Man fans far and wide, No Way Home showed us what could have been if the franchise had Disney's money but not Disney's obsession with textbook pacing, characterisation and format. 
With its John Hughes-esque coming of age style, Peter Parker (Tom Holland), MJ (Zendaya) and Ned (Jacob Batalon) grapple with the consequences of Peter's identity being released whilst navigating the pressures of finishing high school, applying for college and maintaining a friendship group – something we all know a thing or two about. As Tom Holland's Peter collaborated with Tobey Maguire's Spider-Man and Andrew Garfield's Amazing Spider-Man, my spidey-loving self was supremely excited. 
Yet, it was the moments of personal discovery which stood out to me and marked No Way Home as a true homage to Spider-Man. The ending saw Peter Parker relinquish all memory of his existence, saving the world but leaving him faceless: no family, no friends and no peers. Crafting a seamless blend of teen film angst, camp superhero nostalgia and shout-out-loud cameos, the film was a triumph. 
Emily Baldwin, Comment Editor
Last Night in Soho 
The esteemed writer and director, Edgar Wright released another belter film in October 2021 with his most recent film and psychological thriller Last Night in Soho. The film is set in 1960s Soho, London, and includes many pop culture and musical references to the decade which pays homage to Wright's love of the 60s. The film follows a university student studying at the London College of Fashion. The film resonates as it shows the challenges university students face moving away from rural areas into big cities and dealing with homesickness and loneliness. However, the film takes a turn when the protagonist Ellie (Thomasin McKenzie) meets Sandie, an aspiring singer played by the captivating Anya Taylor-Joy. 
The excellent use of cinematography in the film, especially with the clever use of mirrors throughout, distorts the versions of reality that the film travels through. Like any excellent psychological thriller, it makes the audience question what really exists in reality. This film is an enjoyable yet gory watch, which has many thrilling twists and turns. As shown with its many award nominations, this film is one of the best of 2021, also dedicated to the late Diana Rigg, Last Night in Soho is a film you will not regret watching.
Cerys Gordon, Film Critic
---
Want to know more about some of the films on this list? Have a read of these articles from Redbrick Film:
Review: Spider-Man: No Way Home