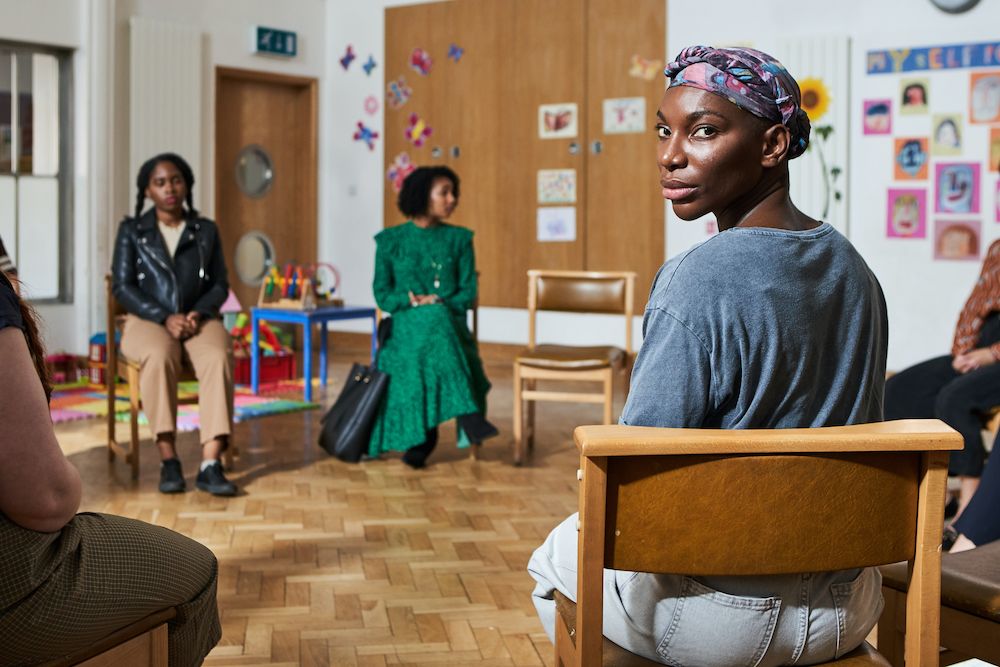 It's here… the final roundup of all the TV shows that kept our critics entertained in 2020
Content Warning: This article mentions sexual assault.
Schitt's Creek – Emily Baldwin:
The final season of Canadian Sitcom Schitt's Creek arrived on Netflix this time last year. The fan-favourite TV show remained largely under the radar since it began in 2015, but season six fermented its position in the sitcom hall of fame. It follows the lives of the mega-rich Rose family who, upon being made bankrupt, are forced to relocate to a rural town that they bought many years before. 
In earlier seasons, the humour stemmed from the juxtaposition between the pampered expectations of the family and the new normal of life, love and work that they found themselves in. However, after the initial seasons of character building, Schitt's Creek became a celebration of the wholesome, hilarious and challenging realities of navigating adult family life. Particularly popular among the LGBT community, the show has been a heart-warming escape to a small town where homophobia does not seem to exist. From the self-identified pansexual David Rose (Daniel Levy) to the camp family matriarch Moira Rose (Catherine O'Hara), Schitt's Creek is a celebration of love and life. 
The final season can simply be described as a triumph. Every character received a uniquely individual ending and there is no doubt that the writers paid attention to keeping the characters true to themselves, whilst also showing enormous personal growth. It is almost lucky that the final season came out during a time of such change for families across the globe. Like the Roses, our lives were turned upside down and many of us older children were forced to navigate new relationships with our parents and siblings. Yet, Schitt's Creek season six reminded us all that we can learn so much from times of crises and that family (biological or chosen) is everything. It is just a shame that we could not spend another six seasons with the Roses guiding us.
---
I May Destroy You – Minnie Life:
*Content Warning: this segment discusses sexual assault*
In my opinion, University of Birmingham alumni Michaela Coel's BBC series I May Destroy You was hands down the best show of 2020. It was an instant hit, attracting high levels of critical acclaim from across the globe. The story follows Arabella (played by Coel herself): a young, up-and-coming Black author living in London who is feeling the pressure to live up to the success of her first novel. On a spontaneous night out with her friends she is brutally drugged and assaulted, and with little memory of the incident she is left to piece together the events of the night with the help of her two friends, Terry (Weruche Opia) and Kwame (Paapa Essiedu). 
The series follows Arabella and her friends as they grapple with the fallout of this event. We see flashbacks throughout the series, exploring a multitude of aspects of these characters' lives that all fit seamlessly together. Coel, as an outspoken survivor of sexual assault herself, uses this series to portray aspects of assault, trauma, relationships and sexuality that are rarely seen onscreen. 
On top of this, the cast is almost entirely Black, something that is also rarely seen on British television. As well as being ground-breaking, I May Destroy You is at its heart a tragic, compelling, funny and heart-warming piece of television. It is a series that constantly keeps you guessing, blurring the lines between reality and the surreal throughout. I would urge anyone who watches it to pace themselves. It is a series that can easily overwhelm you, but I strongly believe that no one comes away from I May Destroy You the same as they were before, and that is what makes this show so incredible.
Guidance on obtaining help related to sexual assault can be found on the NHS website.
---
Warrior Nun – Annabel Smith:
This completely new series, based on a comic book, speaks to the revitalisation of fantasy dramas. The series follows Ava (Alba Baptista): who's immersed into an unfamiliar world of fighting demons, the Warrior Nuns who guard humanity against the hellish forces, and most importantly, the halo buried in her back which brought her back to life.  
Set and filmed in Spain, it offers a refreshing application of the genre. Whilst the typical fantasy teen tropes seem overplayed, the fresh setting and interesting secondary characters make the series new and transformed. Not only does Ava enable an audience perspective into this new world, one where you cannot help but root for her, but the resilient mentor of Sister Mary (Toya Turner) offers an insight into the complexities which could be shared in season two.  
A successful opener for a series. It left lots of room for the characters to develop, a stylistic take on urban Spain, impressive CGI and an interesting use of the heaven versus hell trope. 
The female-centric narrative includes a range of different women with different experiences, reflecting the changing tide in the portrayal of complex female characters in mainstream media, and more particularly, fantasy series and movies: Warrior Nun stands out.  
---
Itaewon Class – Lauren Ramsden:
It has been almost a year since I sat down and binged Itaewon Class on Netflix, and although I only remember bits and bobs from the show and – admittedly – it is not the best Korean drama I have ever seen, it was the perfect amount of escapism that I needed at the abrupt end of my second year at university.
The story revolves around Park Sae-ro-yi (Park Seo Joon, who you might recognise from Parasite), who seeks revenge on his enemies through opening a pocha – basically a fashionable bar with food – called DanBam. The shocking plot-twists and fluffy romances that come with Kdramas are, of course, present, but there is an aspect about Itaewon Class which makes the show, as Alex Jung puts it, 'hit different' from others. Placing these events in Itaewon, a neighbourhood in Seoul known as the 'International District' and famous for its diversity due to its population of foreigners, gives the show the opportunity to explore identity in a meaningful way. Sae-ro-yi meets a diverse array of people whom he hires, including an ex-convict (Ryu Kyung-soo), a trans woman (Lee Joo-young), and a black Korean (Chris Lyon). Diversity is something hard to come by in Kdramas, but Itaewon class not only includes diversity, but has an open discussion about it on screen in a thoughtful way that I have not seen before. I am also a sucker for 'found family' plot lines, which Itaewon Class uses in a beautiful and tear-inducing way throughout.
Overall, the show is my favourite of the year being in equal parts emotional and exciting. With some excellent performances (Kim Da-mi is a new face worth watching the show for) and a high budget which lets the colours of Itaewon shine. If you have never seen a Korean Drama, I implore you to make this your first.
---
The Queen's Gambit  – Saskia Hirst:
What on Earth is a Queen's Gambit? Are we really about to get obsessed with a show about chess? Yes. Indeed, you are. Take a seat. It's all a bit of a conundrum — unless you have actually watched the show, of course, then chess somehow becomes the best thing since sliced bread – something I never thought I'd say. 2020 did a number on us all.
My house and I could not quite believe how much Beth Harmon (Anya Taylor-Joy) swept us off our feet after the absolute blunder of Ratched's ending. Sigh. To those who have been living under a pandemic-sized rock for the past few months (no judgment), the bildungsroman plot follows a famous (even though we had never heard of her) chess genius, Beth Harmon, and her rise to fame in the chess world in an attempt to beat Russia. Ah. A refreshing break from the current internet influencers — even if Harmon is fictional.
She is a female in a predominantly male profession— nothing new, but a nuance at long last: American women and men divorce their differences, and indeed indifferences too, as soon as it's a free-for-all against Russia. Chess speaking, of course. Set during the Cold War, this show emanates American patriotism at its finest, but a moving position – on and off the chess board.
Safe to say, the Queen's Gambit was the Normal People of our second-the-best lockdown. The Queen's Gambit's timing was impeccable— that cannot be faulted. There is a recurring theme of the show having next-to-no faults whatsoever. As nights drew in and days were cold, it was the perfect, knitted autumnal blanket to wrap ourselves up in. Even if you are a little late to the party. The Queen's Gambit is one of the oldest chess moves. It's also a tale as old as time, and it definitely appears to be timeless. 
---
Bojack Horseman, season six – Kitty Grant:
Having been a Bojack Horseman fan since the first season aired in 2014, I must admit, I was nervous for the second half of the final season to air in January 2020. I had spent the best part of six years with these characters and was nervous that the final episodes would not do the previous 70 or so justice. Nevertheless, I binged the whole season in one day and was not disappointed.
The first few episodes suggest a potentially lighter tone leading to Bojack finally receiving the fulfilment he has been searching for his entire adult life, but the demons he has been fighting for the past six seasons are never too far away. As Bojack's biggest shame is revealed to the world, his battle with addiction returns, reaching a crescendo in 'The View from Halfway Down,' the show's penultimate—and arguably best—episode. The final few episodes do not forget the show's other characters, with plenty of time dedicated to wrapping up the lives of Dianne, Mr Peanutbutter, Princess Caroline, and Todd, plus a satisfying conclusion to the thrilling saga of the 'Hollywoo' sign. While I was naturally sad that one of my favourite shows had to end, I am glad Bojack Horseman—both the character and the show—was given an appropriate send-off, which made me laugh (and cry) as much as the previous five seasons.
---
The Politician, season two – Samantha Hicks:
The second season of The Politician came at just the right time in 2020, being released in June when the 'novelty' (for lack of a better word) of lockdown was starting to wear off. The charm of Ryan Murphy's comedy-drama comes from the fact that it manages to be both hilarious and thought-provoking. The Politician brilliantly toes the line between obnoxious and entertaining, as the upper-class characters constantly demonstrate how out-of-touch they are with the rest of the world.
Season two continues to follow protagonist Payton Hobart (Ben Platt) as he decides to run for New York State Senate against Dede Standish (Judith Light). The Politician benefits from creating seemingly outlandish storylines that manage to stay firmly rooted in reality. The pure absurdity of the main characters' actions is so beyond belief that you cannot help but believe that the children of the country's top 1% would behave in such a way! The second season seamlessly brought the characters out of their previous high school bubble, and manages the time jump of a few years perfectly. The first season set the bar very high, but clearly this was no obstacle for Murphy; I think that the latest season was even better than the first. The Politician is one of Murphy's more overlooked projects, but season two proved that it is not one you want to miss.
---
The Witcher – Saskia Hirst:
Toss a coin to your Witcher— or to your Netflix subscription. The Witcher is a fantasy show and is definitely fantastic. Oh, valley of plenty, in Jaskier's words, which includes the weird and wonderful. After its release, it was hailed as the next Game of Thrones, which, yes, is actually a backhanded compliment to The Witcher. 
The plot flickers between Yennefer of Vengerberg (Anya Chalotra), Ciri (Freya Allan), and the infamous eponymous Witcher himself: Geralt of Rivia (Henry Cavill). Also known to the internet as grunt-man: 'Hmmf.' I do not think that one has Geralt's stamp of approval.
A multi-dimensional perspective is typical of fantasy: it is an easy cop-out, but nonetheless a cherry on top of the cake for excellent world-building. All multi-perspective narration runs the risk of lacking any wholehearted development of the character cast or their sub-plots— but The Witcher pulls this off flawlessly.
It introduces us to a new world of upheaval— which I now realise may have spoken too soon for 2020. Like any unique fantasy, it has its own folk music (courtesy of the eccentric Jaskier), myths, legends, and even mystical monsters— it is more than enough to sink your teeth into. Or fangs. 
As far as tropes go, it adheres to the fantastical classic idea that no writer can (ironically) seem to stray off-course from: destiny. But it works, somehow. It is a means to a great end and the invisible string of destiny weaves the characters together: not in a superficial, robotic 'I-am-the-chosen-one-I-must-be-a-puppet-master-for-a-plot' archetype we know all too well, but the truth of destiny is scrutinised and the characters often learn the hard way— and sometimes comically, which the show prescribes to as a sub-genre at times— that they cannot outrun their destiny or the past. Ah. The Jay Gatsby of The Continent. 
Geralt certainly set the trend for growing out one's hair during lockdown, and The Witcher must be one of 2020's best. Perhaps not on the hair front though (sorry).
---
Normal People – Sammy Andrews:
Back in 2018 I completely devoured Sally Rooney's novel Normal People. It very quickly became one of my favourite books, and I found the writing of this story of two young people in love so refreshing and honest. I was sceptical about how this would translate into a TV show, but I was really pleasantly surprised by it. 
Normal People was released mid-way through the spring lockdown in 2020, and it served as the perfect show to carry me through it. The show captures all of the contrasting joy and heartbreak that the book does. Its writing translated brilliantly, with every line that went spoken and unspoken building an overarching pull between yearning and intimacy. It was shot beautifully too and was cast wonderfully, with Daisy Edgar Jones and Paul Mescal carrying a really wonderful sense of on-screen chemistry.
But what made Normal People so wonderful, for me at least, was that it was one of the first times I had seen such an honest portrayal of young relationships on screen. For all of their awkwardness and all of the frustrating moments where I just wished they would talk to each other, Connell and Marianne stood for a really vulnerable presentation of what it is like to be young, and to be clumsily finding your way through changing situations and relationships in your life.
---
Check out similar 2020 'Round-up' features here:
5 Tracks That Got Me Through 2020 – Lauren Ramsden
'Til We See You Again: The Lost Films of 2020