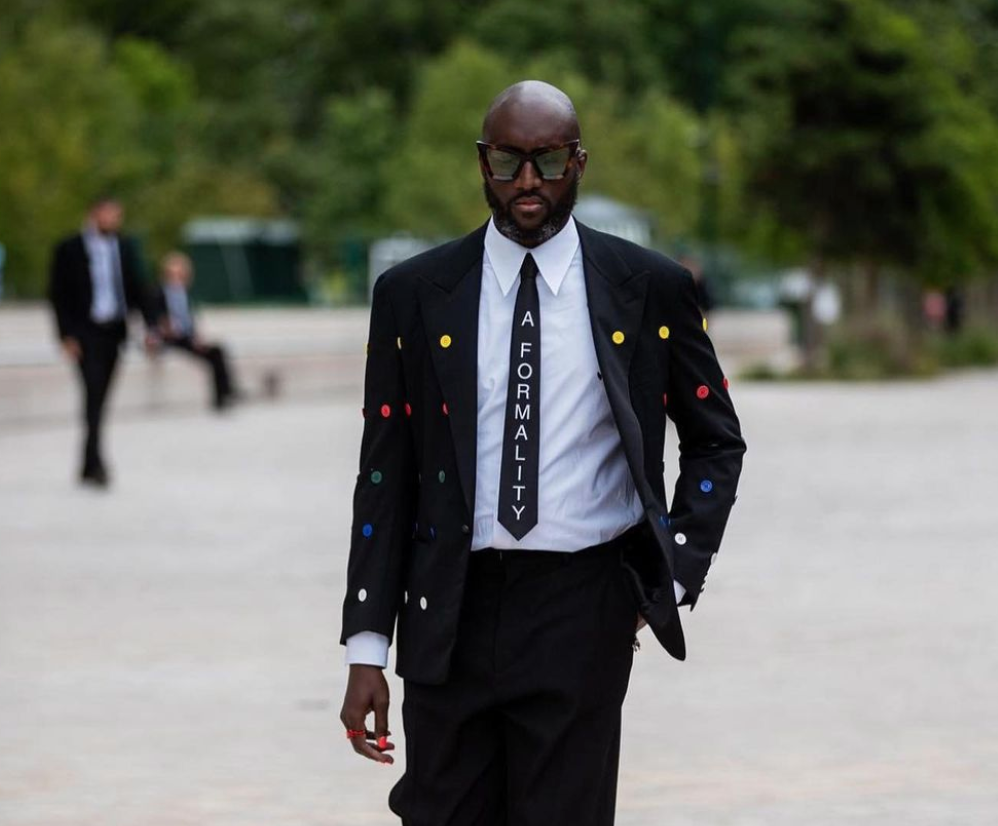 Life&Style Writer Georgia Quirke takes a look back on the life and legacy of Virgil Abloh, noting his revolutionary approach to fashion and impact on diversity issues in the industry
Content Warning: mention of cancer and death
In January 2022, Virgil Abloh's final collection for Louis Vuitton debuted during Paris Fashion Week. The emotive show paid tribute to Louis Vuitton's first black creative director who died after a private battle with cancer in November 2021. The recent show has reinforced his legacy and influence on the fashion industry as a whole. At only 41 years old, Abloh's contributions to the fashion world were unparalleled. His ground-breaking pursuits and creativity impacted the fashion landscape in unprecedented ways. Abloh contested the basic meaning of luxury fashion, redefining the boundaries of luxury whilst carving a path for young black creatives to follow in the notoriously exclusive and elitist industry. 
It is through the hybrid genre of luxury and streetwear that Abloh is most well-known. He was a pioneer central to this movement with his multi-million pound brand Off-White. By implementing his subculture into fashion, he merged luxury and streetwear in a unique and lasting way. His position as an industry outsider allowed him to view luxury fashion in new ways and to reshape the industry. In just eight collections Abloh radically changed the look of Louis Vuitton's menswear. He achieved this by considering clothes to be social and political symbols that should be challenged. Abloh's designs appealed to a larger and younger audience and pushed the boundary of luxury fashion further to challenge the meaning of luxury and even fashion itself. 
The Autumn/Winter 2022 collection of Louis Vuitton was Abloh's final work and was a tribute and celebration of the creative genius. The show echoed his desire to push the industry further, with sportswear and strong silhouettes making an appearance. The collection was infused with themes that ran throughout his previous eight collections for Louis Vuitton. Imagination was central to the show, with the setting of the 'Louis Dreamhouse', reinforcing Abloh's desire to make the world a better place. The name of the show, 'Virgil Was Here', was a harsh reminder of the loss of such a revolutionary designer, but evidence of Abloh's legacy and his unstoppable path to greatness. 
As a young black man with no formal background in fashion, he broke all the conventional rules, pushing the fashion industry to accept outsiders. With too few black creatives at the top of the fashion industry, Abloh furthered his life mission to ensure that real change would occur. Despite being named as one of the most influential people in the world in 2018, he was eager to help others and took the time to work together and mentor aspiring black designers. Abloh used his influence to raise awareness for the lack of diversity and provide opportunities for greater racial inclusion. He once said that 'when you're lucky enough to get a ride to the penthouse, it's your duty to send the elevator back down.' Abloh opened the door for black designers and pushed brands to accept a more diverse culture. Through his creation of the 'Post-Modern Scholarship Fund' he nurtured young talent which highlights how his creative legacy extended far beyond fashion. Abloh's protégé, Samuel Ross stated 'there is a whole generation of designers of colour across several fields that have felt the reverb of Abloh's life mission.' Abloh was vital to inspiring a generation and breaking down the doors to allow marginalised communities to enter the fashion industry and succeed.
However, it must be mentioned that his title as the third ever black designer to lead a French fashion house is a cause for concern. Diversity in the fashion industry is known to be limited and needs to be addressed to solidify Abloh's strides for change. With 68% of those in the fashion industry experiencing or witnessing discrimination, it is time for the world to reconsider Abloh's life story and remove limitations on designers based on their skin colour. Nevertheless, Abloh unquestionably revolutionised the industry and superseded the label of a fashion designer. As an ambassador of inclusivity in the industry he made a lasting effect, causing the fashion industry to look internally, prompting change. What Abloh achieved even in his relatively short lifetime is beyond incredible and the world should remember him for his astonishing achievements and his lasting impact on the fashion industry. Abloh's mark will never be forgotten; 'Virgil Was Here' and his legacy are here to stay, inspiring us to dare to dream and push fashion to the extremes.
---
Read More from Life&Style:
The Political Runway: America's Female Politicians
What Influencers at the MET Gala Says About Elitism in High Fashion
High Fashion, Low Representation: Luxury Brands and the Issue of Diversity