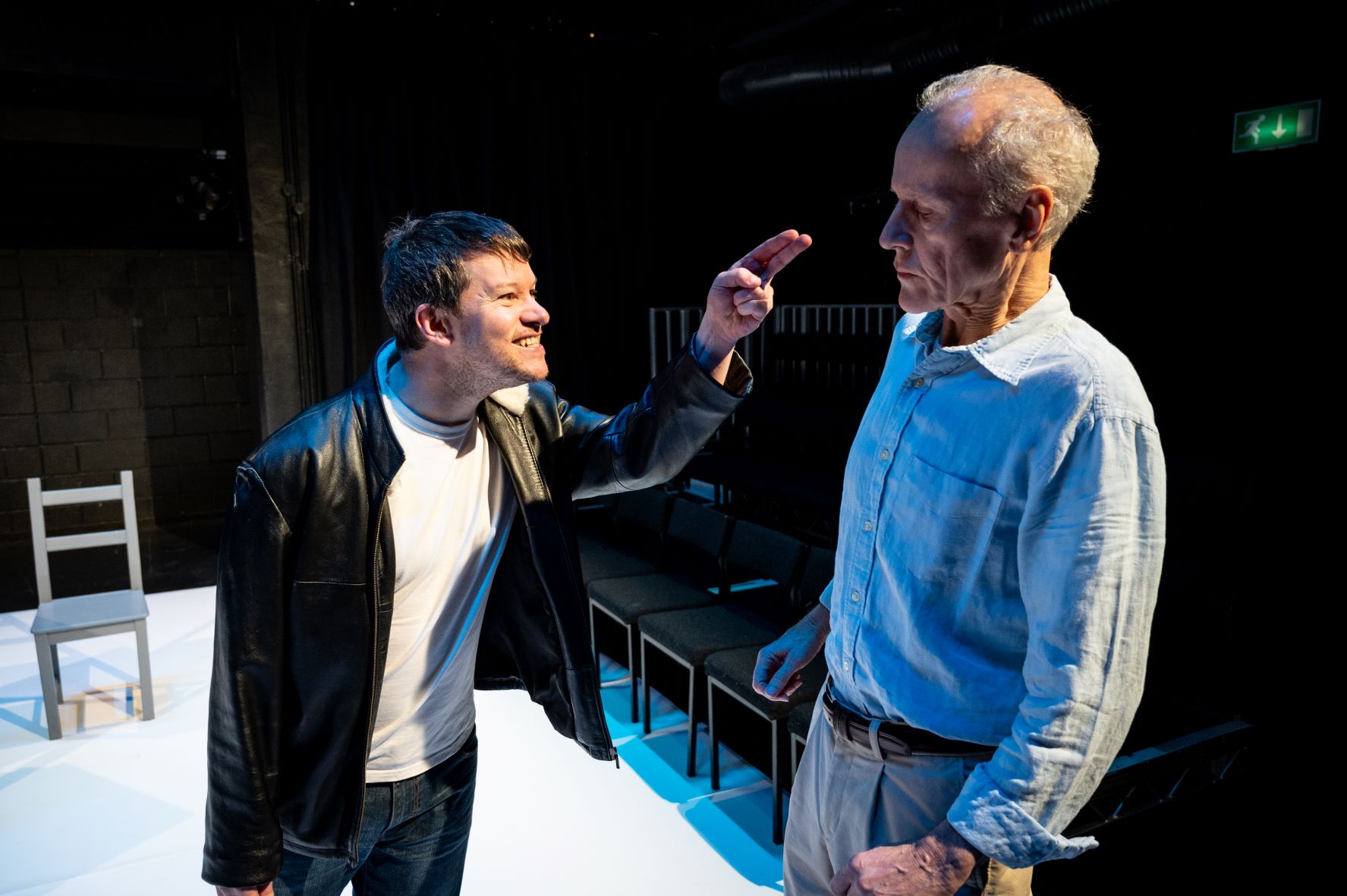 Culture Writer Frankie Rhodes praises Crescent Theatre's production of A Number, a play exploring "cloning, fatherhood and belonging".
A Number may have been written by Caryl Churchill in 2002, but this tale of cloning, fatherhood and belonging only keeps getting more relevant. It combines Theatre of the Absurd elements with cut-throat capitalism to create a dystopia where humans are treated like products. The play is currently showing at the lofty Old Vic, but I cannot imagine it performed better than it was at our very own Crescent Theatre, directed by Fi Cotton. With its intimate setting and captivating acting, this was the best production I have seen from the company to date.
With a cast of just two actors, the play depicts conversations between Salter (Andrew Cowie), and three of his sons (all played by Mark Tracey). An imposing blue light opened the minimal set, with just a table and two chairs that seemed fresh out of the woodwork shop. While implying a kind of laboratory setting, subtle markers depicted the space as a home – Salter was always in socks, for example. This one-act play used futuristic, robotic music to mark scene changes (perhaps influenced by the James MacDonald film), creating an uncanny shoebox feel. 
As the dialogue unfolds, we learn of the cloning experiment that left Salter with children of disparate temperaments, from the unassuming B2 to the volatile Bernard. Tracey created a distinctive character for each son, signified through a change of clothes and accent – but above all through his expert presence. Cowie remained on stage throughout the performance, and tirelessly maintained a compelling role as Salter. 
While many productions opt to use a real father and son to act these parts, the Crescent aimed for distance rather than family resemblance. As an older, taller man, Cowie's Salter had an icy exterior, melted only during flashes of frustration or self-pity. His tendency to sit at the table and strike the surface with his fingertips depicted him as meticulous and arresting, acting as a refreshing alternative to the often buffoon-like way that this character is played.
In the first scene, B2's most relaxed conversation with his father took place with both characters not wearing shoes, symbolising temporary comfort and stability. B2's woolly jumper and nervous mannerisms established him as a pretty ordinary guy – somebody that the audience can relate to as he processed his status as a clone. When Bernard burst in later, however, his Velcro trainers and leather jacket marked him out as an outsider – somebody who could leave (or be kicked out) at any given moment. 
Initially, Bernard seemed a little too angry to be taken seriously, but as Tracey relaxed into the character he revealed an adeptly developed role. He made great use of the space, leaping from the table to challenge Salter and swiftly lifting up a chair in a gesture that made the audience gasp (not least because we were only a few metres away). Sometimes taking on the role of a mock-adoring child to taunt Salter, and at other times seeming genuinely reduced to a toddler, he was wholeheartedly convincing as a troubled young man. 
For those who did not know the play very well, the scenes with Bernard in particular must have felt impulsive and chilling. A Number is defined by its unique style, with constant interruptions between father and son. This choppy dialogue risks being stilted if not well-rehearsed, but Cowie and Tracey were brilliantly conversational throughout, sometimes scarily so.
The final son that we met was Michael Black, with Tracey metamorphosing once again into an intellectual, optimistic character. Soft electronic piano music announced his entrance, with Salter anxiously rearranging the furniture. Just like when reading the play, Michael's presence offered a breath of fresh air – providing moments of light-hearted comedy. Physically, and emotionally, this father and son combination were the furthest apart, exposing Salter's desperate, failed pursuit of normality. 
Now 20 years old, this play is wonderfully universal, yet also open to being updated. The Crescent could have better explored what it means in 2022, through bringing in digital media to show the role of the internet, for example. With that being said, every aspect of the dramatic performance was spot on, showing the incredible potential of amateur theatre. What number for A Number? It has to be five. 
Rating: 5/5
---
Enjoyed This? Read more from Redbrick Culture here!
Musical Review: Bat Out of Hell – A Double Perspective
Interview with Comedian Shazia Mirza: 'I have to believe in freedom of speech'