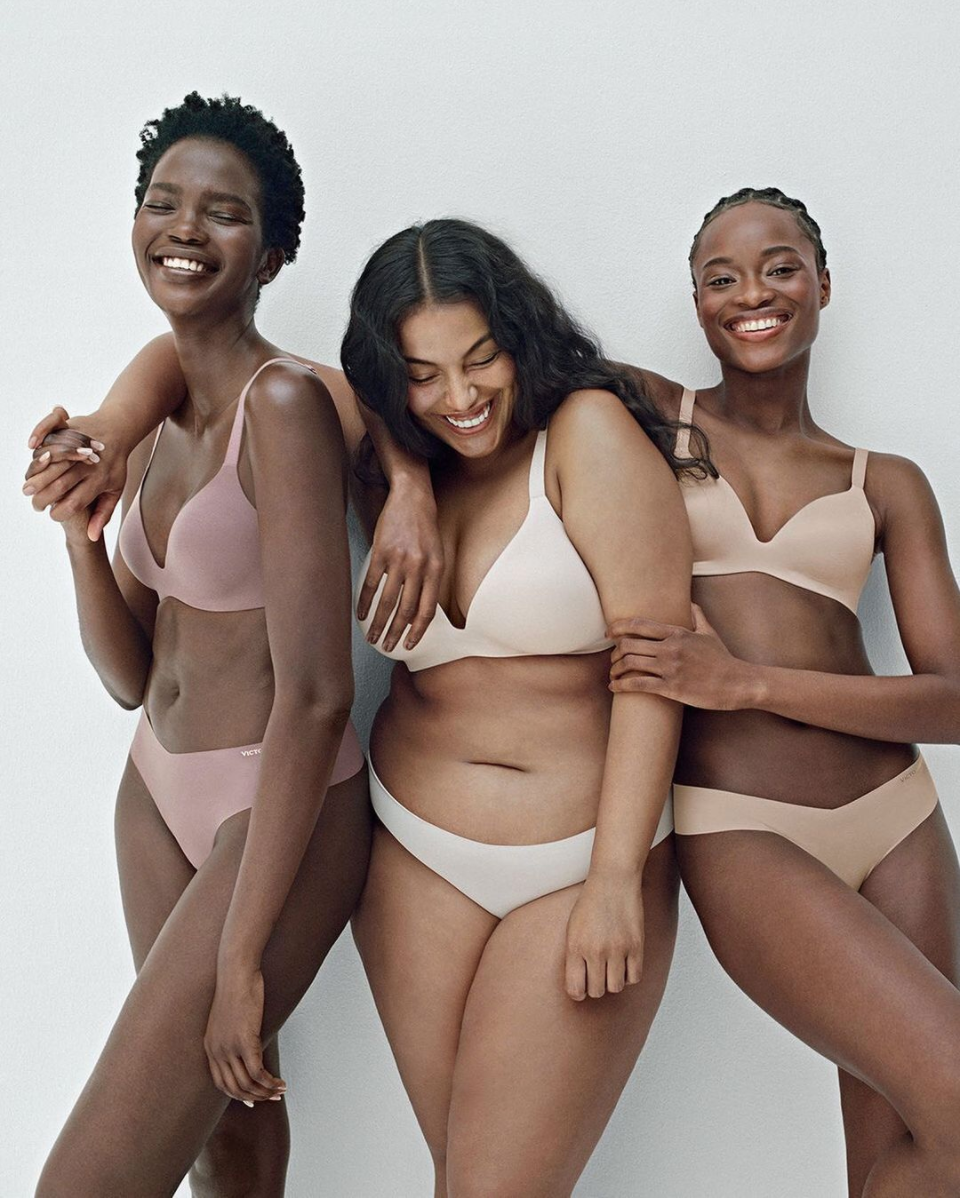 Life&Style Writer Jenny Magleave offers her opinion on the new Victoria's Secret rebrand, considering whether it comes from a place of genuine progression or whether it is an attempt to stay relevant amongst growing competition
In June 2021, lingerie titan Victoria's Secret announced their unprecedented rebrand. Following over 50 years of ultra-tall, ultra-thin, ultra-tanned supermodel domination, the brand has taken a huge turn towards inclusivity and intersectionality. The new campaign – the VS Collective – seems to be turning the brand narrative on its head by projecting a more inclusive message around race, gender and body type. The founding members, who will spearhead this new era, include LGBTQ+ activist and soccer star Megan Rapinoe; 39-year-old Indian actress and singer Priyanka Chopra; size-14 model Paloma Elsesser; and transgender model Valentina Sampaio, to name a few.
The VS Collective appears to celebrate a huge variety of women for their achievements, rather than for their waist size or thigh gap. This change has, frankly, been a long time coming, especially for a brand with so much cultural influence over the societal perception of 'sexy'.
Prior to this rebrand, VS had decided that sexy was an unattainable level of thinness and flawlessness; often a damaging idea for body image, beauty standards, sexism and diet cultures. This recent image overhaul aims to rectify this idea, but the question must be asked: is the damage too far gone? Is this rebrand enough to reverse the years of toxicity and misogyny that have been perpetuated by the company?
This depends, I think, on what is the motivation behind the rebrand. New chief executives of the brand have admitted that 'when the world was changing, [Victoria's Secret] were too slow to respond'. It is true; as society and social media progressed from the size zero glamour of the noughties, Victoria's Secret seemed cemented in the past, happy to remain on its sparkly, skinny pedestal.
Ex-Chief Marketing Officer, Edward Rezak, who masterminded the infamous VS Fashion Show, was interviewed with Vogue magazine in 2018. When asked whether he thought the brand should become more inclusive, he answered 'no'. He said that in regard to further size diversity and, the show did not need to be any more inclusive, stating that it is 'a fantasy' and an 'entertainment special'.
The distance between that interview to the early VS Collective is a stark, and needed, change. However, it is difficult to discern what exactly was the motivation to instigate this huge shift and rebrand. Was it as simple as a late realisation of brand insensitivity? Or is there an ulterior motive?
Victoria Secret's business statistics over the last decade could shed light on why the VS Collective was created. The glitter-filled, star-studded extravaganza that was once the VS Fashion Show lost over six million viewers in the space of five years. In 2020, the franchise closed around 250 stores in Canada and the US, and, in one year, gross profits fell by 59%.
There is huge money in this industry and, crucially, there is a huge amount of money that VS has lost in the last few years. The reason for this, I believe, is because of an atmosphere of elitism and judgement, culminated by a corporate structure that is reluctant to change.
The decreasing profits and the branding switch up (after such a rigid stance from management) leads me to question whether the VS Collective is more of a performative pandering for profit, rather than a rectifying of the damage that the sizeism, toxicity and misogyny of the company has caused.
The brand had drastic damage control to do and a full house of diverse models seems to have been their route to do so. The necessity of such a rebrand was heightened after the intense scrutiny of Jeffrey Epstein's long relationship with the owner of Victoria's Secret. So, am I convinced of the good intentions of the Collective and the rebrand? Honestly, not really.
Has Victoria's Secret done too much damage? Is the VS Collective simply seen as a reaction to increased competition and reduced profits? More sustainable and inclusive brands have emerged in recent years such as Rihanna's Savage X Fenty that reflect more modern values. These brands have gained popularity and momentum, meaning that the narrative of 'sexy' is constantly being distanced from Victoria's Secret, regardless of the models they now have wearing their lingerie.
I myself, whether in protest or self-preservation, have not and aim not to set foot inside the striped and sexy interiors of a Victoria's Secret store. I do not know whether this rebrand is persuasive or rectifying enough to convince me otherwise. One scroll through their Instagram feed and I still close the app feeling more podgy and pale than when I searched their name.
Can I yet see any evidence of genuine change? No. Has their rebrand convinced me to shop there? No. I think at this point, we – along with Victoria's Secret – will have to wait and see whether there is substance to this initiative, or whether it turns out to be an attempt at winning inclusivity brownie points. Time will tell.
---
Read More from Life&Style:
Is OnlyFans Merely a Fan of Money and Female Exploitation?
Stark, Naked: Lingerie Gone Rogue