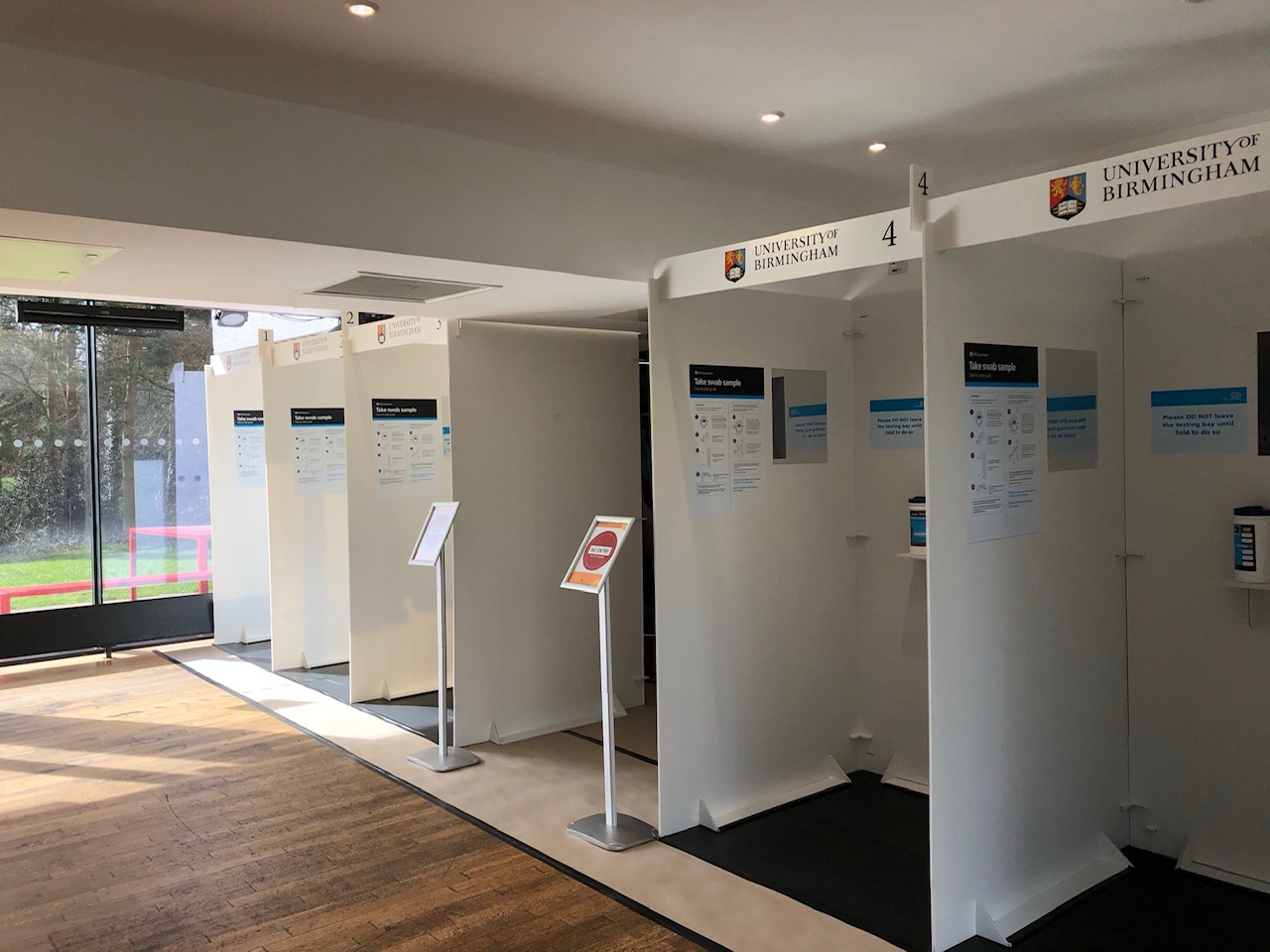 News Reporter Ellen Knight takes a look at the new Duck and Scholar COVID-19 testing site on the Vale
The sense of cognitive dissonance when entering the testing site at the Duck and Scholar is impressive. Formerly the home of a much-loved student bar at the heart of the Vale Village, the Duck and Scholar has been transformed into a strikingly efficient and easily accessible COVID-19 testing site. 
Students are not required to book in advance to take a test here, with the site open on Tuesdays and Fridays 11:00am-6:45pm, with the late hours an effort to encourage students to get tested despite their busy workdays. The lateral flow tests available here are for those who don't have symptoms, but could be infectious at the time of testing. This method of testing is 'very good at identifying people who have high levels of the virus and are infectious on the day,' according to the team. Some students may be concerned that these lateral flow tests – which can yield results in less than an hour – are not as 'accurate' as the PCR testing, but the team at the Duck and Scholar are keen to dispel these worries. The lateral flow testing is 'most effective when you get tested regularly, at least once a week, or twice a week if you are on campus more often.' 
Speaking to Redbrick, Guild President Tobiloba Adeyemi observed that 'we all have a part to play in our collective safety during these times,' noting that  'a major key is ensuring that we get tested at least twice a week – if asymptomatic –  to avoid unintentionally putting ourselves or loved ones at risk of contracting the COVID-19 virus.'
The Guild President's video tour of the testing site can be found here.
Since opening on Tuesday 9th March, the site saw 102 tests take place on their first day of operation, with these numbers increasing day by day. Well over 8,000 tests have been conducted at the Duck and Scholar's sister site at the Great Hall – and many of these tests from both sites have been 'double-checked' in the PCR laboratory on campus. As of yet, there have been no 'false negatives' contrary to popular concern. 
In an informal poll conducted by Redbrick on Fab 'N' Fresh, the University of Birmingham's unofficial student community forum, 137 students responded to the question: 'Would a 'walk-in' COVID test (as opposed to one you had to book in advance) make you more likely to get tested regularly?' 93% of the students responded that a walk-in test would make them more likely to be tested regularly, with 5% stating that the walk-in centres would make no difference, and only 2% stating that walk-in centres would make them less likely to get tested regularly. 
The team are keen for students without symptoms to be tested at the Duck and Scholar site, because students do not need to book in advance; it is a more attractive prospect that doesn't involve prior organisation. Nonetheless, if you are displaying any of the COVID-19 symptoms of a high temperature, a new, continuous cough, or a loss/change to senses of smell and/or taste, you must not seek out a lateral flow test. Instead, you should self-isolate and schedule a PCR test as soon as possible.
In the President's words; 'the university has made it convenient for students on the Vale to get tested – where no prior booking is required – by setting up a walk-in testing site […] It doesn't cost a penny and does not take much time at all. All that is required is your student ID and 5-10mins of your time so, please get tested!'
Liked this article? Here are some more from Redbrick News:
Gavin Williamson: Could the Education Secretary Lose his Job Following a Rumoured Cabinet Reshuffle?
Sexual Harassment: UoB Students Feel Unsafe
Union Campaign Succeeds for West Midlands Ambulance Workers and Paramedics