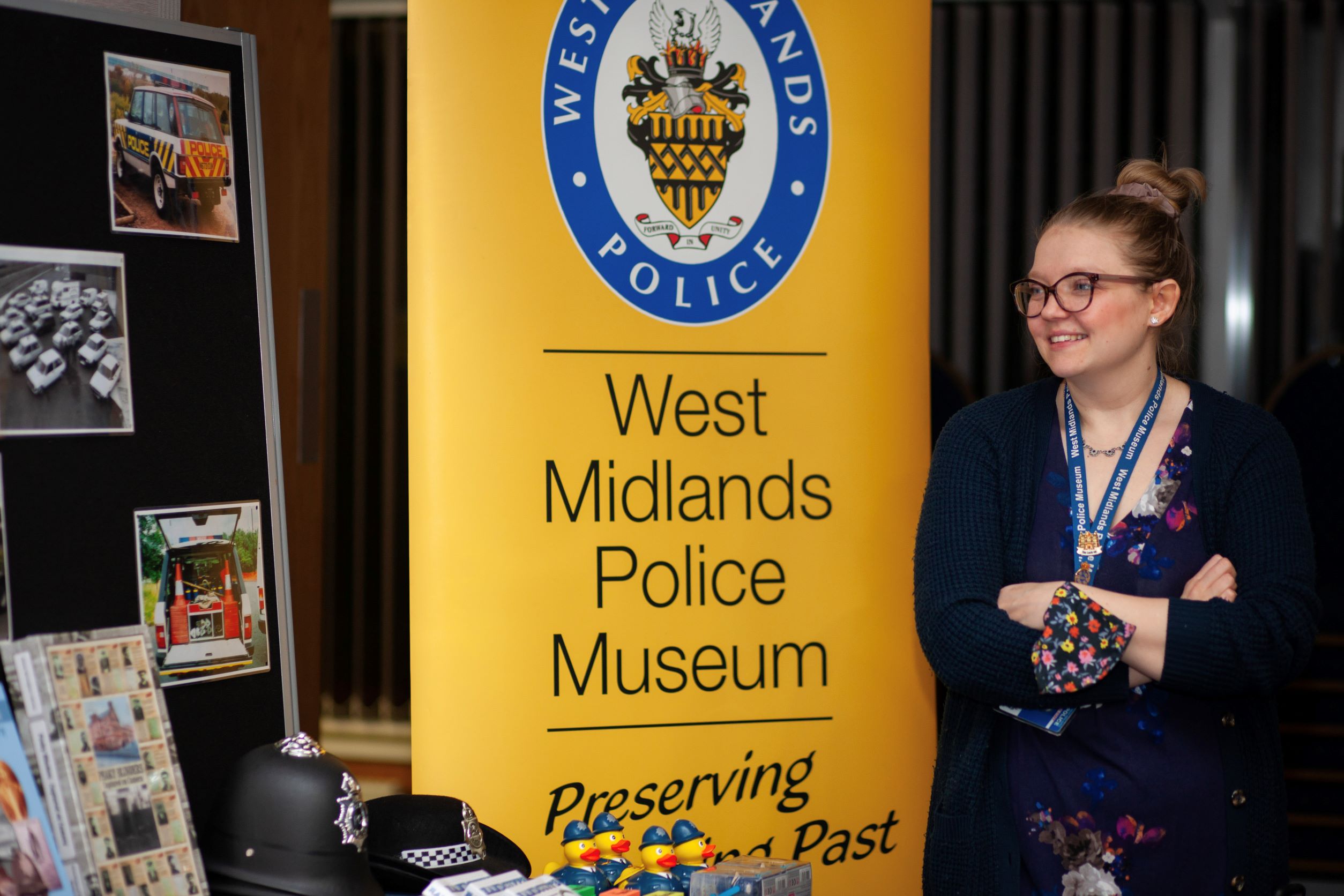 Culture writer Charis Gambon interviews the Manager of the West Midlands Police Museum, Helen Taylor, charting her journey towards her current role as well as discovering more about the museum itself
I was recently able to interview Helen Taylor who is Museum Manager at the West Midlands Police Museum. The museum opened earlier this year after refurbishments were completed in March 2022 with the public able to visit from April 2022. It was exciting to talk to the ecstatic Helen about the interesting new West Midlands Police Museum. 
What is your favourite part of your job?
Anything that involves looking after the collection, which I don't get to do a lot. This involves cleaning, documenting and accession. 
How do you feel about working at a new museum?
An exciting opportunity, not many people get the opportunity to start a museum from scratch. I get to create the museum how I like it. I cannot take all the credit though as I work with a great team. It is definitely unique and exciting.
What is your previous experience?
I have been the Collections Officer, Domestic and Cultural Life Curator, and Assistant Curator at Black Country Living Museum. Prior to that I was a volunteer.
What is the one thing you look forward to?
Definitely working with the volunteers. Our volunteers are different ages and come from different backgrounds. It is nice to talk to them on non-busy days. We have some ex-police volunteers who provide great stories. 
How many volunteers does the museum have?
We had 90 responses from the volunteering advert and there were some pre-existing volunteers from open days previously. Between the two we have 100 volunteers in the books. They all work on different things. 
How did you get into heritage?
I did a History and American Studies degree at Wolverhampton University. I wanted to be a teacher but decided that it was not for me. I did a placement at the Locksmith House at Black Country Living Museum and ended up with a job. 
How would you sum up your job briefly? 
It is incredibly varied and every day is different. 
What advice would you give to someone who wants to work in heritage?
Take any opportunity that presents itself. Whether that is front of house or anything else. My first job was casual and then I was in marketing. Say yes to everything as you don't know where it will led. Make friends and connections also.
As a new museum, how has it been going?
The first two weeks were busy. Now in the weeks we are quieter. School bookings are picking up and we are booked for schools up to the summer holidays. Group bookings are starting to. We will be having talks and events starting soon. Getting the word out about the museum is crucial for us. 
What age range are your visitors? 
We get a lot of families visit. In the week a lot of retired people visit the museum. Serving and retired police staff are a key audience for us. We are hoping that new police recruits will spend a day here to learn about their heritage. 
How does the museums relationship with the police work?
We sit in the communications and marketing team who help to get the message out. We have police support for one year. We charge for admissions in order to keep the museum running. We are not for profit so the money goes back in to the museum. 
What is your favourite item within the museum?
My favourite object is the 'Stinger in the Roads' safety display – you see them all the time on TV but not often in real life and the spikes are surprisingly sharp.
What is your favourite policing history fact?
The lock-up had a cat called Cooking Fat – she was employed by the police to keep the mouse population down at the lock-up. She was cared for by the force and staff at the lock up.
The West Midlands Police Museum is open every Tuesday to Thursday. For more information visit the museum's website: https://museum.west-midlands.police.uk/
---
Like this? Read more here from Redbrick Culture!
The National Army Museum: An Interview with the Director – Justin Maciejewski
Interviews: Why Do People Participate in 1940's Re-enactment?