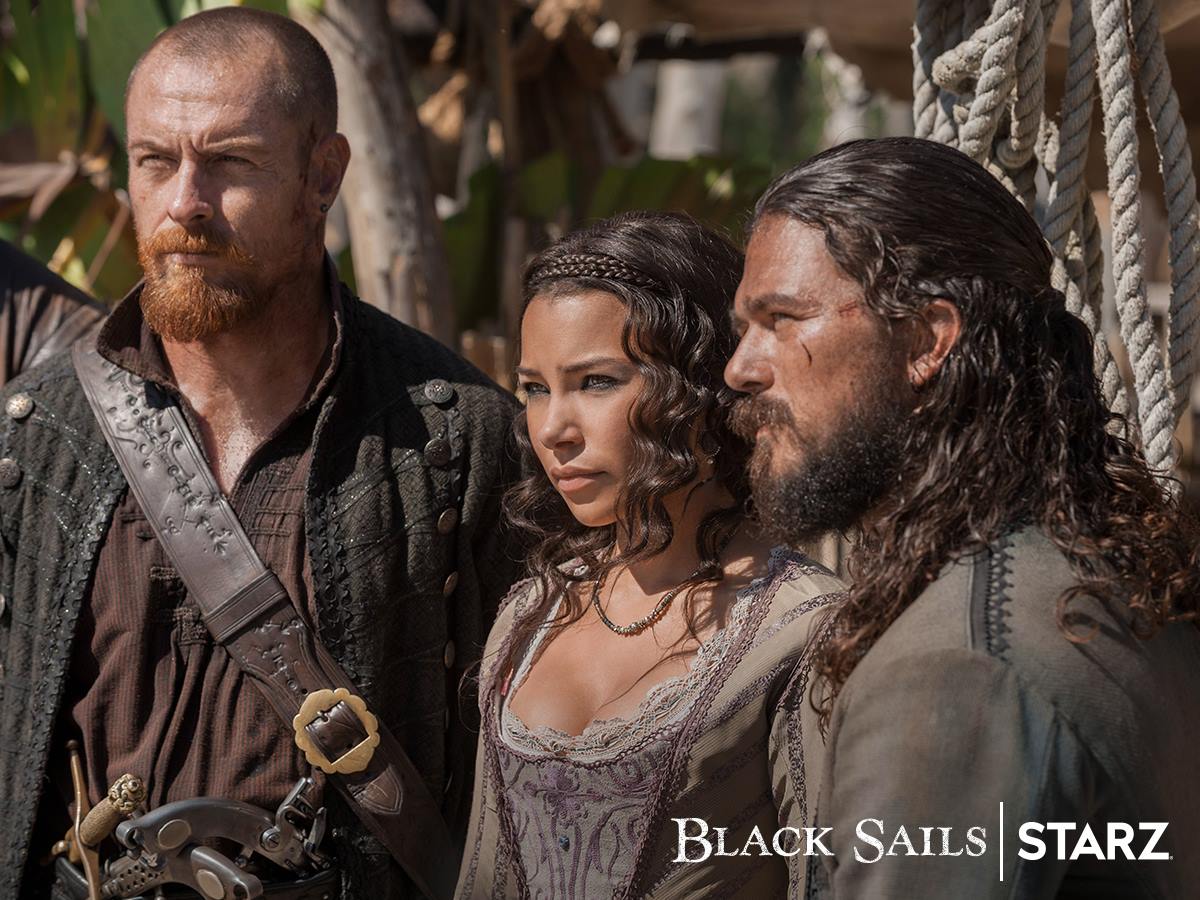 TV Critic Annabel Smith raves about the swash-buckling pirate drama, Black Sails, with its world-building and character development sure to keep you entertained
Black Sails has the adventure of Pirates of the Caribbean with the politics, realism, and character dynamics of any historical drama. A prequel to Stevenson's novel, Treasure Island, it has memorable characters, romance, political intrigue, violence, and enough rivalry with the English imperial system to ensure a rebellious narrative that delivers a swash-buckling adventure.  
It encompassed the sixteenth-century sea adventures that are so often left to cinema, combining on-land drama in Nassau with the rival Captains out at sea. Incorporating voices that are often side-stepped in this segment of historical TV, the show remains compelling and innovative. With Flint's (Toby Stephens) mysterious past revealed slowly to the audience, Max's entrepreneurial spirit from a slave to a prostitute to a business owner (Jessica Parker Kennedy), and Guthrie (Hannah New), a woman at the centre of all operations on New Providence Island along with her enslaved partner-in-crime Mr Scott (Hakeem Kae-Kazim). It continues to centre the oppressed and the marginalized, exhibiting their power away from the British system which limits them.  
The first season was a slow burn, but once they dove in-depth into the characters, with Flint's backstory, Madi's (Zethu Dlomo) introduction in season three and John Silver's (Luke Arnold) growth to a legend, the show stepped up. Each morally grey character offered a thrilling narrative. A combination of real pirates (Anne Bonny, Edward Teach, Rackham, Charles Vane) along with the literary ones of Treasure Island and added extras, Black Sails felt new, immersive and all its own. A mix of invention and literary familiarity, it enables a spotlight for the marginalised, with women, different sexualities, the black community, and physically-limited characters being represented.
With each season, each character became more compelling, and the plethora of stories interwoven within the narrative meant each episode was exciting. From Rackham's (Toby Schmitz) sarcasm, Anne Bonney's (Clara Paget) fierce allegiances and outward brutality, Vane's (Zach McGowan) loyalty, to the surprising show of Flint's vulnerability, each character improved the series. Rackham, a fan favourite, provides comic relief from the intensity of Flint and Vane – the warring captains unifying for a joint cause. This character-driven narrative proves itself through the introduction of the seemingly nice and reasonable Woodes Rogers (Luke Roberts) and an ever-enduring and thus scarred Billy Bones (Tom Hopper).
Yes, there were some problematic sections of Black Sails. Women were consistently construed under the male gaze and the POC characters were underdeveloped, but after the first season, Black Sails was revitalised by its incorporation of different experiences and giving greater weight to slavery, which so clearly influenced the interactions of the rogue pirate system because it offered them an alternative to entrapment. This was a progressive narrative, considering the likes of Pirates of the Caribbean which dismissed the black experience in pirating, despite depicting the East India Trading Company and violent threats within their storyline. The series successfully built upon its first season, incorporating world-building and more character investment, leading to a brilliant second season. Yet, the series has remained under the radar, even being taken off its UK streaming service, Amazon Prime Video.  
The four-season adventure comes full circle with subtle nods to the literary constructions of pirates with, in my opinion, one of the best endings to a series. The creators' choice to end the series, despite its popularity, spoke to its fulfilling execution. A fully formed forty-episode narrative, which became only more intoxicating over time, delving into the characters as much as the adventures on land and on sea. Its ending lends itself to pirate tradition and left enough hope for the swash-buckling genre in the future; its opening credit sequence will always stand as a testament to what to do well in a series.
---
Want another TV drama to occupy you these rainy months? Check out similar TV shows here:
Review: The Falcon and the Winter Soldier
TV Shows You Might Have Missed Since BBC Three Moved Online