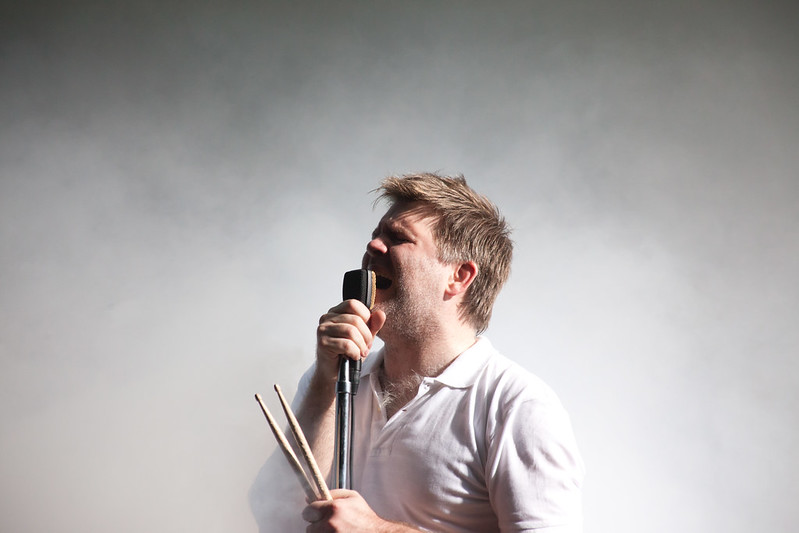 On the ten year anniversary of its initial release, Music Critic Seb Rolley reviews what was originally going to be LCD Soundsystem's final album
10 years ago, legendary dance-punk group LCD Soundsystem put out what was supposed to be their final record. The release and reception of This Is Happening is now inextricably tied to James Murphy's decision at the time that it would be the band's final record. After 2 massively acclaimed albums, the 2005's self-titled release and 2007's Sound of Silver, and a string of wild tours, Murphy decided to call it quits with one final record and a farewell show at Madison Square Garden. At the time, it seemed to provide a fitting farewell to one of the most influential acts of the new millennium. Whilst within a decade Murphy had retracted that decision and resumed work with LCD Soundsystem, putting out 2017's fantastic American Dream, This Is Happening still stands as a classic record. 
Opener 'Dance Yrself Clean' seems quiet and subdued at first, a minimalist beat accompanying Murphy's iconic vocal and lyrical stylings ('Talking like a jerk, except you are an actual jerk'). Three minutes in, however, it suddenly drops, bringing in its iconic growly synth line and a huge jump in both energy and volume. It goes from feeling like a contemplative piece for quiet listening sessions to suddenly feeling like you've been dropped into the sweaty, dark room of the greatest club you've never been to. There is no more perfect way to open a record. 
From the frenetic post-punk of 'Drunk Girls' to the techno grooves of 'One Touch' and the Adrian Belew-esque (King Crimson, Talking Heads) guitar line on 'All I Want', the first half of the album slips seamlessly between genres from track to track. Despite this stylistic restlessness, all these songs maintain a cohesion, feeling the influence of countless punk shows, DJ sets and hours learning recording run through all of them in equal measure. 
Another standout moment on the album is 'I Can Change', a song written with the kind of emotional sensitivity which makes all of LCD Soundsystem's love songs so compelling. There's something about the two variations to the chorus ('Never change, never change, never change, this is why I fell in love' and 'I can change, I can change, I can change, if it helps you fall in love) that perfectly captures the feeling of being stuck in love with someone who will probably never reciprocate it. These lyrics partnered with another killer synth line make this a deeply catchy, but totally sincere mid-point to the record. Love may be a 'murderer' in this song, but it'll still leave you dancing. 
LCD Soundsystem's peak hipster moment of the record, 'You Wanted a Hit', deals directly with Murphy's feelings about finding himself in a now-iconic band after years of obscurity in the previous millennium. Addressing expectations of himself and the band, Murphy sings 'you wanted a hit, but maybe we don't do hits.' Aside from the fact that the band had put out multiple underground hits on their past two albums and had an upcoming show at Maddison Square Garden, hardly the marks of a band failing to reach a large audience, this song perfectly captures the moment the band found themselves in the run-up to 2010. Through its driving bass and guitar, this song portrays someone grappling with success and a way to move forward with this new burden.  
Whilst the end of the record may not contain its most classic songs, they each hold their own in the LCD Soundsystem catalogue, and provide a comprehensive look at their influences. 'Pow Pow' is a perfect example of LCD Soundsystem's dance-punk lineage, clearly inspired by the sounds introduced of other New York bands such as ESG but building on this with thicker instrumentation and slicker production. 'Home' seems like a nod towards 'This Must Be the Place' by Talking Heads, coming close to the same elusive mellow energy that many others have failed to do. Just add a man dancing with a lamp and it'd be right there. Perhaps the strangest comparison that could be made of the record, there are moments like 'Throw', a cover of a song by legendary Detroit House producer Carl Craig, that sound a little like a punky Venga Boys. Yes, this might sound horrific in theory, but it somehow works really well. Since when did the Venga Boys ever make screaming 'I wanna see your haaaaaaaaaands' for a full 25 seconds so cool?
10 years on from its release, This is Happening still stands as a masterful statement of genre-blending and witty writing. As a final statement for the first era of the band, or as simply another chapter in their still evolving career, it feels like a definitive culmination of their influences and experiences. Go check it out, play it loud, and dance. Although, seriously, beware that Dance Yrself Clean basically doubles in volume 3 minutes in. 
This Is Happening is available now via Parlophone Records
---
You Might Also Like
Single Review: Bon Iver – PDLIF
Album Review: Tom Misch & Yussef Dayes – What Kinda Music
Album Review: The 1975 – Notes On A Conditional Form
Album Review: Rina Sawayama: SAWAYAMA