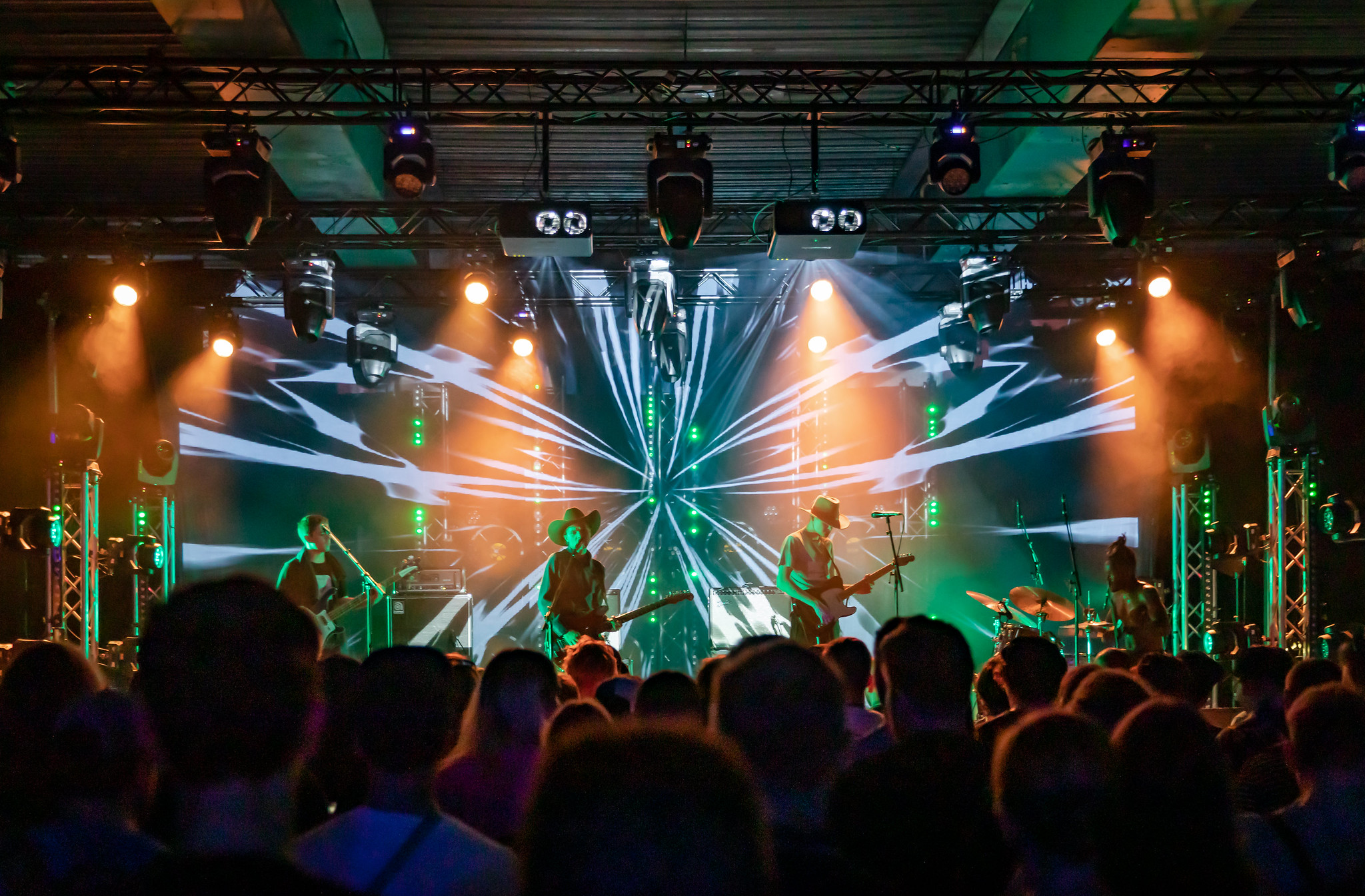 Black Midi's sophomore album, Cavalcade, displays an enormity of influence and a cataclysm of creativity, Music Critic Ben Forsdick reviews
The malleability of Black Midi is an enigma. If someone claims they know how best to categorise this band, they are likely lying. Knowing exactly how to describe this music would be like knowing how to explain the plot of a David Lynch film or a James Joyce novel to a cinema and literary novice, an appropriate comparison given the vast depth of popular cultures that influence Cavalcade. If Black Midi's mind-bending debut Schlagenheim left you scratching your head in stunned disbelief, Cavalcade will only reopen those scratch-induced wounds. This suitably named sophomore release is Black Midi's procession of weird ideas, chaotic instrumentation and lyrical insanity. It will render you petrified with bewilderment, and if that sounds like fun (which it should), then Cavalcade is the successor that Schlagenheim deserves. 
Where Schlagenheim was vaguely a post-punk record, Cavalcade relinquishes this aesthetic from the moment it begins. Opening track 'John L' combines Mahavishnu Orchestra levels of mathematical precision and instrumental chaos with the lyrical madness that gives Black Midi their freakish charm. The songwriting is methodical and meticulous, while also progressing with brutal velocity; a velocity that intermittently thuds into a wall of silence that abruptly imposes an unexpected intermission. Frontman Geordie Greep narrates that tale of John L, a seemingly ineffective leader of a perpetually disappointed population. Greep consistently refers to people as anteaters, something the band previously did on the Schlagenheim cut 'Western,' evoking a Lynchian juxtaposition between the eerie beauty of the world and the layers of scum populating it. The cinematic qualities within the band's storytelling are to be expected given how overt they are in 'Marlene Dietrich,' a track about the actress and singer of the same name. Functioning as Cavalcade's only true ballad, it demonstrates Black Midi's embracement of versatility; the carnage of 'John L' followed by the pleasantness of 'Marlene Dietrich.' Greep sings of the title actress and singer's final days as a performer, during which she is forced into accepting the poor reviews her work receives. It lacks the power of Black Midi's more cutthroat tracks, but it is a rare moment of beauty within an excitingly rough record. 
'Marlene Dietrich's' theme of a protagonist's transition from fame to notoriety is explored more deeply on 'Dethroned,' a track which details a character's spectacular and disastrous decline in reputation. While some of the intricacies within the mix are typical of Black Midi's oddness, everything is a little overblown, resulting in Greep's vocal becoming almost inaudible. Despite this, the lyrical themes do translate effectively, especially when Greep refers to the dethroned protagonist as 'weightless as ever, forever weak;' a moment of Kundera-esque philosophical thought. The conjuring of literary references within the mind of the listener, like the conjuring of references to cinema, should be expected with Black Midi. 'Diamond Stuff' is Cavalcade's overt nod to literature, specifically the work of novelist Isabel Waidner. This minimalist track surpasses six minutes, features few lyrics and repeats the same sound material for most of its runtime. But this minimalism, in light of the opening four tracks' maximalism, is completely necessary. The minutely out of phase guitar passages are reminiscent of some of Perfume Genius' more ambient compositions. It is a surprising comparison, but Black Midi are not as versatile as they are brilliantly random in how they express their versatility, to the degree that such a comparison fits the record's character.
If 'Diamond Stuff' is Black Midi's restrained introspective side, the antithesis of this is its predecessor 'Slow.' This instrumental masterclass is one of Black Midi's tightest performances to date, with guitars and saxophones trading riffs over the band's characteristically complex percussion. The effectiveness of 'Slow' lies mostly within Greep's despondent vocals. The track relays the story of someone waiting for death. Yet their wait is slow, protracted and seemingly futile. 'How much longer? Any day/How much further must I wake?' the band sing, completely uninterested in life. The subject matter is dismal, but the dreariness of waiting and somewhat yearning for self-destruction is brutally disturbing and executed near flawlessly. Taking the album's themes into uncharted territory, 'Chondromalacia Patella' is a song about knee pain (yes really), which describes the condition with surprising beauty. It is a difficult listen due to its intentionally disordered structure, yet the band's ability to create crescendi is undeniable, if at times prolonged. The final 30 seconds of 'Chondromalacia Patella' are obscenely complex. The track accelerates while the guitars shred like an Iron Maiden record that was mistakenly set to spin at 45 rpm.
But no track on Cavalcade matches the insanity of 'Hogwash and Balderdash.' The album's shortest and quickest, this song follows the escape of two convicts, set to a soundtrack that would be at home within a Danny Elfman score. Despite its brevity, the pace of this song allows for multiple phases, including crushing, Stravinsky-like orchestral crashes. It is an unadulterated sensory overload, remaining utterly barbaric and ferocious in delivery throughout. This, in a sense, is why the following and closing track 'Ascending Forth' is one of Cavalcade's weaker moments. While the closing moments of this near 10-minute giant form the delightfully excessive ending to this ludicrously creative record, the song's length is to its detriment. 'Ascending Forth' drags and what began as beautiful and moving vocal passages grow tedious as the minutes pass. The outrageous ending is worth it, but only just.
Black Midi have something here. I never quite know what, but they have something. Cavalcade is the sophomore release many will have hoped for. While some moments outshine others, this record displays an enormity of influence and a cataclysm of creativity that viciously powers through these eight tracks with the rage of a true juggernaut. To some, Black Midi's music is difficult to digest without choking. But if the stomach is allowed to grow strong enough, Cavalcade is another stroke of genius from a group whose music never fails simultaneously to perplex and entertain.   
Rating: 8/10
Cavalcade is available now via Rough Trade Records
---
You Might Also Like
Album Review: Squid – Bright Green Field
Single Review: The Black Keys – Going Down South