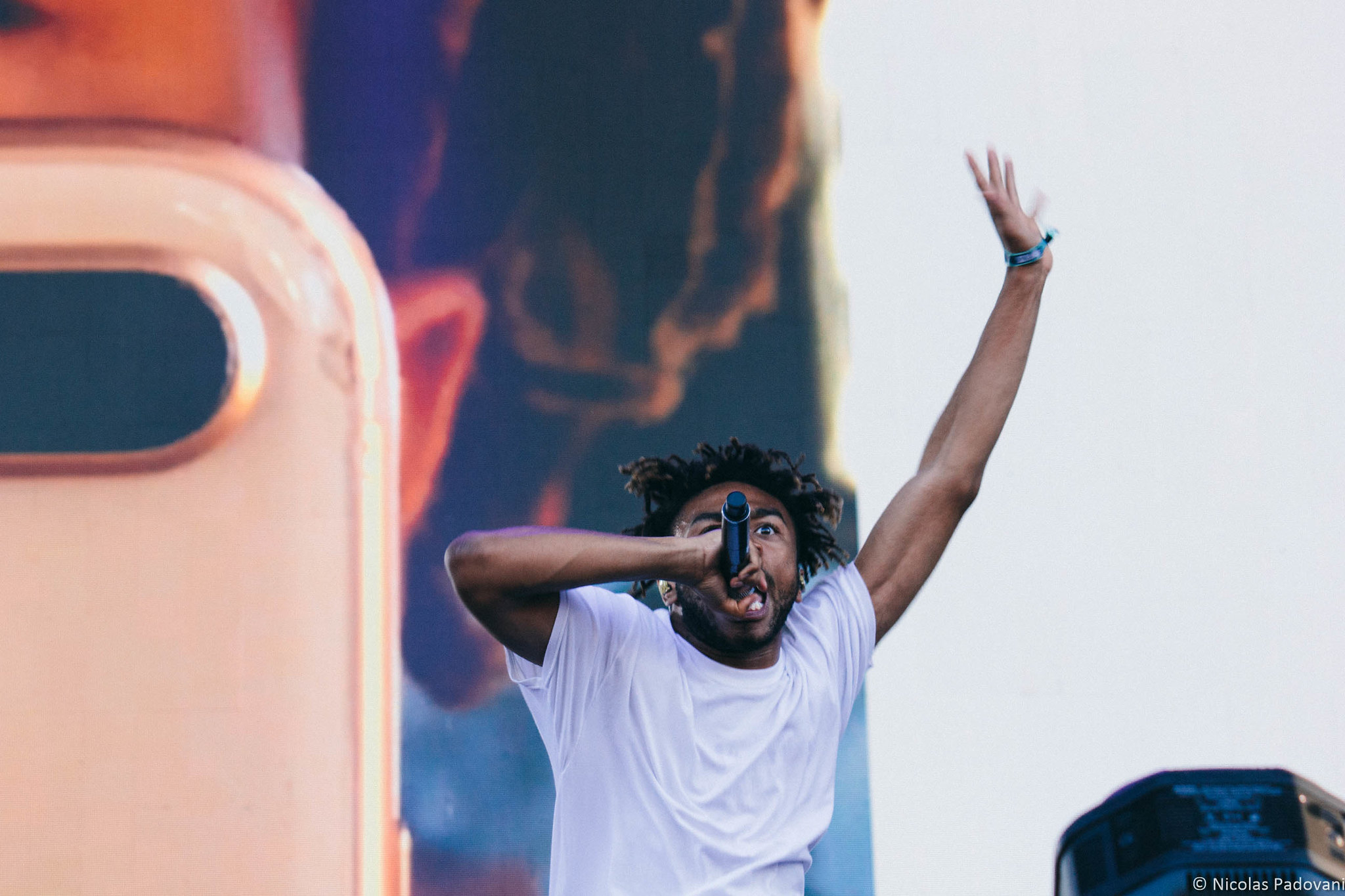 Music Critic Dylan Ferner-Rose reviews BROCKHAMPTON's latest album which is hit and miss and fails to live up to the standard of some of their previous albums
I love Brockhampton. It's hard to write an objective review of their work – after all, the Saturation Trilogy – a stunning run of three full length albums all dropped in 2017 – was a take on hip hop that I'd never experienced before and, cliche as it may be, changed my life for the better. The rich, colourful beats of the self styled 'boy band' (although their style may be more reminiscent of an RnB/alternative hip hop cross breed) were so creative and sweet that at times I would play my favourites on repeat just to pick up the subtle splashes of vibrancy on a certain synth lead or pitch change. The personality of the band was entrancing and hypnotic. The confessional style of the group's lyricism was disarmingly honest, allowing reflective and touching ballads but also rebellious and striking bangers.
In 2018, long term member Ameer Vann was kicked from Brockhampton due to serious accusations of abuse in several relationships. His style was one of the more traditional forms of street-rap, and he did it well – the balance of the group relies on a mix of styles, after all.
Whilst front man Kevin Abstract sings and raps using the influence of his magnetic personal life (including game changingly honest expressions of his sexuality); Merlyn provides electric and unpredictable verses; Dom McLenon showcases a unique blend of rap and poetry; Joba and Bearface hit the high notes with pop/indie infused ballads and Matt Champion adds sex appeal with his sultry musical trademark. Whilst the aforementioned names are the lyrical faces of Brockhampton, there are a slew of producers and visual artists who also make the group what it is.
Once Ameer left the group it was obvious that a huge piece of Brockhampton had gone missing.
Instead of finding a straight replacement for Ameer, the group decided to make the most of their remaining musical styles.
The results: projects Ginger and Iridescence, were a mixed bag, not as good as The Saturation trilogy, but still unique and characterful in their own right, often using the anger and portrayal of Ameer's actions as inspiration for more stripped back, melancholy music.
And that brings us to ROADRUNNER: NEW LIGHT, NEW MACHINE (RR).
RR was a surprise drop, with only a few weeks' notice being given via Kevin Abstract's twitter page – an informal style of fan communication not out of character from the prolific band. A single which went on to be the album opener, 'BUZZCUT Feat. Danny Brown' was dropped, and it sounded promising. Kevin Abstract's verse: 'who let the dope boys ouuutttttt, thank god you let me crash on your couuucccchhhhhh' was enthused with his usual sass and charisma. Danny Brown's verse also hit hard, a lyrical highlight being the immaculately strung together rhyme scheme: 'no peace on the streets so I'm clutching my heat, gotta watch for these savages roaming the streets.'
The song's break down into a melodic, auto-tuned, syrup laced harmony was a further reminder of the group's versatility, with heavenly vocals droning over Merlyn's contrastingly shouted mantra: 'look at the sky!'
Almost as important, were the song's visuals, a brilliantly trippy cinematic journey filled with treats and tricks of colour and perspective. All in all, a good start.
The next track: 'CHAIN ON Feat. JPEG MAFIA,' is a lyrical showcase over a repetitive beat, finished with an endlessly repeated keyboard riff (Du Du Du Du – Du Du Du Du). JPEG MAFIA, whilst never really capturing my imagination as an artist, provides some nifty lyrics across a single flow: 'slick with the ink, these melodies need DuoLinguo, same size as Dua Lipa, where the f**k my pen go' being a smart and pop culturally adept highlight. Dom McLennon is given a verse on the track and it's always a high to hear his poetic style: 'hanging from a chandelier in Babylon, we don't believe your white gods they getting rabbled on', and 'unless you got war on your mind get the shackles off, you can't ignore karma when it flames across your lawn' being two examples of his creative and vivid imagery, in fact it's criminal and a fatal flaw of the album that the lyricist is only given around 3 minutes of air time across the track list.
The next song, COUNT ON ME, is a pretty enjoyable pop flick with a feel-good chorus: 'you don't even need no money you can count on me.' The track's hippyish sentiment is hardly ground-breaking, but a bubbly guitar based beat makes for a catchy listen. The recently released music video is excellent, and continues to display deliciously off-beat psychedelic visuals.
When you consider the naive 'money can't buy happiness' tone to COUNT ON ME, the next track is almost like a bad joke.
BANKROLL feat. ASAP Rocky/ASAP Ferg is an uncomfortable listening experience because it puts a magnifying glass on a point where the themes and influences of the record inharmoniously crash together. ASAP Rocky's confident expression 'they want love: they got me' mirrored by Merlyn's simple but personal statement: 'you don't have many friends but you the shit to me' are thrown alongside a monotone repeated ad lib: 'bankroll', culminating in Matt Champion's chorus: 'lump in my jeans I got a bankroll […] I'm walking with a limp, got too much bankroll.'
ASAP Ferg's braggadocious verse on the track including the charming line: 'don't know why you're cuffing my dick she toungin' feels almost callous and embarrassing when placed alongside the authenticity and personality of Merlyn's verse.
By throwing naive loyalty alongside cliche materialism, BANKROLL is asking me to feel contradictory things, COUNT ON ME sets up clashing values to the track, but instead of an apt, or at least funny contrast, it feels like the duo of tracks detract from one another.
The next track, THE LIGHT, is a harrowing and tough listen. The suicide of band member Joba's father provides a back drop to the song, and his verse is filled with anger, uncertainity and grief. The value in the track comes from the raw honesty that made the band famous, and is inherent in the best elements of every member. I'm sure that Joba's verse provides valuable solace and solidarity to anyone listening who's struggled with a sudden loss.
Two of the tracks on the album which have caught fans attention are WHEN I BALL and DON'T SHOOT UP THE PARTY. WHEN I BALL begins in earnest, with a beautiful bar from Dom: 'my momma said I didn't come into this world with tears, instead I welcomed it with open eyes and open ears.' A positive and bright string sample soars across the low-key percussion, complementing Dom's luxurious bars perfectly. Dom's delivery on the track is dripping with heartfelt feeling: 'my momma is home, I'm following her – expressions' is delivered with a style which really allows us to hear pain straining through each vowel sound, it's as though you can really see the face of Dom's mother, trying to articulate and uncover the changing emotional landscape of her face. The fact that this image is so well incited is a credit to Dom as a lyricist and it's only to the album's loss that his talent is somewhat sidelined.
The song's chorus leaves something to be desired. 'You always used to tell meeeee, I can be anything I want to beeeee', is sung at an irritating and shrill pitch. It feels like as the album crests at another heartfelt and arresting articulation of feeling, a saccharin moment comes to ruin it.
DON'T SHOOT UP THE PARTY is stylistically a nice reference to 90's – 2000's gangster rap. Kevin provides a verse full of confidence and charisma. 'Homophobic, I tried to gang bang, I tried to get laid, I had to get paid,' is typical of Kevin's ability to explore his sexuality in reference to the wider culture of hip hop. It feels liberating to hear the voice of a gay guy inundated with the influences of an era where alternative forms of sexuality were either left by the way side or played off as a slur or joke.
THE LIGHT PT.II is a typical introspective closer, a common way for the group to draw a curtain on their albums. Kevin Abstract's expansive verse is illustrated by a choral back-in, that manages to avoid the corny feel to some of the similar sounds across the album. 'I only ride if my boyfriend driving, plus he got the skin colour that make the cops like him, ever since a kid I've always been so frightened' paints a superb picture of modern America whilst being infinitely more personal than the mainstream news headlines about police brutality.
ROADRUNNER: NEW LIGHT, NEW MACHINE is an album which can be understood by looking at its title – vague, ambiguous and a little pretencious. What exactly is the NEW LIGHT? What exactly is the NEW MACHINE? And why get ROADRUNNER involved? If the album is meant to hint at some kind of higher concept, it doesn't do a very good job. Sure, there's exploration of higher concepts throughout, after all a band filled with talented lyricists will always make music that rises above the everyday. Brockhamton's fan base is extremely loyal. I can relate, as a fan, to being given a discography by them over the years that has helped me through many hard times and hard feelings, as well as tracks that are infectious, catchy and hugely danceable.
If you listen to the saturation trilogy you will hear some of the best music of the modern era, unfortunately in my opinion, ROADRUNNER: NEW LIGHT, NEW MACHINE is another little step away from the brilliant chemistry that made Brockhampton hip hop's it boys. Please listen to this group's music – it might just change your life, but this album is not a great place to start.
RATING: 6/10
ROADRUNNER: NEW LIGHT, NEW MACHINE is available now via Question Everything inc
_________________________________________________________________________________________   You Might Also Like: 
Single Review: Taylor Swift – You All Over Me (feat. Maren Morris)