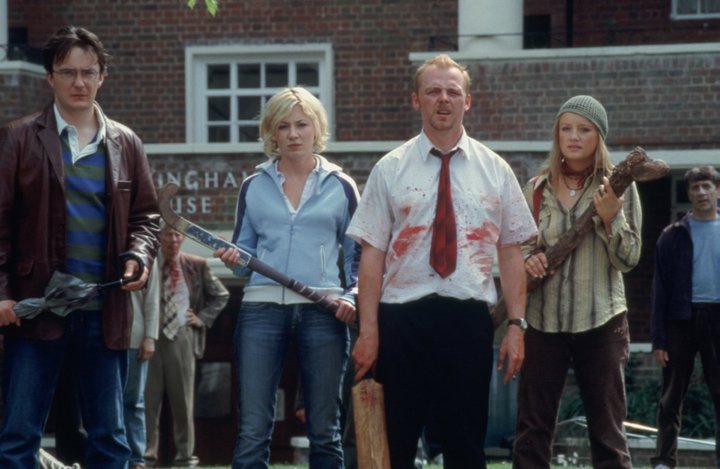 TV Editor Sian Allen takes us through the career highlights of iconic film director Edgar Wright
There are many ways to tell that you might be watching an Edgar Wright film. Has there been five whip pans in the last five minutes? Was that fight scene meticulously choreographed to an absolute banger? Did that seemingly insignificant gag from the first act just pay off magnificently in the third? If the editing is hyperactive, the soundtrack is legendary, and the pace is turbocharged, it's safe to say that you are in the (W)right hands. 
If you are taking a tour of Wright's filmography, the best place to start is Shaun Of The Dead (2004), a zom-com that's become a crown jewel of British cult comedy. The first film in the Cornetto Trilogy is full of the wit and visual stylishness that made Wright a household name. The zombie apocalypse is the only thing that can motivate Shaun (Simon Pegg) to finally sort his life out and get his girlfriend Liz (Kate Ashfield) back. The long take in which Shaun is oblivious to the apocalypse happening around him is a particular highlight, as is the famous 'Don't Stop Me Now' sequence that pleasingly foreshadows Wright's masterful use of music and choreography in his later works. Shaun Of The Dead is perfect for anyone who can't handle too much horror, a genre satire that prioritises laughs over scares. 
Next is Hot Fuzz (2007), the blue 'Original' Cornetto to Shaun Of The Dead's strawberry. Hot Fuzz is a high-octane action buddy-cop movie set in a rural English village. This simple but strong premise makes this film my favourite of the trilogy, along with Pegg and Frost's excellent (and mildly homoerotic) chemistry as Nicholas and Danny. Boasting a cast full of British icons, Hot Fuzz is a riotously silly parody of every silly action film ever made. It has a surprisingly compelling mystery at its centre with a truly ridiculous payoff that is delightful to watch.
Scott Pilgrim Vs. The World (2010) was Wright's first Hollywood movie – and though it may have bombed at the box office, it has since earned the cult following it deserves. As his garage band compete to win a life-changing record deal, Scott (Michael Cera) battles the League of Evil Exes to continue dating Ramona Flowers (Mary Elizabeth Winstead). Adapted from Bryan Lee O'Malley's graphic novel series, Scott Pilgrim has everything: bass battles, vegan police, video-game inspired superpowers. The film has an incredible soundtrack and a story that is bizarre as it is brilliant. Scott Pilgrim's cast is full of stars like Chris Evans and Brie Larson before their breakout roles, and it is essential viewing for anyone who considers themselves a pop-culture connoisseur. 
Sci-fi romp The World's End (2013) is a satisfying conclusion to the Cornetto Trilogy. However, Wright's following film, Baby Driver (2017), is one of the standout films of the past few years. A heist film about a baby-faced getaway driver (Ansel Elgort), Baby Driver has some of the smartest and most satisfying car chase scenes ever put to film. Wright's career-long dedication to synchronicity pays off perfectly here, and the thrilling story will keep you on the edge of your seat.
2021 has been a very busy year for Wright. Earlier this year, the director brought us The Sparks Brothers, a passion project about his favourite band. Watching his debut documentary, it is as if Wright has invited you to an uber-exclusive speakeasy – and the password is Sparks. The Sparks Brothers is an affectionate, funny, and surprising love letter to the rock-pop duo. 
And so, we come to the director's most recent and possibly most contentious film – Last Night In Soho. The film marks a sharp turn into psychological horror for Wright as he explores the dangers of romanticising the past. Before Soho, the female characters in Wright's filmography were few and far between, usually defined by their relationship to the male protagonist. The horror-thriller, co-written with 1917's Krysty Wilson-Cairns, is obviously Wright's attempt to break the chain. Soho may not be a subversive feminist masterpiece – its third act twist has proved divisive – but it is a stylish and immersive film that slips between the present and the 1960s with stunning ease. Thomasin McKenzie and Anya Taylor-Joy both give standout performances, and even if Soho doesn't quite stick the landing, the breath-taking momentum it builds in its first two acts makes it worth the watch.  
Ultimately, Wright makes movies for people who love movies. He weaves slick homage into his exciting storylines, remixing genres in innovative ways. It is Wright's attention to detail that makes him such a fantastic director, which is especially impressive considering his maximalist approach to filmmaking. This year has proven that Wright is willing to take his career in unexpected directions, and it will be interesting to see what genre the director takes on next.
---
For more career rundowns, take a look at these Redbrick Film articles: 
Director Rundown: Baz Luhrmann
Director Rundown: George Miller