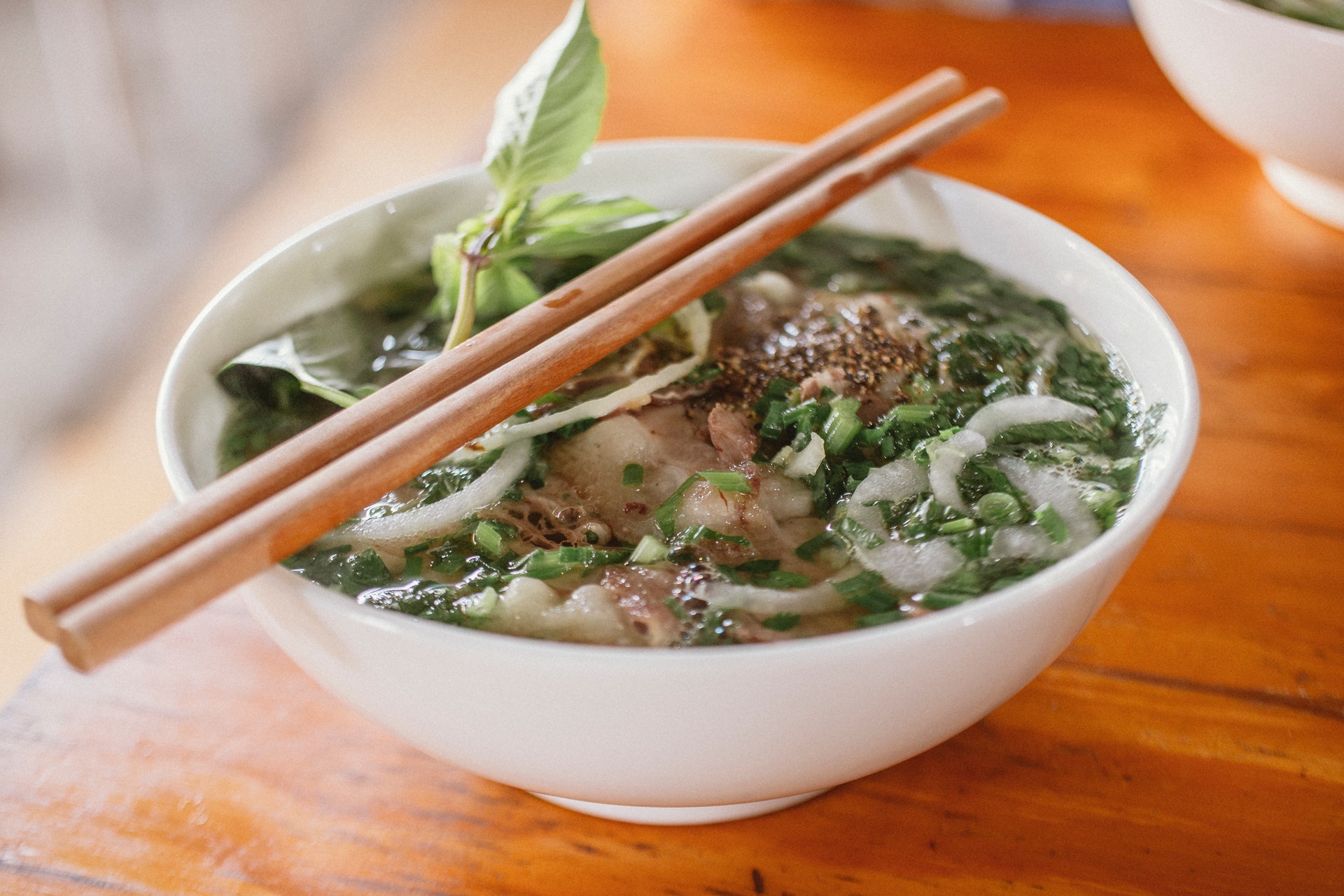 Food&Drink Editors Beth, Izzy and Max visit Pho, Birmingham's top spot for some healthy Vietnamese food
Beth Sadler
Located in the heart of Birmingham in Grand central station is Pho, a restaurant chain inspired by healthy Vietnamese street food. Situated amongst many other eateries which overlook the hustle and bustle of the station, Pho has an extremely urban feel, which introduces diners to the nature of the city. We were welcomed in by extremely friendly staff, who were wearing masks and maintaining social distancing (not just with us, but also each other). Since COVID-19 cases are increasing in the area, it was reassuring to enter an establishment that instantly felt safe. After track and tracing using the NHS app, we were quickly escorted to our table and immediately settled. 
After glancing at the menu I was pleasantly surprised at the variety of choice. Even the drinks menu provided unique options that we were desperate to try, so we began with a selection of juices. Perfect for boosting immunity (or nursing a freshers week hangover…) the 'kale, apple, pineapple and lime' juice was incredibly refreshing. Green in colour but not in flavour, it avoided tasting too healthy. We also sampled some jasmine and yulan flower tea, which was the highlight of my meal. Presented with a glass cup containing a flower that opened up as the tea infused, this delicate but flavoursome beverage is the perfect antidote for a full tummy. 
Izzy Frost
With a vegan menu almost as extensive as the main menu, I can safely say that Pho was a dream spot for any non-meat eaters looking to get their fix of Vietnamese food. We had the veggie spring rolls (chả giò) to start, which came with lettuce and a choice of either nước chấm or peanut sauce. This generously served plate would be perfect for sharing between two, and the peanut sauce we opted for was the perfect addition to the deliciously crunchy rolls.
Other than the classic phở on the menu, there were a huge number of alternative options for anyone wanting to try something else – with selections from fresh Vietnamese salads to fragrant curries, it was hard to decide what to pick. After much deliberation, I chose the wok fried noodles (phở xào) with THIS™ isn't chicken – a pea and soy meat substitute fortified with vitamin B12 and iron. This dish came with lemongrass, chilli, Asian greens, peanuts and nước chấm chay. When it arrived, I thought I must have been brought a real chicken dish by accident, as this 'chicken' both looked and tasted like the real deal. After overcoming the worry that I'd just broken my seven years of vegetarianism, this dish really hit the spot.
Max Kelly
The mains were everything you would expect from a range of authentic Vietnamese dishes. Steaming bowls of phở were accompanied by piles of fresh herbs, a dish of chilli paste and a squeeze of fresh lime. This is perfect for the discerning diner who loves to enrich their soup to perfectly match the flavours that they love. I chose the beef brisket phở (Bún bò Huế), featuring perfectly tender beef brisket slices simmered in a pleasantly spicy broth. The initial aromas from the phở were soon met with mouthfuls of soft noodles which had taken on the broth's punchy flavour. This all attributed to the true authenticity of the dishes, with tastes and textures which transported us to a Vietnamese street food stall.
The main was swiftly followed by a colourful passionfruit cheesecake desert (bánh phô mai chanh dây) with a fresh mint stalk to complete the eye-catching presentation. For me, this was the perfect foil to the heat of the phở as the velvety topping truly melted in my mouth with every bite. It was the perfect size to share between two, particularly after indulging in the generously sized mains.
For the entire month of October, Pho are offering 25% off to all students who show their student I.D. on Monday-Wednesday. Get booking and welcome yourself to an authentically Vietnamese culinary experience.
---
Looking for inspiration for your next meal out? Here's more from Food&Drink: