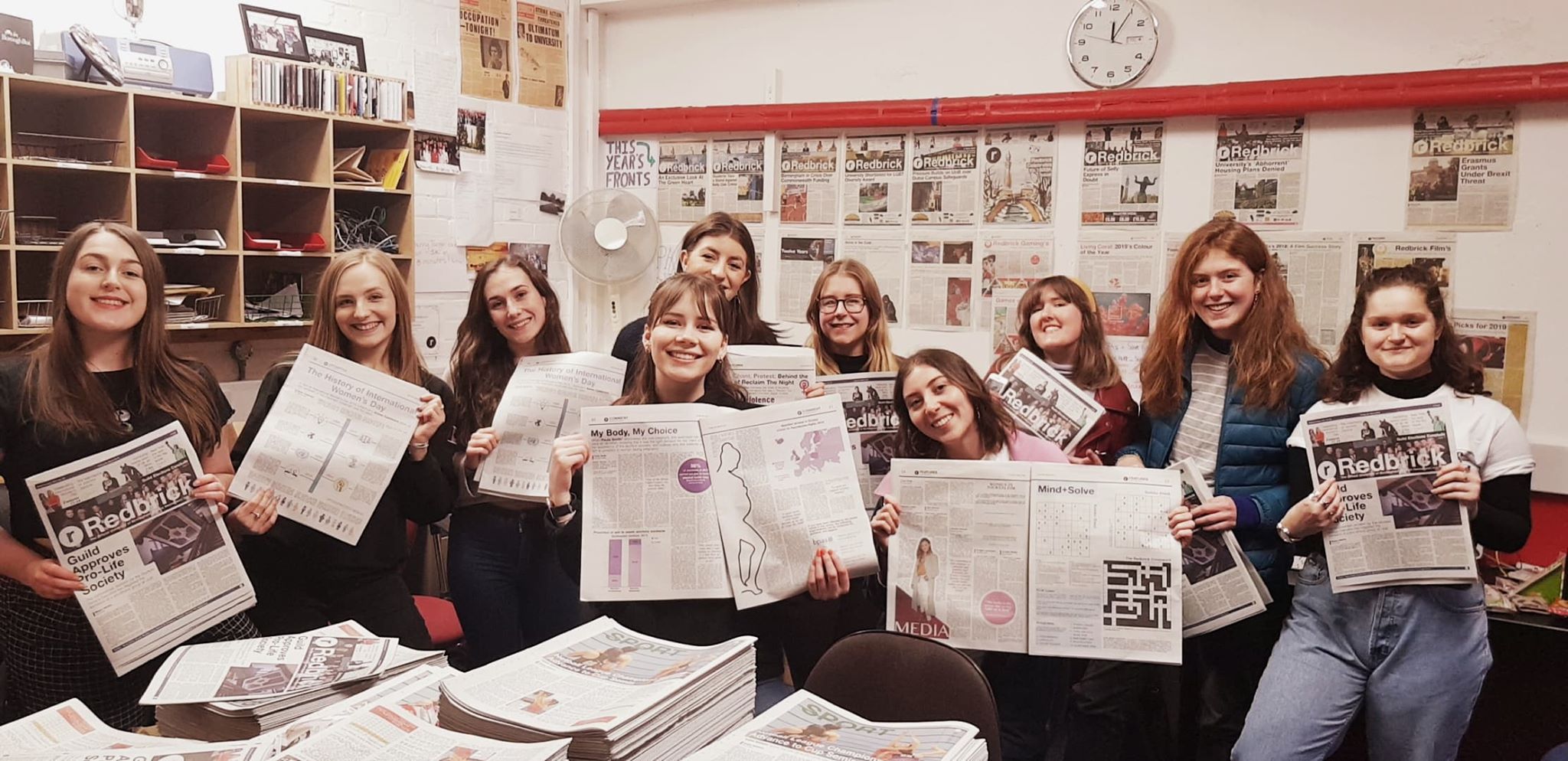 Our female editors discuss the women ready to take over the world this International Women's Day
This year's International Women's Day campaign is calling for a more gender-balanced world. The campaign calls for collective change and cooperation between genders.
Gender imbalance can be seen in all areas of life and things need to change.The FTSE 100 list for 2018 lists only six women. The Telegraph reported that this figure is so small that women are 'outnumbered by the number of male FTSE CEOs called 'Steve'/'Stephen', which is currently at seven. It is statistics like this that prove why this year's campaign, #BalanceforBetter, is so important.
To honour this cause, Redbrick are celebrating the women establishing themselves in male dominated sectors. These are the women of the future, and we are proud to be part of their journey.
SPORT
Becky Hammon – Coach
Nike's new 'Dream Crazier' advert promotes the inspiring message that it is not crazy for women to have a place in the sports industry and one of the women featured is a powerful example. Becky Hammon is the first female Assistant Coach on the NBA. Before Hammon, the idea of a woman coaching men's basketball was unthinkable, but her presence in the NBA has challenged this concept. People's initial reluctance stemmed from blatant sexism. Women cannot understand men's 'locker-room culture'. Women are less athletic than men. Women cannot command men. But really, why can't a woman coach men? Men coach women all the time, so why is it so controversial for a woman to coach men?
Hammon has proven a woman can do a job just as well as a man can. She has proven gender does not have a role to play in sports coaching, whilst also proving that women very much have a place in sport. She has proven that it is not a matter of male or female, but rather who is qualified for the job and who is not. Furthermore, her success as an assistant coach has made the idea of her becoming the first female head coach in the NBA a possibility. Thanks to Hammon, teams are no longer asking why should they hire a female but rather why shouldn't they.
By Isabel Baldwin
Alex Scott – Pundit
Ex-professional football player Alex Scott has made a career move we see many footballers make once they've hung up their boots. She has become a football pundit, sitting alongside the likes of Gary Lineker and Ian Wright. Yet, despite the quite natural career change, Scott is breaking the mould as a female pundit. Football is so often perceived as a man's game, not only in the sport itself but for those who watch it and even more specifically, those who report on it.
Her critics argue she is not qualified to comment on Premier League games because she has not played at the same level, but her 140 England caps and experience at the top level of female football say otherwise. It was this expertise that saw Scott become the first ever female pundit taken to the World Cup by the BBC in 2018. She has paved the way for the future of women in this male dominated industry.
Scott has a bright future ahead of her and I hope it won't be long until we are celebrating the first female host of Match of the Day.
By Issy Campbell
ARTS
Princess Nokia – Musician
Although, already two LPs deep, it is difficult to label Princess Nokia as 'up and coming', I feel like her career is still developing towards the recognition it warrants. Exploring genres, identities, art forms, and styles across works such as 1992 Deluxe, A Girl Cried Red, and Metallic Butterfly Nokia is endlessly intrigued by what she can do with her music. At a time when female rappers are becoming focal and recognised in the music scene, Nokia is one artist who is not to be ignored. Whilst being exciting, energetic tracks in themselves, her music tackles ideas of sexual identity, self-love, intersectional feminism, and being a woman in a male-centric music industry. Aiming to pave the way for female artists from a similar background, Nokia asserts that 'A Princess Nokia show is this place where girls can […] take the space in the way that men and the brotherhood do'. Slowly but surely gaining more headline slots, such as California's Noise Pop festival later this year, Nokia's career is bound to grow even further, and she entirely deserves it.
By Letty Gardner
Marianne Elliott – Theatre Director and Producer
Marianne Elliott is without doubt one of modern theatre's most inspiring and honest creative voices.
Elliott was Artistic Director at the Royal Exchange in Manchester, and worked extensively at the National Theatre until 2017, directing War Horse and The Curious Incident of the Dog in the Night Time. Elliott recently left the National to set up theatre company Elliott and Harper productions, with notable producer Chris Harper. They have produced hit after hit in a few short years, including the stunning production of Angels in America, directed by Elliott, that transferred to Broadway, as well as an extraordinary new production of Sondheim's Company (cast with a newly rewritten female lead for the first time!), showing that she has equal flair for directing musicals.
Elliott is equally inspiring offstage, as she has been wonderfully frank about the pitfalls and shortcomings of her chosen career, and of the broader arts sector, highlighting the thankfully ever decreasing disparity in the number of women directors and creatives involved in creating theatre (Elliott remains the only female director to have won two Tony Awards). Elliott believes firmly in the power of theatre to change lives, and through speaking passionately in encouragement of many young women who wish to create it, she too changes lives.
By Liv Boyce
Beth Reekles – Author
At fifteen years old, most of us considered having to come home from a full day of school only to do a further however-many-hours of GCSE revision every evening to be completely unreasonable. Avid writer and studious pupil Beth Reekles, on the other hand, managed to do all of this alongside penning a bestselling YA romance novel in her spare time.
Beth's journey to becoming a successful author began when she started to upload her first book The Kissing Booth chapter-by-chapter to Wattpad after school, receiving over 19 million views from readers who eagerly devoured every word she wrote. Two years later, having picked up on the attention Beth's novel was garnering, publisher Random House took the young writer on and offered her a three-book deal.
Now 22, Beth has gone on to complete a Physics degree at a top Russell Group University and publish a further three immensely successful YA romance novels. The Kissing Booth has even been translated to the screens of teens all across the world as a Netflix Original film. Much to Beth's delight, after becoming extremely popular with viewers, a sequel to the the movie has now been commissioned by the streaming giant.
Currently, Beth is focusing her attention on the intense IT graduate scheme she is undertaking, and just – you know – casually writing her fifth novel on the side.
After achieving more in half a decade than most young writers could hope to in a lifetime, I have every faith that Beth will continue to dominate the YA fiction world as an established female author, and conquer anything else she puts her mind to alongside it. Watch this space!
By Jess Green
Jodie Comer – Actress
Liverpudlian actress Jodie Comer may ring a bell to you as Chloe from My Mad Fat Diary or Kate Parks from Doctor Foster. Now, Comer graces our screens in arguably her biggest role to date as Villanelle in the hit series Killing Eve propelling her into the Hollywood limelight.
Playing a chic and witty assassin with killer charm and even more killer clothes, her performance has grasped the fascination and admiration from many. Acting alongside Grey's Anatomy legend Sandra Oh, the refreshing series demonstrates Comer's undeniable talent and has been labelled as 'thought provoking and implicitly feminist'. Seamlessly stunting a slick Russian accent with the face of a schoolgirl and style of a Parisian socialite, her performance is truly mesmerising. So much so, you end up googling her birthday, binge-watching every interview and following her brother on Instagram before Episode 1 has even finished.
But when she's not murdering men in suits all over Europe the Liverpool local lives at home with her family and continues to charm off screen with her definitive scouse accent and amicable charisma.
With Killing Eve swiftly recommissioned for a second series and the trailer already circulating social media, expect to see a lot more of magnetic rising star Jodie Comer. Stating her ultimate career goal is to work alongside Julie Walters I predict it won't be long before Comer herself becomes a household name.
By Yasmine Kennedy
ACTIVISM
Chidera Eggerue – Self-love Activist
Nicknamed 'The Slumflower', Chidera Eggerue is an up and coming female activist for self-love and body positivity in women. She created the #SaggyBoobsMatter campaign with the question: why should only small-boobed women go braless? She recognises many Women hate their body simply because they do not see it represented enough in the media and therefore do not consider it 'normal'. The purpose of the movement is to let people know that their bodies matter whatever they look like.
'What a Time to Be Alone' is her first book and is possibly the most inspiring book I have ever read. It focuses on self-love and self-acceptance, something so many of us need in an age where social media makes you feel like you will never be enough. At just 23 years old, Eggerue has published two books, created a campaign that has become a phenomenon, presented a BBC Newsbeat documentary and has recently done a TEDx talk on releasing the fear of being alone. In such a short amount of time she has already accomplished so much and no doubt she will be an influential women in the future as her audience grows.
By Laura Botia
Greta Thunberg – Environmental Activist
In a world where adults make the decisions – be they flawed or just plain stupid – one teenager has truly come to represent what it means to be a 'Woman of the Future'. For me, that is Greta Thunberg, a Swedish sixteen-year-old, who made a powerful speech to the UN on environmentalism, and how youngsters are the foundation for change.
Considering the recent February heatwave, her words seem to resonate months after her viral speech late last year, despite her presence in society seeming to wane. For a teenager to have such foresight, and to be resolute in her ideals at such a young age only indicates to me how brilliant Greta is, and how much of an inspiration she should be. It makes for woman, worthy of admiration.
As a big sister to a 14-year-old girl, it makes me so proud to see a young woman stand before a global body and be heard, even more so after the #MeToo movement. It proves that women and girls are at the forefront of innovative thinking, and have a vital role to play in the attainment of environmental sustainability.
By Lucy McCann
Bimini Love – 'Street Cramps'
Bimini Love is a 15 year-old young, innovative and astoundingly compassionate female from Cornwall, who off her own back, in between studying and shaping her own future, started an organisation named 'Street Cramps.' This genius home-made charity, aims to provide sanitary products of pads, tampons, heat-pads for cramps, wipes for cleanliness and fresh underwear to 35 women for a whole year- which Miss Love states should cater for all homeless women in her community in Cornwall. Bimini has spoken about her organisation's story, in a wonderfully eloquent and brave TedTalk, full-heartedly addressing the inconvenience, unpleasantness and inexcusable nature of periods and how she was inspired to consider the extremities of these qualities of menstruation for homeless women, when large populaces of homeless people moved into Truro over the winter months. Bimini states how "it is demoralizing" for women on the streets to have to choose between food and pads when struggling for survival, and even when equipped with the funds, rejected from shops because they look homeless. Her passion to support these women who have been failed by systems in the hands of people older than her, is evident in her success with her campaign, starting with a crowdfunder target of £300 and then achieving an amazing sum of £5,432, to support these homeless women throughout their lives. On average women spend £18, 450 on period products, a price homeless women literally cannot consider, and someone as young as Bimini has tackled this injustice with gumption and a soul full of sisterhood, which should inspire us all to talk about and act upon supporting women helpless to their bodies and circumstances this International Women's Day.
By Lydia Waller
Amika George – 'FreePeriods'
Amika George is a 19-year-old student on a mission. Whilst studying for her A-Levels in April 2017, George began the 'FreePeriods' movement to fight period poverty, with the primary goal of convincing the UK government to provide free menstrual products to all girls in secondary schools. She believes that everyone has a right to menstrual protection and the right to products should not be limited to those in certain financial situations. According to The Independent seven percent of school girls aged 10 to 18 were forced to miss school during their periods in 2017. Amika George is campaigning not only to eradicate the 'tampon tax' which classes menstrual products as 'luxuries' (whilst items such as Jaffa Cakes are not subject to this penalty), she is aiming for England to follow in Scotland's footsteps in providing free menstrual products to those who need it most. Despite her age, and juggling her work alongside university, George's campaign is off to a flying start – she has led protests of up to 2,000 people, has been named one of TIME's '25 most influential teens', and is not giving up until she has eradicated period poverty in the UK. Her passion, drive and the cause for which she is fighting are all admirable, and she is taking huge steps for girls everywhere in her work.
By Emily Calder
Mari Copeny – Young Activist
At just 8 years old, Mari Copeny wrote a letter to President Barack Obama requesting his help to bring clean water to the town of Flint, Michigan; their water had been contaminated as a result of changing the water supply without first treating it. Obama responded to Mari's letter, visiting Flint himself and authorising $100 million to contribute to a water repair system, proving that you're never too young to make a change in the world. And she hasn't stopped trying to make changes for Flint since. Now 11 years old, Mari continues to raise funds and awareness for the conditions that the children of Flint are living in. She has organised backpacks with school supplies for underprivileged children, handed out bottled water to local families impacted by the water crisis, and regularly organises cinema trips for children who otherwise couldn't afford to go. Through her Global fundraiser, the Dear Flint Kids project, she has brought Flint's crisis to the world's attention and in doing so has proved that she is a force to be reckoned with. Mari Copeny's main goal is to one day be president, stating that she knows she 'can use that office to change the entire world for the better' and I don't doubt that one day we will see her achieve this dream.
By Niamh Brennan
Ruby and Christabel Reed – Environmental Activists
British sisters Ruby and Christabel Reed are passionate about sustainability and encouraging everyone to live environmentally friendly lifestyles. Their two campaigns – The Avaya Initiative and My Eco Resolution – that are making them two women who might be making big waves in the future.
Created in 2016, the Avaya Initiative is a think-tank aimed at finding solutions to issues such as mental health and environmental crises. It aims to inspire and influence people to become activists to make change by raising awareness of issues, improving wellbeing, and creating a community through different programmes and events.
In collaboration with actress and model Cara Delevingne, this year the sisters created My Eco Resolution – a social media campaign to encourage people to make lifestyle changes that will benefit the environment. Instagram users are being encouraged to share the hashtag #myecoresolution with a promise to change something in their life for the better of the planet and their own wellbeing.
With experts recently reporting that we have 12 years to avoid serious climate change effects, the work by the Reed sisters is now more important than ever.
by Megan Stanley
Emma Gonzalez – Gun Control Activist
After the tragedies that occurred at the Parkland School shooting in Florida last year, Emma Gonzalez, along with some of her classmates, refused to be branded as a victim and decided to take a stand. From giving a powerful speech on gun control a mere two days after the event, to being a lead organiser of the March For Our Lives movement, Emma Gonzalez is an incredibly brave, intelligent young woman who is now using her platform to not only be an advocate of gun reform, but to also speak out about other political issues.
As such a young woman, Emma's passion and anger make her uniquely qualified for such a demanding and frustrating political debate as gun control. Her and her classmates are frequently organising marches, and liaising with politicians to open up the debate, but you can see how her unrelenting energy for this fight comes from a place of grief. I hugely admire her strength and tireless arguing against members of the NRA, and I believe that this young woman is truly the key to a future where children will no longer die in their own classrooms.
By Emily Chapman
Gina Martin – Upskirting Bill
Gina Martin was at a festival in Hyde Park in 2017 when a man took an up-skirt picture of her crotch without her knowledge or consent. Despite being able to grab the phone and present it to festival security and the police as evidence, Gina was told that nothing could be done because she was wearing underwear in the photo, and that it couldn't be classified as obscene. Frustrated, further research into this grey area of the law showed Gina that 'upskirting' is not a criminal offence. So she set out to make it one. After an 18-month campaign of petitions and public appearances, and raising awareness with the hashtag #StopSkirtingTheIssue, Gina's 'Upskirting Bill' was finally passed in January 2019. The will of one woman made a big impact. Alarmingly, Gina received huge amounts of abuse from trolls throughout her campaign, and getting people to take the issue seriously was an uphill battle; 'The conversation is always about what I'm wearing – instead of what the guy did.' Symptomatic of a wider sexism, upskirting is part of a culture that blames the victim in cases of rape and assault. Gina has transformed her victimhood into a positive law change, and she's found that activism rather suits her. This woman is one to watch.
By Morgana Chess
Scarlett Curtis – The Pink Protest
As an activist, Sunday Times Style Contributing Editor and author of Feminists Don't Wear Pink, Scarlett Curtis is certainly establishing herself as an up and coming influential figure. Curtis has recently initiated the 'The Pink Protest' campaign which advocates towards feminist rights, ranging from periods, female masturbation and more controversial issues in society such as Female Genital Mutilation. After her campaign received recognition in parliament, the vote for FGM to be included in the 'Children's Act' was spurred. Although a decision has not been made on the issue, the fact that Curtis's campaign work and activist beliefs were recognised by parliament says a great deal about her activism and hard work as an influential feminist figure. Unfortunately, despite the range of awe-inspiring things that Curtis represents, a lot of people are still unaware of the work she has done. With such a down to earth, bright and endearing character (which I am solely basing off her social media accounts – mainly featuring her cats), Curtis certainly deserves recognition and appreciation for all she's done. At just 23, living in New York, owning a cat called 'Christmas' (yes, that's right), and working to inspire young women and men across the world, Scarlett Curtis truly is an inspiration of mine and is someone whose book we could all do with taking a leaf out of.
By Sophie Woodley
MEDIA
Soraya Chemaly – Writer and Media Critic
Soraya Chemaly, an award-winning writer and media critic, first came to my attention when I saw her TED talk from TEDWomen 2018, entitled, 'The power of women's anger.' She discusses how anger can be a powerful and useful emotion, often indicating threat or insult. Yet women across the globe are encouraged to supress this anger, instead remaining silent, due to the misconception that anger isn't feminine. Instead, Chemaly argues that anger is a vital tool for change.
Chemaly campaigns for this change. She is the Director of the Women's Media Centre (WMC) Speech Project. The WMC is a non-profit organisation that works to 'raise the visibility, viability and decision-making power of women and girls in media […] ensuring that their stories get told and their voices are heard.' The Speech Project is more specifically aimed at expanding women's freedom of expression and reducing online harassment and abuse, hoping to expand women's civic and political participation.
Not only is she an incredible public speaker, she is actively campaigning for a cause very close to the hearts of all women in journalism and the media. As a female writer hoping to pursue journalism, her work could drastically impact my future career.
By Natalia Carter
Emily Coxhead – Founder of The Happy News
Emily Coxhead has firmly become one of my favourite humans on the internet and is definitely my woman of the future. You may know her as the founder of The Happy News, a newspaper dedicated to providing positive journalism on all the good things happening around the world, which began after her Kickstarter campaign was successful and raised triple its target. Following this she released a range of greeting cards and merchandise, and last year she published her book Make Someone Happy. She deserves more credit for her commitment towards making the internet a more positive place amongst the doom and gloom of everyday life. Her Instagram is devoted to her beautiful illustrations of quotes that will definitely make your day a little bit brighter and is a regular on Instagram stories from sharing videos of her singing to chatting about everyday life. It's refreshing to find someone so colourful and positive, and following her journey through social media makes you feel like she's an old friend. She deserves so much praise, especially for The Happy News, as shining a light on positive news is definitely something the world needs more of.
By Sorcha Hornett
Niomi Smart – Social Media Influencer
With 1.6 million followers on both her Instagram and YouTube Channel, social media personalities such as Niomi Smart have a vast amount of influence over a very impressionable population. The word 'influencer' is often used when it comes to social media. Instagrammers show people what to wear, what to eat and where to go for brunch, but it is rare to find an influencer who is encouraging a positive change in the world. Fast fashion is particularly prevalent in the social media world, with people wanting to follow the latest trends, and not daring to wear the same outfit twice, yet Smart encourages her millions of followers to live consciously and sustainably. She appeared in a BBC documentary alongside Stacey Dooley about the impact of fast fashion, and since then has created a 'smart swap party' where women could take their unwanted clothes and swap with one another, instead of buying new items. Determined to play her role in minimising our environmental impact she tries to promote natural beauty products and even brought out her own book 'Eat Smart,' encouraging healthy eating whilst on a plant-based diet. Using her influence for good makes her stand out from the crowd of social media 'stars', and hopefully will inspire others on social media to do the same.
by Ellie Silcock
Emma Kent – Gaming Journalist
When thinking of a woman of the future, I thought to my section for inspiration. Women in gaming are few and far between in comparison to men, but that doesn't make them any less powerful. As for the woman I want to highlight, I thought of someone closer to home for Redbrick, and whom I consider to be an incredibly successful and inspiring personality Emma Kent. Emma previously was a section editor for Redbrick last year who went on to become an intern turned reporter for Eurogamer whilst challenging major industry leaders on topical subjects. So far she has questioned the gambling aspects of loot boxes, exposed a wider audience to the likes of Bowsette and been named a Rising Star by MCV, all in less than a year. Not to mention she partly got her internship by asking hard questions of male journalists who couldn't answer why they didn't have more female writers. I think it's easy to forget that those shaking up industry standards or those who will become leaders in their respective fields start somewhere. They aren't just created, they work for their place and that's why I think Emma is an example of a important woman in her field. It's also personally inspiring to me, because she is doing what I dream of. She is a female journalist in gaming which is not only incredibly hard to get into, but it's also difficult as a woman with stereotypes of the industry being by men, for men. Over sexualised female figures, a dominance in male leads and developers flooded with male computer scientists. I hope to challenge the stereotype in the future myself and having a friend and peer already doing so, makes me feel like I can do it too.
By Imogen Mellor
Pandora Sykes – Journalist
Perhaps most well-known for her role as co-host of the fantastic The High Low podcast, Pandora Sykes has also made her name as a journalist, brand consultant and speaker.
In addition to having one of the most wonderful names I have ever heard, she exudes intelligence, is unrelentingly funny and has a CV I dream of acquiring – one look at her 'about' page on pandorasykes.com says it all.
I credit her for being a reliable source of inspiration, information and entertainment. Though Pandora has achieved so much already, I know that 2019 and beyond will continue to see her grow. She speaks candidly about everything from the latest books she has read to the Kardashians. There's simply no platform or topic she is incapable of conquering and I am continuously in awe of her.
For your first insight into Sykes' pandora's box (I had to) of achievements, listen to The High Low, the weekly news and pop-culture podcast, which she co-hosts with the equally incredible Dolly Alderton.
By Kat Smith
The women of Redbrick
I would like to give a special mention to the women of Redbrick – these women really are the women of the future. May it be editors or writers, these women are your future journalists, publishers, authors, astronauts, brain surgeons – whatever they want to be! A fair number of the Redbrick Editors are in their final year of university, meaning they're juggling a hefty dissertation with their Redbrick responsibilities. But fear not – these women thrive under pressure and will not sleep until all of your articles have been thoroughly checked and approved. The Redbrick women provide support for each other in the office when we're struggling over page layouts or sentence structure – they can literally do anything. Ambition is in no short supply here, as the Redbrick girls are trying to make their dreams a reality by putting pen to paper. I have to give an extra special mention to my fellow Travel Editor, Laura, whose dedication to our beautiful paper ensures that the will never be a short supply of stunning travel pictures. You rock, Redbrick ladies!
By Eva Hunt
Jameel Jamil – I Weigh
Model, actress, columnist and radio and TV presenter Jameela Jamil has had an undeniably diverse career in the public eye. But despite becoming a well-known name in these various industries, Jamil's latest ventures also give her the well-deserved title of 'activist'. In the last year, Jamil has undertaken numerous endeavours to fight against the celebrity culture of airbrushing and fat-shaming, an issue that incites insecurity with body image and contributes to a rise in mental health issues and eating disorders. In her efforts to combat the often unrealistic and potentially damaging images on social media, Jamil launched an Instagram account called 'I Weigh' in March 2018. The I Weigh movement aims to make 'us feel valuable and see how amazing we are beyond the flesh on our bones'. In doing so, Jamil encourages men and women to share untouched pictures of themselves on social media with qualities they value about themselves. Many of these selfies feature on the account, alongside a constant thread of inspirational and uplifting posts promoting body positivity. Jamil has also argued against airbrushing, and has vowed to never allow professional pictures of her to be edited, as she doesn't want to 'sell a lie of 'perfection'. With this in mind, it is unsurprising that she was listed as one of the BBC's 100 women last year. And with all she has accomplished for body positivity in such a short space of time, she is certainly one to look out for in 2019.
by Imogen Lancaster