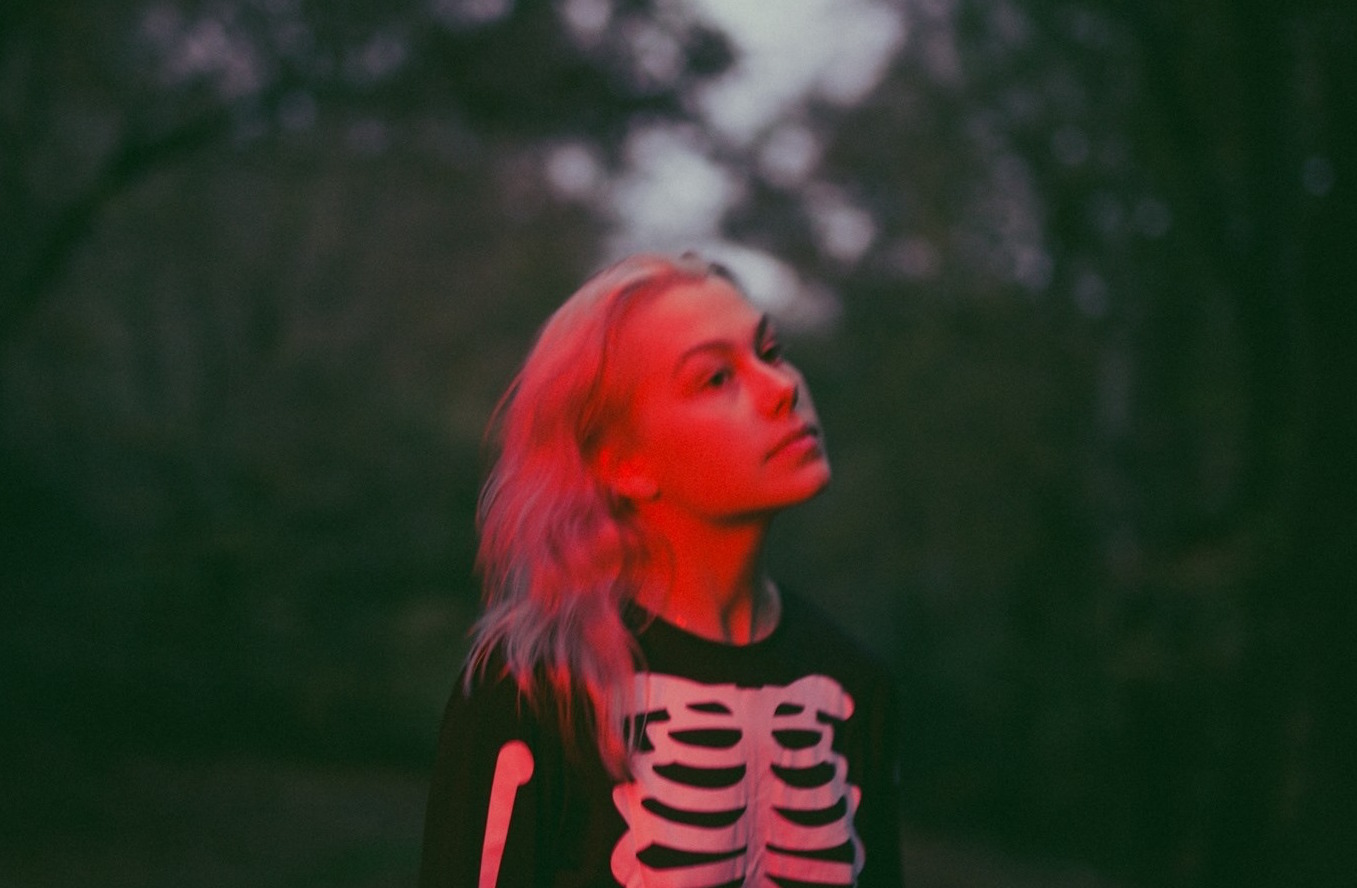 Phoebe Bridgers' sophomore album Punisher is a haunted exploration of her past with moments of power, tenderness and humour writes Hannah Massey
Throughout the haunting tracks of her sophomore album Punisher, Phoebe Bridgers' whispery vocals invite you to wander through the corridors of her fictitious 'House of Punishment,' roaming its darkened hallways as she affirms 'You don't have to know that it's haunted.' She murmurs her innermost confessions in your ears while her deepest hopes and fears take physical form around you. Punisher is thoroughly ghostlike as Bridgers unpacks her past, her relationships, disassociation and the apocalypse in a seamless collection of eleven tracks.
'DVD Menu' is an instrumental building of tension in a minor key, transitioning flawlessly into the album's first single 'Garden Song,' a characteristic folk song featuring a twelve stringed guitar played by Christian Lee Hutson. Thoroughly confessional, this track sets the tone for the rest of the album: starkly honest and slightly eerie. The title track 'Punisher' is quiet and slow, as Bridgers' haunting vocals confides 'The drug stores are open all night / The only real reason I moved to the east side / I love a good place to hide in plain sight'. In the track, Bridgers describes a 'punisher' as a fan that lingers just slightly too long at the merch table, poking fun at herself as she recalls the situations in which she has assumed this role. She questions 'What if I told you I feel like I know you? / But we never met,' but also self-deprecatingly details the impatience she feels towards these kinds of fans: 'I hear so many stories of you at the bar / Most times alone and some looking your worst / But never not sweet to the trust funds and punishers / Man I wish that I could say the same / I swear I'm not angry, that's just my face.'
The percussive track 'Halloween' continues this trend of quiet eeriness, as Bridgers' silky vocals murmur 'Baby it's Halloween / We can be anything', and 'Moon Song' follows suit. Its use of a mellotron, bandura, and nylon guitar create celestial sounding ornamentation that results in a mystical uniqueness, and the strength and anger in Bridgers vocals elevate the song, as she confesses 'So I will wait for the next time you want me / Like a dog with a bird at your door.' The ghosts of Bridgers' past haunt her through the album; it is likely this track is about her emotionally abusive relationship with singer-songwriter Ryan Adams, and here Bridgers is deeply honest and raw. She denies 'You couldn't have / Stuck your tongue down the throat of somebody / Who loves you more,' the 'somebody' she refers to being herself. She exposes her own vulnerability as she was approached by a man double her age, successful in the field she wanted to go into, and romanticises the ideal he offered her: 'Now I'm dreaming and you're singing at my birthday / And I've never seen you smiling so big.' The song is a stripped back folk track, but this only leaves room for the anger Bridgers expresses. She accuses, 'You are sick, and you're married, and you might be dying / But you're holding me like water in your hands.'
'Savior Complex' also delves into the topic of unhealthy relationships, beginning as a simple acoustic track but going on to swell with fantastical instrumentation and a heart-rending violin solo that soars with emotional vibrato. The song feels like reading someone's diary, as Bridgers confides 'Baby you're a vampire / You want blood and I promise / I'm a bad liar / With a saviour complex,' these brutal and raw confessions are romanticised through the dazzling composition of the track. 'Graceland Too' is a love song to a memory, and is the final song on the album that feels assuredly folk, the use of a banjo and a fiddle affirming this. Bridgers reminisces 'So we spent what was left of our serotonin / To chew on our cheeks and stare at the moon,' reflecting on a time she spent taking MDMA with her friends and realising the permanence of the decisions she made: 'Said she knows she lived through it to get to this moment / Ate a sleeve of saltines on my floor and I knew / I would do anything you want to me to.'
These acoustic folk songs only make up a portion of the album, however. Bridgers described Punisher as 'unafraid,' and told NME: 'The production is totally different to my first record. People still kind of think of me as like a folk artist, but on the first record, I truly was deferring to other people to produce me.' This album takes that prejudgment and subverts it from the inside out; even the acoustic tracks depart from the simplicity of Stranger, as Bridgers incorporates haunting and ghostlike soundscapes that elevate her music from the folk tunes of her first record.
Both singles 'Kyoto' and 'I See You' feature an electric composition that is adventurous for Bridgers, and this small collection of indie rock ballads is complete with the additions of 'Chinese Satellite' and 'I Know The End,' both of these grappling with existential subject matter. In 'Chinese Satellite,' Bridgers looks back on her past and feels disconnected, as she croons 'I've been running around in circles / Pretending to be myself.' The song opens with a mournful lone electric guitar, and the backing vocals are ghostly as they echo her own whispered voice and eerie murmurs. She is haunted by memories of her past in the lines 'You were screaming at the evangelicals / They were screaming back from what I remember / When you said I will never be your vegetable / And I think when you're gone it's forever,' and at times feels it leaking through the walls of her haunted house: 'Sometimes when I can't sleep / It's just a matter of time before I'm hearing things / Swore I could feel you through the walls / But that's impossible.' Exploding on 'impossible,' this song combines drum fills, bass and electric guitar riffs, soaring strings and heavy ornamentation to create an impassioned exploration into the mixed emotions Bridgers has about her past.
'I Know The End' is undeniably the album's masterpiece. Opening with a drone and the plucking of an electric guitar, Bridgers explores solitude, endings, change, and crucially, the apocalypse. There is a forlorn air to the song as she laments 'But you had to go / I know, I know, I know', and she recalls specific memories with tenderness before the song shifts. The entrance of strings is haunting as they ascend a scalic phrase to a climax that sounds like a scream, and the song becomes driven and impassioned. Bridgers' fierce vocals are no longer confessing but proclaiming: 'Over the coast everyone's convinced / It's a government drone or an alien spaceship / Either way we're not alone / I'll find a new place to be from.' She confronts her impending doom head on: 'I'm not afraid to disappear / The billboard said The End Is Near / I turned around and there was nothing there / Yeah, I guess the end is here.' Exploding into a cacophony of shouts, heroic horns, violins and feedback, Punisher climaxes in an intense release of emotion, a crash, and finally the quiet breathy hiss of Bridgers comical, whispered screams; you can hear her holding back laughter. Despite the angst that fills this album, Bridgers maintains the wit that characterises her. Her house may be haunted, but at least the ghost has a sense of humour.
Punisher is available now via Dead Oceans
---
You might also like:
Single Review: HAIM – I Know Alone