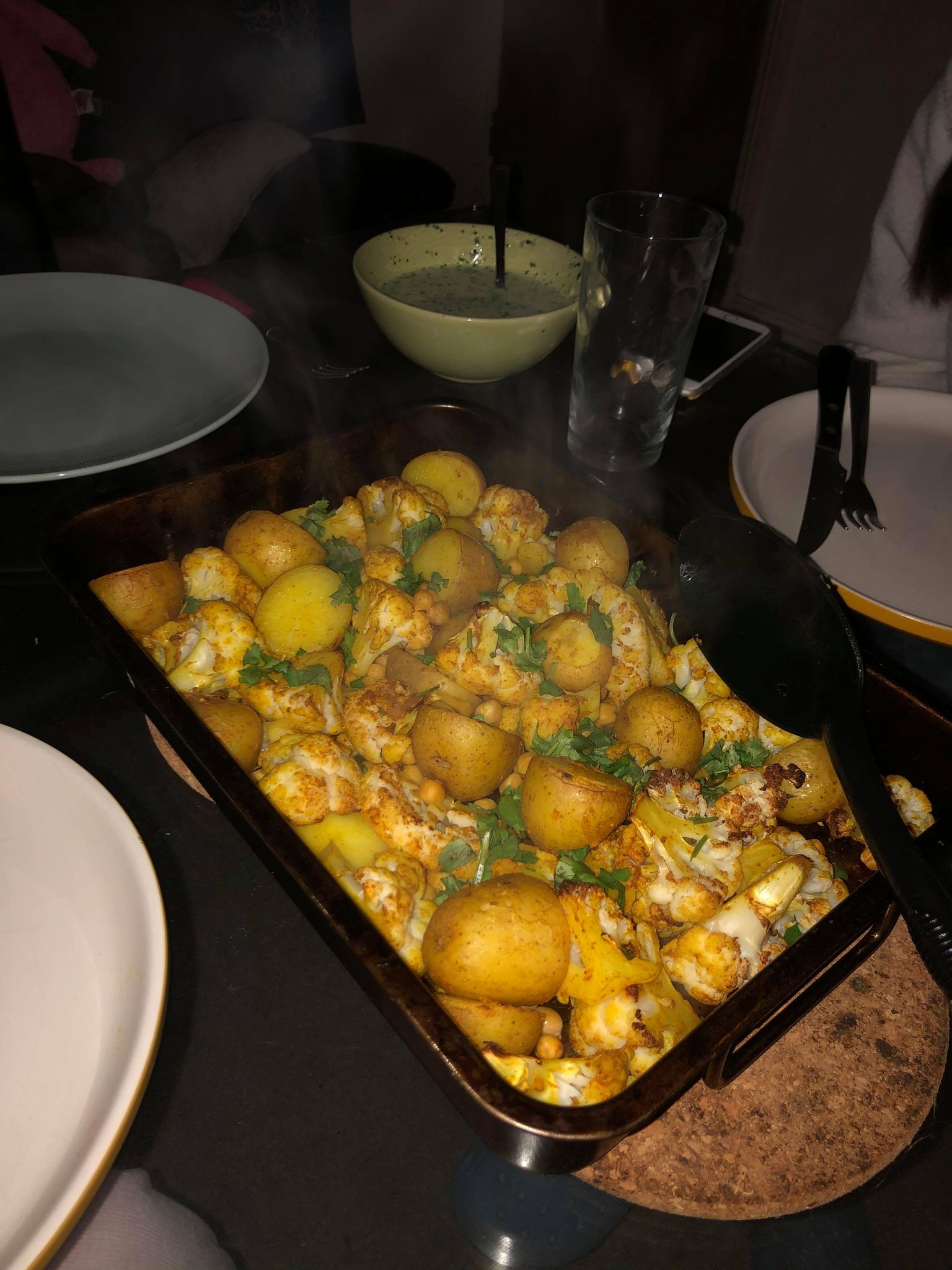 Food&Drink Writer Elsie Brown gives us a recipe for success with this guide to the perfect vegan 'fakeaway'
So, it's 2020. You're a student isolating with your housemates in a freezing, mouldy house, desperately running out of ideas to keep yourselves sane. But it's time for the cooking contest of the year: 'Come Dine With Me: Selly Oak Edition.' You decide that each night, one of you will cook dinner and provide entertainment. Now it's your night… what to cook? Let me talk you through recipes that are guaranteed full-marks. 
This article will provide the recipes for the following six simple vegan dishes, with enough food for four to six people (depending on size of appetite!), and explain the order of preparation so that you can serve everything on time:
Ingredients:
Onion bhajis (makes 10 large bhajis)
Three large onions (red or white is fine)

One tsp fine sea salt

One tsp ground cumin

1 tbsp minced ginger

1/4 tsp ground turmeric

One tsp ground coriander

One fresh red bird's-eye, finely chopped

Three tbsp finely chopped fresh coriander

100g gram flour

One tbsp vegetable oil
Raita
250ml plain vegan yogurt 

1/4 tsp ground coriander

1/4 tsp ground cumin

A small bunch of fresh coriander

Half a cucumber

Salt, to taste
Aubergine curry
Four large aubergines

Three large banana shallots

One tbsp minced ginger

Three garlic cloves, diced finely

One tin peeled plum tomatoes

One tin full-fat coconut milk

200ml vegetable stock

One lemongrass halved and bashed,

or

 2 whole small dried lemongrass

One fresh red bird's-eye chilli, finely chopped

One tsp ground coriander 

Two tbsp tamarind paste (optional as £2 for a small pot is expensive for students!)

Fresh coriander (for garnishing)
Roasted potato and cauliflower curry
One small cauliflower

10-15 new potatoes

1/2 tsp turmeric

1 tsp ground cumin

One tsp ground coriander

1/3 tsp sweet smoked paprika or cayenne

One tsp medium curry powder

One tsp fine sea salt

One tbsp minced ginger

One tbsp minced garlic of 1 tsp garlic powder

Two tbsp water

1/2 can of chickpeas

One tsp oil

fresh coriander and juice of half a lemon (for garnish)
Roti (makes 6)
225g self-raising flour

One tbsp vegetable oil, plus a little extra for frying and brushing

Approx. 100-150ml water

One tsp salt
Mango ice cream
500g frozen mango or 2 ripe mangos

One tin coconut milk

Three tbsp honey/caster sugar

A little water
Method:
1. The night before your dinner party, you need to make the ice cream. In a blender, combine the mango, coconut milk and honey/sugar until smooth. I only had a small blender so did this in three batches, adding a little water each time so that it blends easily. If you've made your ice cream in batches, be sure to mix the batches together in a bowl to achieve an even flavour. I used three tbsp honey in mine, as the frozen mango I used was not very sweet, but add more/less to reach your desired sweetness. Pour this thick mixture into a loaf tin, cover with cling film (ensuring to press the cling film so that it touches the surface of the ice cream) and allow to freeze for at least six hours or overnight.
2. It's the day of the dinner party. I would allow approximately 3 hours for stress-free cooking. First, pre-heat the oven to 180 degrees (fan oven). Now, you need to prepare the onions for the bhajis. Slice the onions into even semi-circles, place in a large bowl, sprinkle over the salt and give it a good mix. Leave the onions to release their moisture for at least 30 minutes. 
3. Raita: a simple and delicious dip for those housemates who can't handle the heat. Dice the cucumber into small pieces. In a blender, add the yogurt, cucumber, ground coriander, ground cumin and a small bunch of fresh coriander. Pulse until smooth. Add salt to taste, cover and refrigerate until serving time. If you prefer a chunkier texture, just dice the cucumber finely and skip the blending. 
4. Aubergine curry time. Slice each aubergine into eight large pieces. On a medium-high heat, using a little coconut oil in a large pan (one meant for stews etc.), fry the aubergines in batches until golden then set aside. In the same pan, fry the shallots and ginger until soft and sweet. Chop and add the finely diced garlic, lemongrass, chilli and ground coriander. Cook for another five minutes until golden and fragrant. Add the peeled plum tomatoes, aubergine, tamarind paste (optional), coconut milk and vegetable stock. Gently break up the plum tomatoes with a wooden spoon but be careful not to crush the aubergines. Now leave this curry to boil until it's really thick, stirring occasionally – it should take at least an hour of boiling and reducing.
5. Start preparing the potato and cauliflower curry by cutting the cauliflower into florets and halving the new potatoes (I kept the skins on because I'm lazy but peel if you prefer). In a small bowl, combine the turmeric, cumin, coriander, paprika/cayenne, curry powder, salt, ginger, garlic, water and oil. Put the cauliflower and potatoes in a large bowl with half a can of chickpeas. Add the spice mixture and use your hands to evenly coat the cauliflower and potatoes. Set aside until it's time to roast.
6. Time to make roti dough. Sift the flour and salt into a large bowl. Add 1 tbsp oil and then add water, a little at a time, until you can form a soft dough. Knead gently in the bowl until smooth. Cover the bowl with a tea towel and leave to rest somewhere warm. If you live in an icy student house like I do, leave it as close to the radiator as you can or in the boiler cupboard. 
7. Now back to the bhajis. The onions should be pliable now, having released some moisture, but give them a squeeze to help them release a little more. Add the cumin, ginger, turmeric, coriander, chilli and curry powder. Give everything a good stir. Now sift the gram flour over the onion mixture and use your hands to mix everything well. The onions should have released enough water to make a batter that sticks the onions together but add a little extra water if too dry. Add the vegetable oil so the onions are evenly coated, then line a baking tray or two with baking parchment (the bhajis will stick to tin foil). Use your hands to form 10 large bhajis and space them out evenly on the trays. Bake for 30-40 mins, flipping them half-way through the cooking time, until nicely browned. Serve these warm with the raita and mango chutney as a starter for your housemates or if you want to serve all the savoury food at once, you can roast them at the same time as the potato and cauliflower curry.
8. Keep the oven on! Back to the potato and cauliflower curry. Put a little vegetable oil in a large roasting tin and then tip in the spiced cauliflowers, potatoes and chickpeas. Roast for 20 mins, then take out, stir around, cover with a sheet of baking parchment and return to the oven for a further 15 mins or until tender.
9. While the curry is roasting, back to the roti. On a lightly floured surface, divide the dough into six pieces and, using a rolling pin or clean wine bottle, roll each one into 2mm thin circles. Lightly brush the bottom third of one with oil, dust with a little flour and then fold the oiled third over to cover the middle third of the roti. Then lightly oil the top third and fold it over the top so you have a rectangle. Rotate the roti 90 degrees and repeat the process once more so you end up with a rough square shape. Put to one side and form the rest of the roti. Heat a little oil on medium-high heat in a frying pan. Roll out one of the roti to 2mm thickness again, then fry until bubbles form on the top and light brown spots appear on the underside. Then flip and fry the other side until it also has light brown bubbles. Take out of the pan, allow to cool enough that you can touch them and then fold into a quarter and put to one side. Repeat for the rest of the roti. 
10. Your potato and cauliflower curry should be coming out of the oven now and your aubergine curry should be really thick with pieces of aubergine that are very soft but not completely broken down. Add fresh coriander to both curries as a garnish. Either plate up or let your housemates serve themselves. Everyone should have one roti each with one extra for you to have with leftovers – if there are any!
11. Finally, allow the ice cream to soften for least 30 mins outside of the freezer and enjoy.
I'm not a vegan, but I love these easy recipes – and I hope you will too. 
---
Still a little peckish? Check out more from Food&Drink:
Food of the Fortnight: Halloumi Tikka Masala