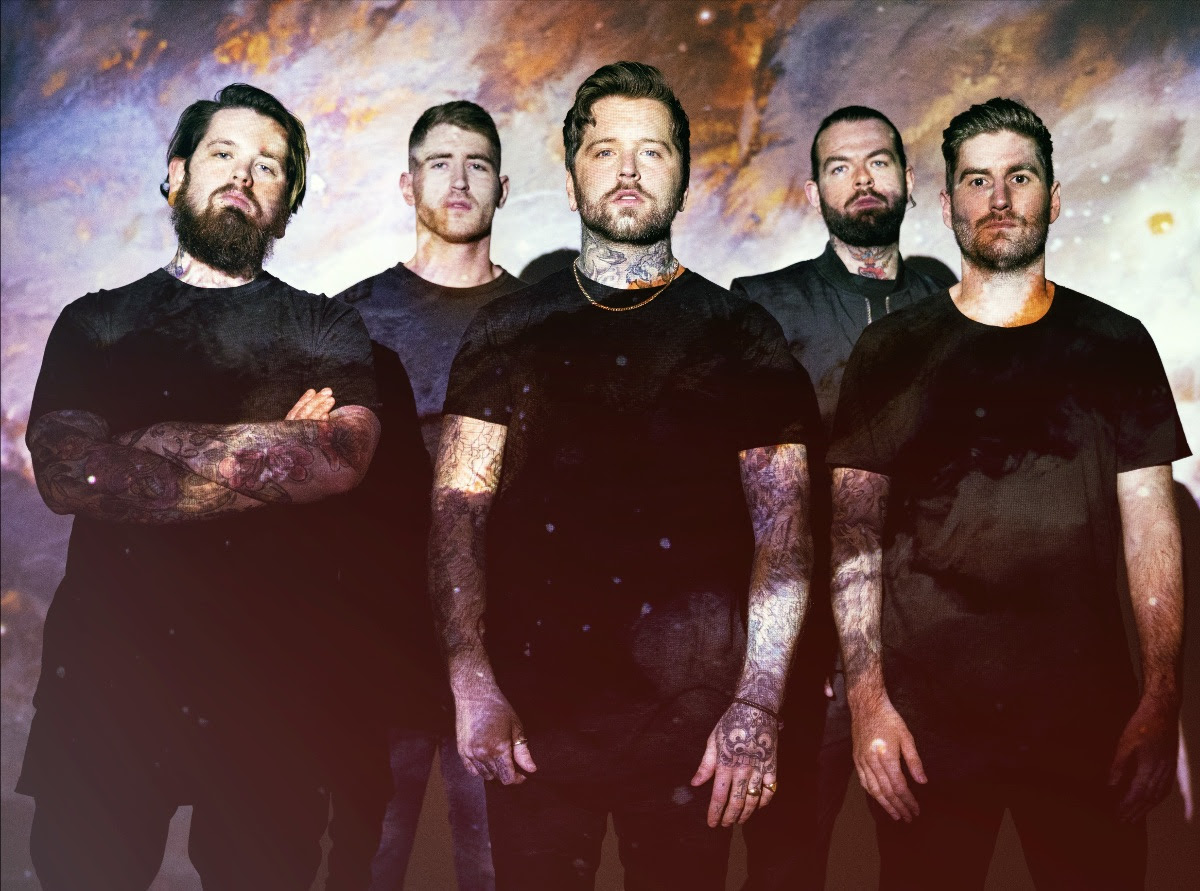 Music Critic Cameron Milner talks to Bury Tomorrow bassist Davyd Winter-Bates ahead of their new album Cannibal available July 3rd
Ahead of the release of Bury Tomorrow's sixth studio album, Cannibal, I talked to Bassist Davyd Winter-Bates about the return of live music following COVID-19, working with 'sixth member' Producer Dan Weller, the band's aspirations for future festival headline slots, and why they hope that their new record will be considered one of the 'best metalcore records out there'. 
---
Before we talk about the new record, I was wondering if you could give me a bit of an insight into how, as a band, you have been coping during the current pandemic? 
I think we have basically coped the same as way we do with anything- we've retreated back to our fans. We've been doing a lot more live interaction via online medias, Zoom quizzes and Q and A's. We've really tried to still have that bridge between us and them, partially because we want them to feel like we are still very much present, but secondly because I feel like we need that as much as everyone else needs it. I think that's what we've done, as always, whenever there's been anything going on- with Bury Tomorrow we retreat back to the fans and make our own little Bury Tomorrow world. We can try and live in this bubble where pandemics and venues closing doesn't exist. 
Has there been any new music out recently, or old music you've returned to, that has helped you through the past few months? 
We've revisited Cannibal quite a bit. To us, Cannibal is a quite an old record now- it's a year old. We never intended the album to come out almost a year after recording. Very much in our band we start writing demos as soon as we have a lull, so we've been writing demos. That doesn't mean they'll ever become anything, but we always just work on bits. Dawson (Kristan, Lead Guitar) is always particularly keen on the ideas and just getting them down. But realistically we've just been over and over again waiting for Cannibal to come out, so everyone can just share it with us really. 
So is this an especially big release this time around because you've been sat on it for so long? 
I mean, they all feel like big releases, but we feel like we've finally got something here that we think is a lacking addition to the genre. That is something that is quite a hard accolade to achieve and obviously we can't give that to ourselves, that will be the test of time, but we believe and want Cannibal to be talked about in the echelons of the best metalcore records out there. We finally feel proud enough of a record that we would finally be able to take that compliment if it was given. 
So, moving on to the new record, Cannibal, which is out on July 3rd. What is the thought process behind the album title? 
So the whole album is centered around Dan's (Winter-Bates, unclean vocals) struggle with his mental health, and as a result, the term 'cannibal' came from either thoughts, or people's words, eating you away. So, it's a metaphorical take, and more of a mental look at how things eat away at you through anxiety and depression, and how you can't shift those feelings, and it feels as though they are taking a piece of you every time. So that's really where the title Cannibal comes from. All the tracks are about different facets of Dan's struggle a couple of years ago that he now feels well enough to discuss and explore with the fans. 
This is the second consecutive album that you have worked with producer Dan Weller. What is it that you enjoy about working with him, and what do you feel that he brings to the Bury Tomorrow sound? 
For a very long time we were a band that basically said: "If we can't create it live, we don't want to do it". So our albums were very much out of the amps- this is what we sound like. We were firm with that, even when we were working on Black Flame with Dan Weller, but he opened our minds to the idea that there are ways of doing things live that don't necessarily involve playing to a tape. He's got such an awesome look at music and such an awesome look at sonics that he made us explore sounds and effects and transitions that we would have never thought of. Particularly on Cannibal we leant really heavily into what we can recreate live with the five of us, so every transition and everything on there is from a way that can be recreated in a live setting, and that's what he brings through. When he is recording with us he's the sixth member- he brings the extra stuff that we don't think of. 
I personally feel as though the past two records sound really anthemic compared to your earlier material. Do you think that's something Dan helps bring out? 
I think that's something we fell into- this very anthemic way of writing. I think that he really deals very well with anthemic music, so it was like a nice blending of two worlds. The stuff he loves doing most is anthemic and cinematic music, and we went even more down that route with Cannibal. 
Given that this is your sixth album now, as a band have you now found a process for creating music together that works for all of you, or is it a formula that changes with each release? 
Our formula is always very similar- it starts with guitar-based demos, even before lyrics or themes, because it's really important that the music fits there and that we can see it. If the tone of a novel is off, despite what you write, you'll never be able to convey the right emotion, the right themes or the right aspects. We build on that very well. Dan has got lots of songs in his head ready to go, but they have to fit the music. He will hear a piece of music and it will make him feel a certain kind of way. The difference with this record I guess, is that after the first couple, Dan was very adamant as to what this was going to be about and how he was going to approach it. Then him and Dawson started writing music, with that kind of thematic lead throughout, so that meant that when working with Dawson he could say 'I need something more like this' or 'let's do that.' It grew from there. We have always been good at that self-evaluation part of songs and putting them together, and tone wise it was decided early how it would sound, rather than what it would sound like. 
If you had to pick one song that you are looking forward to playing live the most from Cannibal, which would it be? 
Probably 'Quake'. I think it's a different pace for us to play that live. I'm really interested to see how that fits into the set and how the reaction to something like that from us would go down. I've said for a long time since we have recorded it that it will become a kind of Bury Tomorrow fan anthem. I think it will become one that will be very much sought after. 
Are there any plans for touring after restrictions are lifted in the UK? 
As soon as the restrictions are lifted we are going to be playing live. It doesn't matter if it's in my mum's back garden! We are ready to go- we feel poised and we need to get this album out. 
It currently seems as though live shows are going to be phased back into the UK in multiple stages, with socially distanced shows likely becoming a reality in the near future. Do you think it would be possible to translate a Bury Tomorrow show into this format? 
I think it would be very hard to police. Our fans are about community and about representation and about exclusivity. I feel that part of the things they get from our shows is the connection with others. I think having a socially distanced metalcore show is probably not the vibe that they want. We've done sessions in HMVs before and its gone mental, I don't think it would be very easy to police, so I don't think it would be something that we would want to entertain. When we do it, we want to do it back on our terms, and until that point, we will hold off accordingly because we don't want to half-ass it for the sake of money or being back out on the road- we want to do it properly. We want to give it to the fans the way they want it. 
So next time you do go out on tour, you will have six albums out. How will you choose a setlist? 
For us that'll be an easy one, because as with all bands, we will be heavily pushing this record. The advantage that we have over previous bands in previous years is that this album will have been out for such a long time by the time we hit the stage again, the fans will know it by that point. I don't think there will be that lull half-way through where people think 'ah they are playing their new stuff, I'll go get a beer.' I think at that point all the songs will be well known, and hopefully we can go out and do what we need to do so we can push this record the way it needs to be pushed. 
If 'Quake' is the song you are looking forward to playing most from the new album, what song from your back catalogue do you enjoy playing live the most? 
At the moment, it's 'The Age'. I think it's one of the most anthemic songs we have, and every time we play it I feel like I'm in a band like Bon Jovi! It makes me feel like I'm in a proper 80s rock band, so I love playing that song, particularly when it's in front of two or three thousand people and they are singing the guitar riff. For me it's a really amazing point. 
Bury Tomorrow have been around for 14 years now and, are undoubtedly one of the biggest forces in the UK metalcore scene. A couple of weeks ago Andy Copping (Download Festival Promoter and Lead Booker) was talking about the future of the festival, and the headliners he feels that will break through in the coming years, mentioning Bring Me The Horizon and Parkway Drive. The question is, do you see yourselves as potential headliners in the years to come? 
Yeah absolutely. I think definitely we have as much claim to it as anyone coming through at the moment. I think it's about back catalogue and it's about consistency and it's about fanbase, and realistically if all three things continue on the trajectory that they are on, I don't think I'd ever say no to that question. We are already, for the smaller festivals, getting offers to headline so I think from our point of view its more a case of keep on going. It's not something that we think is going to happen anytime soon, but it's not something that any of us would turn around and go 'that's not going to happen.' Fingers crossed. We focus more on club shows, we have those venues in our mind that we want to headline soon and sell out. That's what we are focusing on at the moment. 
Bury Tomorrow's sixth studio album, Cannibal, is out on July 3 via Music For Nations.
---
You Might Also Like:
Musicians in Lockdown
A Beginner's Guide to: Sports Team
Live Review: Salford Music Festival
Album Review: Phoebe Bridgers – Punisher
The History of Rock Against Racism