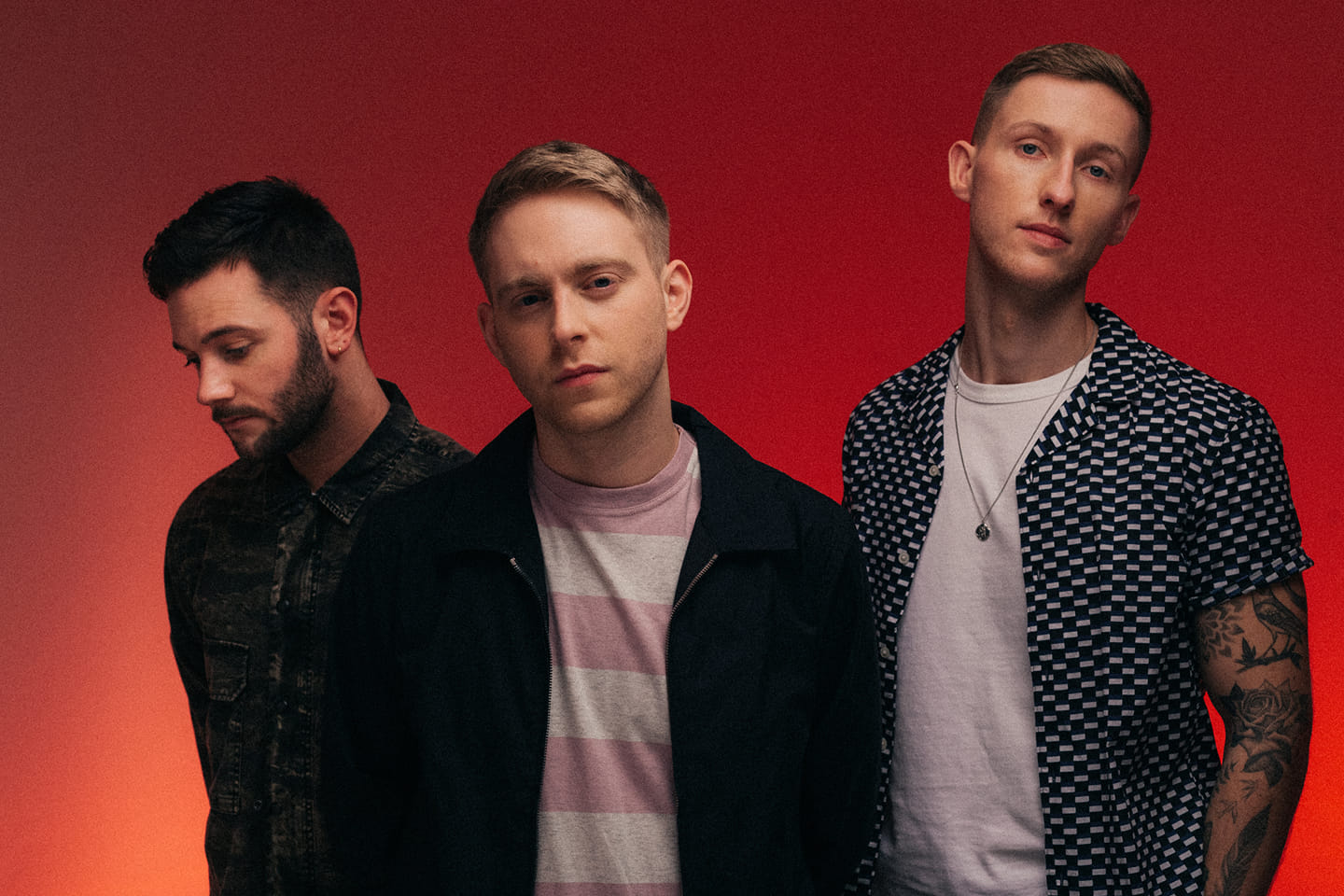 Music Critic Bruna Franca talks to Flawes about lockdown, their new album, music videos, and more
Signed to Red Bull Records, Flawes is an alt-pop band made up of vocalist JC, guitarist Freddie and drummer Huss. Five years after their formation, Flawes released their debut album Highlights and were ready to go on a headline tour, but COVID-19 dramatically changed their plans for 2020. Their new direction saw the creation of a six track EP. Reverie was released on 26 February 2021, providing a form of escapism for the trio and their fans. The three members joined me on a Zoom interview to discuss the past year, and their aspirations as a band.
Since their interview, Flawes has announced a stage at the 2021 Reading and Leeds Festivals, and a live show in London in October.
---
Hey, it is great to meet you. How are you guys doing?
Freddie: We just did a live-streamed show yesterday, so we're all on a bit of a high after that!
That's the first question I was going to ask! I managed to catch it this morning, and you sounded really good, but how did you find it? It must have been quite a strange experience to perform your heart out to an empty venue.
JC: It's weird – we were just chatting about this. I feel like… playing live is the reason we do what we do, we love playing live and especially we love the energy the crowd gives us. Like, playing to the crowd and having that energy and seeing someone singing along, proper going for it, they almost transmit energy to us. I guess last night we were just having to vibe off one another to create as much energy. And obviously our sound engineer, we tried to get as much energy off of him. So yeah, it was a completely different approach than a normal gig but it felt so good to be back on stage and playing music, doing what we love.
Have you had the chance to play together at all this year or have you been working entirely remotely?
Huss: Yeah, that's the thing, we had rehearsals last week and that's the first time we'd played our instruments in the same room together in a year.
JC: I think the last time before that was… we were rehearsing for South by Southwest Festival, which obviously then never went ahead. That would've been last March […] and since then literally everything has been done remotely, on zoom.
Did you find it hard to be back in that space together, or did you just immediately 'vibe'?
JC: It was like, what's the saying… you don't forget how to –
Ride a bike?
JC: Yeah, that saying! It was literally so… there was a little bit of 'oh yeah', 'how did we end this song?' There was a little bit of those parts but I feel like it was pretty much 'away we go.' I feel like we'd been thinking about it and looking forward to it for such a long time so we were ready and raring to go.
I assume that is why you picked a physical venue instead of just doing a home show?
Huss: Yeah, we wanted it to be… we wanted fans watching it to feel as if they were going to a gig, as we haven't been able to go to one. So doing in a venue with the space […] it was for everyone's benefit. And that venue's wicked! I cant wait to go back and play there when we can get a crowd in too.
You already mentioned a festival and since we are talking about live performances, is there a festival that you'd love to play? That sounds absolutely aspirational right now given that we are still locked down, but we love to dream.
JC: I think, for me, my dream festival is where I used to go as a kid growing up which is Reading and Leeds Festival. Yeah, when I was 16, 17, 18, we used to go every year and it's a definite life goal, it would awesome to play. But any festival would be great – we were obviously booked to play South by Southwest and play last year. We'd love to do that when it reopens.
Huss: I agree with JC – Reading and Leeds for me. It's just like… two festivals in one, what a weekend. Watching bands there growing up and thinking we could be on those same stages. That would be a pretty cool thought. Fingers crossed the world opens up, who knows.
Freddie: It's quite cool as well because I'm based in the south and those guys are up north, so Reading, of the two, is the one that's always meant something to me. For those guys it's been Leeds, so for all three of us that festival makes a lot of sense.
Huss: Keeps us all happy, doesn't it?
What motivated or inspired you this year? During the first lockdown especially there was that sentiment that we should keep grinding, working, and for you that would involve making music. But motivation is so hard! Now that we are in our third lockdown, what has helped you stay motivated?
Huss: Genuinely, I think having each other because we all push each other and write music together constantly – you don't ever want to drop the baton. Even in a support sense, if any of us are feeling down or whatever, we've got two people there automatically that we speak to every single day that picks us back up. With writing Reverie, we just had the news that the whole year was cancelled and our aspirations were paused – we had just released our debut album and that was pretty sucky news. So then we just dove straight into writing and recording Reverie and learned a load of new skills. I think generally we are three really positive guys and it's nice to have that network of support.
Freddie: we put a lot of structure into the process as well. We set a lot of deadlines and goals for when we wanted songs to be finished by and I think that really helped, just to keep focussed on the goal.
JC: We almost had a production line going. So like on certain days, I'd be working on lyrics for a certain song, Huss would be recording drums for a different song, and Freddie would be working on guitar production for another song. Then we would pass our project around, it was literally switching around. And also, I feel like having that as a focus and an escape definitely helped, for sure. All three of us have this space we could escape to during this time
So, in that way, would you say there were some advantages to COVID? It did give you the time and space needed to write Reverie.
JC: I mean, I'd definitely go as far as saying… if COVID wasn't here, Reverie wouldn't exist. Fact. Reverie was never planned. I feel like Highlights was something that we'd been working towards for years – some songs we had written three years before, and it was this big lead up, while Reverie was much more like, 'well, we cant gig… uh, should we write? Yeah, cool, let's write.' And it was very much that sort of spur-of-the-moment type vibe. So yeah, quite a contrast to the album.
I saw in the little Daily Mail interview that you, JC, like to do jigsaw puzzles while writing lyrics. Is there anything else you guys do to help your process, especially with COVID restricting you in other ways?
Freddie: Mine's not very exciting but I think for me… I'm quite into exercise and I think having exercise before going into that creative process is very helpful, just to get rid of that extra energy. Go for a run in the morning, that's how I get my head in the game.
Huss: I've been doing a lot of carpentry work, I love building stuff. I've been making a load of furniture and I can literally go into the shed and switch off for a day and then walk ten yards back into the house and then play drums all day. It's definitely nice to switch off and do other things as well – keeps your mind at ease.
So what is one word to describe the process of making the EP in these conditions?
Freddie: 'seamless'.
Huss: I was gonna say 'zoom.'
JC: I think that's it, Zoom. We wouldn't have been able to do it without it. But it think 'adapt', 'adapting.' It was definitely a lot of trying new things out, before being in the same room was the norm and having to approach it completely differently and having to the thing where we pass along the projects via wetransfer and recording… instead of recording in a fancy studio, I recorded all the vocals for Reverie here. Just learning those techniques and having to record from home – adapting, I'd say.
What about one word to describe the EP itself?
Huss: 'Uplifting' for me. It's- well, actually, you guys say your words because I might steal them in my explanation.
JC: Yeah, I'd say 'empowering'. There's a lot of motivational, sort of like positive themes in it, so 'empowering'.
Freddie: I was going to say 'motivational', but JC just snuck that in.
Huss: That's what I mean, that's why I didn't do it, because I could tell! But yeah, generally it is a positive, uplifting EP and lots of self-belief in there which we really believe in.
What was the story behind the Reverie series, in particular the singles? I thought that having it as a trilogy was a really cool concept. How did that come about?
Huss: Well, we'd always said, actually, that we would love to have a string of music videos that all made sense and that you could watch as one continuous piece. And, I mean, those three singles lent themselves to those video ideas really well. We literally sat on Zoom and came up with the whole concept, spearheaded that whole process. We wanted to put JC in a video game so if we were ever going to do that, now is the time to do it! But I think that, generally, having a lot more of our personality in this release really sums us up as people. The music is very positive and uplifting, the videos show who we actually are, and it's just us having fun and trying to create this space for people to escape to. Those three music videos, if you watch them back-to-back, they all make sense. I think JC's probably got the red button in there. Have you got the red button?
JC: Ayy.
Huss: Ayy, that's an official prop.
JC: There he is, nice to steal that.
How was collaborating with Mali-Koa on 'Higher than Before'?
JC: It was great. I love her, like I'm actually just a fan of hers. She has a song called 'Revolution' which was one of my favourite songs from last year. And yeah, we reached out to her and she was well up for it. It was one of those sessions where it was really, really quick and easy, seamless session. We were literally done within 15, 20 minutes. One of those dream sessions that just flow really well.
Are there any other artists you have an interest in collaborating with?
Huss: Oh, so many!
Freddie: I think… we worked with FINNEAS quite a few years ago on a track called 'Blank Dice.'
Huss: Yeah, it was a few years ago.
Freddie: That was a co-write, so I think it would be great to go full-circle and have him actually on the track as a collaborator. That would be really cool.
He's grown so much in the last couple of years as well.
Freddie: Yeah, it would be a big ask, but who knows?
Do you already have a plan for what's coming next? In an ideal world you'd go on tour to promote – I know that COVID ruined your plans to tour for your debut album, Highlights, which is a shame. Now, are you the sort of band that goes from working on one album/ EP straight into making new music, or are you planning on taking a break now?
JC: We're always writing, we are continuously writing, keeping that production line going. So yeah, there will be new music and as soon as it is safe to do so, we will be out playing shows. I feel like we've got… there's a lot of songs to play that we've never played before, and there's a lot of time to make up for. I feel like the second we go on tour, it's gonna take quite a lot to come back off tour, like we'll be out there as much as we can. And we do have an announcement very soon actually on that, which I can't say just yet, annoyingly. I feel like I should just say it but…
While we are on the topic of creating music, what made you think to create a competition where you write a song about a fan? How far along with that are you? What was the writing process like?
JC: Well basically, the plan is to write the song next week. And then we've got a YouTube series where we do these episodes, so basically it will form part of an episode on how we wrote it. We've already spoken to the winner and she has sent us through a bunch of information about her and her life so the lyrics are gonna be all about that. It's just a bit of fun!
Huss: It's one of the benefits of going through this process this year – it's helped us interact with our fans on a completely different level. We've found new fans all over the world that we never knew existed and wouldn't have had the time to meet with them or interact with them anywhere near as much. So, it's definitely something – I mean, we're not going to write a song about every fan forever but it's definitely that level of interaction we want to keep, it's special.
Is there a platform that's best to interact with flawes?
Huss: Our Instagram is probably the best way to connect with us, that's the one we speak to – oh, and exclusive – we have the flawes phone!
JC: So we have a phone and basically people can message us. These are all the messages from yesterday during the livestream, which we're going to reply back to. We pass out that number and it's a way to send out news before every else like gig tickets and announcements. It's just a fun way of connecting with our fans.
To round off, what is your favourite song from your entire discography?
Huss: Ooh, that's a good question… Alright, my favourite song from the whole of the flawes back catalogue – are you guys getting? JC is getting all of our songs up!
JC: There's a list, isn't there? On Spotify – 'Discover flawes' or something.
Huss: I love, this is hard to choose… one of my favourites – I cant pick an actual favourite – but one of my favourites is a song called 'The Answer' and it's one of the songs that sits on the end of Highlights and it's not really been listened to that much but it is a wicked song, really uplifting, really energetic and I loved writing it. It holds a lot of really fond memories for me.
Freddie: It's definitely a tricky one. I think for me, maybe the title track of Highlights, a song called 'Highlights.' Dunno why, there's just something about it that's always grabbed me and we performed it in the live stream – just a bit of it – and it felt great to play live for the first time.
JC: I'd probably go with our very first single that we ever released, 'Don't Wait for Me.' […] I feel like it opened a lot of doors. We were only a band for a couple of months, a month, when we released it and we literally only had a couple of songs. And that basically blew up and made it onto Radio One's track of the week, and really opened up the doors. I feel like that allowed us to be where we are now, so I've got a lot of love for that song still. Even though we don't play it in our set anymore, there's a special place for that song in my heart.
Maybe you can bring it back post-COVID, a little throwback song.
JC: Yep!
Freddie: I almost said 'The Answer' as well, Huss!
Huss: I was thinking that, yeah I remember that you do like that song.
Aw, amazing. I just wanted to end by saying thanks for taking the time to be interviewed by Redbrick! It was lovely talking to you, and I wish you the best.
_________________________________________________________________________________________   You Might Also Like: