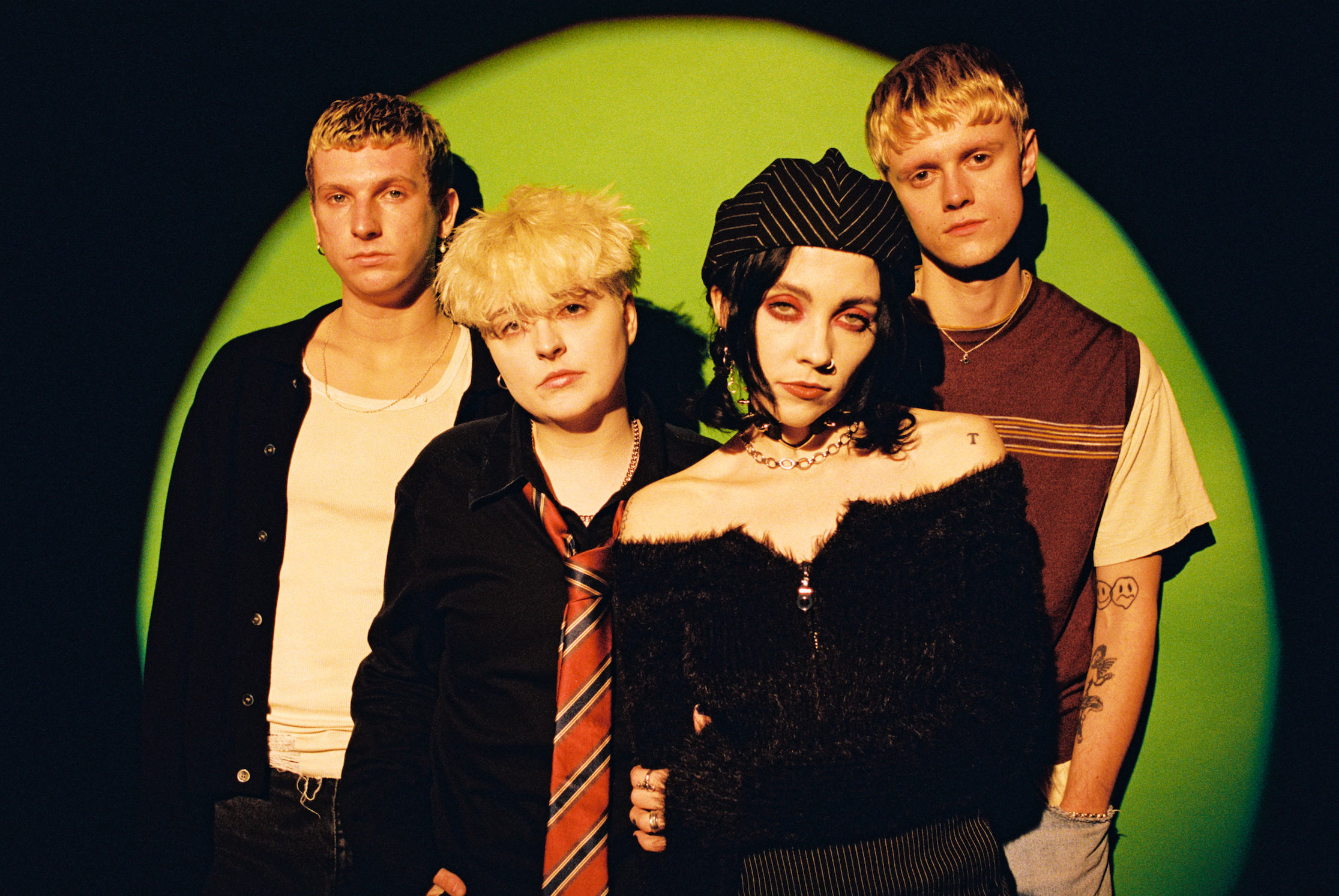 Music Critic Aimee Sargeant chats with Heather Baron Gracie from Pale Waves about the band's upcoming album, Who Am I?
I have been a lover of Pale Waves music since their first album, My Mind Makes Noises, dropped in 2018 with an 80s synth vibe. Their style in both music and fashion has always been something I have liked so I was very excited when I got the opportunity to sit down and talk to Heather Baron Gracie from Pale Waves. We talked about Pale Waves' new upcoming album, Who Am I?, as well as the pandemic, and the impact 'She's My Religion' has had on the LGBTQ community.
---
Firstly, I just wanted to ask how are you and the band doing at the moment? How have you found 2020? It has been a horrible year.
Yeah, it has been a dramatic year for sure. I feel like it is a year everyone will truly remember. But you know, we recorded our album in that year and the album campaign even started in that year. So, there has been a lot happening for us for sure. It is not like we have been sitting around. I feel like we have been, you know, in a pandemic but we have still been rather busy.
Did you find that the pandemic helped you to be more creative? Obviously, with you writing and recording the album and releasing the single 'Change,' did it help? 
I actually wrote all of the album before the pandemic hit. So, this was prior. I had the whole of the album written, but in demo form, before the pandemic hit. So, it did not really influence the writing that much, but obviously it had an impact on the recording. We recorded half the album, then we went on tour and then we came back to LA to record the second half and finish it. That was when the pandemic sort of became a serious matter, or when at least people started to pay attention to it. So, half of the band flew back home and then it was basically just me and the producer in the studio. We were in masks and gloves basically finishing the rest of the album.
I bet it must have been hard to be separated from the rest of the band and not all be in the same room with some of them going back home. 
Yep, obviously it required a lot more work from me finishing it. I tend to take well to responsibility and take well to pressure. I had already sort of written the whole thing, it was just needing to record it. 
The new album, Who Am I?, kind of moves away from your previous sound from your first release. It sounds more like a pop-rock sound. What made you explore the new genre?
So, the writing process on the first album was primarily me and Ciara. It was dominated by us two. We worked in that partnership and we wrote the first album. Ciara is really influenced by 80s music, so I was listening to a lot of 80s music as we were around one another. I then sort of drifted away from 80s music and realised that part of me does like it, but I do not actually like it as much as I thought I did. So, we tried to write a second record, but we were just going round in circles and we were rewriting the first record – it felt to me like it was very 80s again. I just was not ready to commit to that genre and it is not the sort of record I envisioned for Pale Waves' second album. So, I went away and wrote the second record as an individual mainly. I very much like 90s/2000s alternative music and so basically this second record is what came out of me. This album was always in me, it was just the way it was going to come out. It was sort of like a record that my younger self would have really loved.
It is definitely nice to move away and not stick to one particular genre and be fluid in your sounds.
Yeah, I think I would have gone insane if we did another 80s record! 
Why did you choose to release 'Change' as the lead single for the album? 
It just felt so right. When I had the album done and finished, it was very obvious to me and the path was very clear. There was so much clarity as to how the album should roll out because I feel like the singles I picked for release before the album, ('Change,' 'She's My Religion,' 'Easy' and 'Fall To Pieces'), were the perfect introduction to this album. It sets the album up, it presents various concepts and displays a variety, you know musically, but even lyrically with the messages that I am saying. 'Change' just felt like the perfect song because it is just a massive song and I really wanted to shock people. I wanted to sort of really grasp the attention of people too. 'Change' is very stripped back, unlike the first album which was very dominated in production and it was dressed in twinkly synths. The majority of 'Change' is just me on an acoustic guitar.
It is definitely a good song and something different. Your most recent release has been 'She's My Religion', with the music video which is beautiful. What would you say this song means to you? 
Well, it is the first song that I have been so publicly open in about my sexuality and it was a journey for me to get there. I was always aware of those parts of me, but I had not yet owned them, and I was not ready to display them to the world on the first record. I needed time to embrace them and feel completely comfortable with it. I had that time and I wanted to represent the LGBTQ community in the most authentic way possible. There are a lot of songs and videos out there, especially of two women, that emphasise playfulness or it being an experiment, or even an over-sexualisation of their relationship. That is exactly what I did not want to do. I wanted to represent it in the most authentic and natural way, hence why I used my own partner for the video. It felt like the right time in my life, and in my career, to be able to do that and I am glad that I can put art out there that will help normalise same sex relationships. 
It will probably help and inspire a lot of the LGBTQ community. I am sure a lot of people will be thankful for the single coming out because it is something that is not always represented in the media properly. 
Yeah, me too, I feel the same way. I have received a lot of messages about that and it feels like that video, out of all the Pale Waves videos, even 'Change,' was a video that really had an impact on people. I saw so many people get really emotional about it because it means so much to them that there is a representation of them out there that is normal, that is not playful or overly seductive. I just represented a real-life relationship and all the parts that come with it. 
Which of the other songs from Who Am I? are you most excited about being released? Seeing as it is coming up to being released on February 12th.
I know, it is so soon! It is crazy to think that it is out next month. I have lived with this album for so long, listening to it in various ways, listening to a song that required like 15 mixes. So, I am finally excited for it to be taken out of my hands and be in the hands of others. But I guess I am excited for the whole album to be listened to as a collective as there are so many important messages that run throughout. In particular, the song 'You Don't Own Me' is a song for women and what it is like to be a woman in this world. We are still fighting for equality and we are still fighting to be seen as an equal. If I can add to that fight then of course I am going to because I am in an industry that is dominated by men and I have had various experiences with sexism. I want to be able to fight with every other woman.
For sure. It is good that you are using your representation and platform in order to do that really. 
Yeah, of course.
What do you think you are looking forward to most, post-release and post-pandemic hopefully when it all ends?
To be able to play the record live! We are all missing a huge part of that because of the pandemic and it really does suck not being able to play these songs live, seeing the fans reactions and being able to engage with them. So, that is a big part of the release of the album, that you get to play it live to your fans. We are not going to be able to do that until, realistically, the end of this year I think at least, so it is difficult. It is a tough pill to swallow, but it feels insensitive to be complaining about that with what is going on in the world right now, with the pandemic and people dying. The main priority, in my eyes, is for us to get through this and get over it.
How do you think the music scene will change after Covid-19? Do you think changes might happen like social distancing and everything like that?
Yeah, I am really interested to see how the first live shows are going to be. Are they socially distant? Or are they going to wait until they feel like we are in a safe situation where we do not have to socially distance? I have no idea how it is going to be. If it is socially distanced with everyone in masks, then that will be really interesting. It is not the sort of environment that you ever experience from going to a real-life show. You expect to be crammed into a sweaty crowd, and expect it to feel like a community, that everyone in that room has something in common and that is that one particular artist and that they like that music. You feel like you belong to that sense of community, or at least that is what we think we can represent with our music. We attract certain types of people. We would not be able to experience that if there are still regulations with the pandemic, but anything is better than nothing. I just want people to be safe at the end of the day, I would not ever want to do anything that could, potentially, make people sick.
That makes complete sense. Thank you for letting me interview you today, is there anything else you would like to add?
Oh, of course, no problem! I am glad you like the album! Maybe just to mention that we have got a video coming out for 'Easy' next week and that the album is out in February!
Who Am I? will be available via Dirty Hit from February 12th 2021
---
You Might Also Like
Album Review: Taylor Swift – evermore
Redbrick Meets: Jason Webber – Author