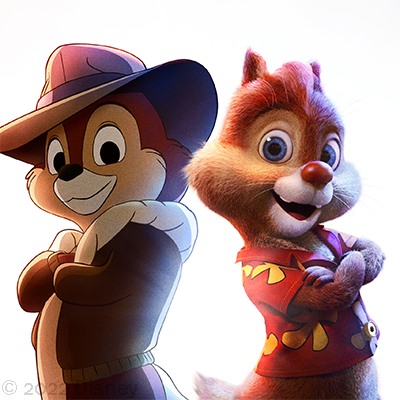 TV Editor Sian Allen finds Chip 'n Dale: Rescue Rangers a charming, if not predictable, meta comedy
As a distinguished cinephile and all-around film nerd, I sometimes get asked what my most anticipated film of the year is. The answer for 2022 was a bit of a curveball – it wasn't The Batman, Multiverse of Madness, or even Sonic The Hedgehog 2. Instead, it was a quiet Disney+ release with very little hype or press fanfare: Chip 'n Dale: Rescue Rangers.  
Let me explain myself. As an avid fan of animation and The Lonely Island, this movie seemed too good to be true. A live-action animation hybrid Disney movie starring Andy Samberg and directed by Akiva Schaffer (Hot Rod, Popstar: Never Stop Never Stopping) was made for me – surprisingly, Rescue Rangers isn't the first CGI rodent film I have watched because of its cast. I am also very familiar with the 'Disney Afternoon' – where cartoons like the original Chip 'n Dale series got popular – from the DuckTales reboot. I am undoubtedly the most qualified Redbrick writer to do a Chip 'n Dale: Rescue Rangers review justice. And I am here to tell you that it is just okay.
The film follows the eponymous Chip (John Mulaney) and Dale (Samberg), now estranged thirty years after their hit show Rescue Rangers was cancelled. Dale, struggling to stay relevant with fan convention appearances, has undergone CGI surgery, while Chip makes ends meet as an insurance salesman. When their friend and former castmate Monterey Jack (Eric Bana) goes missing just before warning the pair about Sweet Pete (Will Arnett) and his dangerous bootlegging business, Chip and Dale must work together again to solve his disappearance. 
Like most of The Lonely Island's best stuff, the film is at its funniest when it is being profoundly stupid and/or self-aware. The ironic jokes about the state of contemporary cinema culture are easily some of the movie's funniest moments ('Batman Vs. ET' currently lives in my head rent-free). Chip and Dale's visit to the "Uncanny Valley" is also a highlight, as is an unexpected but hilarious cameo from a certain blue hedgehog. Rescue Rangers is a spiritual successor to Robert Zemeckis's Who Framed Roger Rabbit?, and I enjoyed how Schaffer's take on toon-human co-existence does not just include beloved animated icons but creepy CGI characters with "Polar Express eyes" too.
IP movies – shorthand for films that take full advantage of how much intellectual property a studio owns – have become more and more common lately, but are often dismissed by critics for being overstuffed with cheap fan-service and shallow reference humour. For the most part, Rescue Rangers does not stoop as low as films like Ready Player One or Space Jam: A New Legacy. Unfortunately, however, the cameos and references to beloved animated characters – and some not-so-beloved – are not really enough to make Rescue Rangers' comedy really pop. Its meta critiques and self-awareness are often amusing but it can ring hollow coming from a Disney property, as the House of Mouse is arguably the main reason that mainstream blockbuster culture seems so exhausting and repetitive today.
Despite an all-star comedy cast, a seasoned comedy director in Schaffer and writing from Crazy Ex-Girlfriend's Dan Gregor and Doug Mand, Rescue Rangers elicits more light nose exhales than full-on belly laughs. The plot is fairly simple and predictable even for a family movie, but the threat of being 'bootlegged' is a funny and original way to raise the stakes. Ultimately, Rescue Rangers is forgettable at its worst and charming at its best.
Verdict:
Unfortunately, not even Ugly Sonic can save Chip 'n Dale: Rescue Rangers from relative mediocrity. That being said, the film is definitely a step above most of the IP movies that have come before it – it just could have been even better, as a lot of its satire is just a little too gentle for my taste. But Rescue Rangers has a fun premise, some great jokes and cameos, and even one or two genuinely heartfelt moments. The choice is yours to either go in with low expectations and be pleasantly surprised, or go in with high expectations and risk being disappointed.
Rating: 6/10
Chip 'n Dale: Rescue Rangers is available now on Disney+
---
Looking for more animated films? Have a read of these Redbrick Film articles: 
Review: The Bob's Burgers Movie