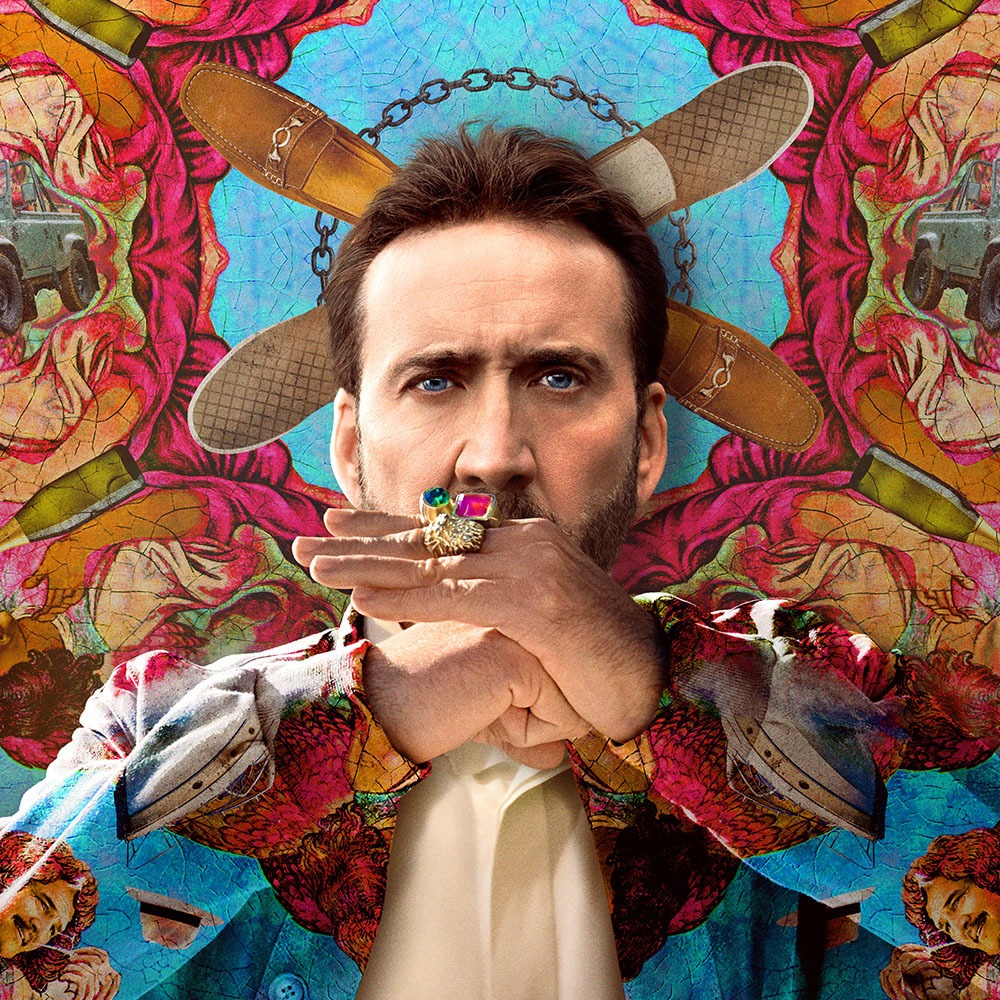 Film Critic Eve Greybanks reviews The Unbearable Weight of Massive Talent, finding it a hilarious self-aware comedy-action film, if at times a little predictable
The Unbearable Weight of Massive Talent is a hilariously perfect attempt at a self-aware comedy-action film with, surprisingly, an undertone of down-to-earth self-reformation. With a cast of such huge enticing names, a cleverly put together script and beautiful cinematography, The Unbearable Weight of Massive Talent was set up for big things – and it delivered.
The film reveals actor Nicolas Cage (played by Nicolas Cage himself) in a pit of self-ruin, financial troubles, and loneliness, trying to pull his life back from the pits of despair, even when dealing with visions of himself haunting him. Attempting to win back his broken family, wife Olivia (Sharon Horgan) and teenager Addy (Lily Mo Sheen), and hoping to fix his career in the process, Cage starts to take steps to make amends. Suggested to him by his agent Richard Fink (Neil Patrick Harris), Nicolas Cage takes a $1 million job at an extremely rich fan's birthday party, as his final gig as an actor before he takes up his forever role as a family man. Here, he meets the wealthy fan, Javi Gutierrez (
Pedro Pascal
), his cousin Lucas Gutierrez (Paco León) and his assistant Gabriella (Alessandra Mastronardi), as the story quickly begins to unfold. Suddenly dragged into the CIA by Vivian (Tiffany Haddish) and Martin (Ike Barinholtz), the story cascades from an outrageous comedy to an outrageous action-comedy as the story finally reveals its purpose and unravels into an even more humorous outcome.
A cast of such fantastic names and incredible comedic instincts should be considered the backbone of what makes this film so clever. The mere name 'Nicolas Cage' could itself get an audience into a cinema, however pairing that with the recent evolution of popularity for Pedro Pascal, and the unpredictable chemistry they carry together on-screen, it creates a sure way of sending that very same audience laughing their way out of the film, happy and content. Arguably the cast of a lifetime, The Unbearable Weight of Massive Talent has an extensive list of comedic actors; including both Neil Patrick Harris and Ike Barinholtz, and it is clear that the casting choices made were strategically important and successful; even with such small roles, every moment each actor is on the screen is comedic genius. Ultimately, it would be difficult to argue that the cast was not one of the major reasons for this film's success; from their chemistry to their comedic timing, any simple scene could be made to be a scene of humour, story-progression and even character-development.
Furthermore, the way in which The Unbearable Weight of Massive Talent is able to story-tell is intriguing within itself. To begin with, the story seems slow, pointless, and as if it is going nowhere; it leaves the audience confused as to what the story even is and in what direction it is attempting to head in. However, as the storyline finally reaches its stride, it unfolds perfectly and it becomes obvious that it was all part of director Tom Gormican's brilliant plan all along. There are even small moments of potential fourth wall breaks as Nicolas Cage and Javi start to write their own script for a movie, one that plans to start off slow and break into a heavy action film, cleverly and suspiciously like the film the characters themselves are in. This firmly adds to the adept humour that is displayed ever so subtlety throughout the film. Amongst the strongest aspects of this film, the storyline is fundamentally so simple and so easily portrayed, yet works so well and pays off as if it was a story of complexity.
Unfortunately, not every film can go untested; in this case, The Unbearable Weight of Massive Talent seems to fail in aspects of predictability and randomness. A minor issue, that could perhaps be a point of debate amongst audiences, is the character of Nick – the vision of a younger Nick Cage that appears to haunt himself. For some, it may be another bit of comedic relief and humour, however in this case it should be argued that the vision of younger Nick is an unfortunate addition that adds nothing to the story or to the comedy. Simply put, it was perhaps too random an attempt at comedy, or too apt an attempt at storytelling, that it just felt purely ridiculous and non-sensical in comparison to the clever devices that are used amongst this one. Furthermore, The Unbearable Weight of Massive Talent appears to fall at the knees of predictability. Without spoilers, of course, the ending, although framed to look like a huge shock, is one that could be predicted from the introduction of that plot. Perhaps making the story once again ridiculous, it threatens to ruin the success that the rest of the film so clearly is. Luckily, in both cases, the predictability and randomness of some aspects of the film can be chalked down to it being of the comedy genre and so where the film does appear to stumble, it could appear to be forgiven, depending on the audience.
Verdict: 
Ultimately, The Unbearable Weight of Massive Talent uses every device handed to it to create a cleverly self-aware comedy that could put up a fight against classic comedies at the top of its genre. The humorously convincing cast, combined with incredible writing, creates a delicious concoction that even some story predictability and randomness can be overcome. Director Tom Gormican should be proud of the incredible genius that this film is and will hopefully be recognised for.
Rating: 8/10
The Unbearable Weight of Massive Talent is out now in cinemas
---
Looking for your next film to watch? Have a read of these Redbrick Film articles: