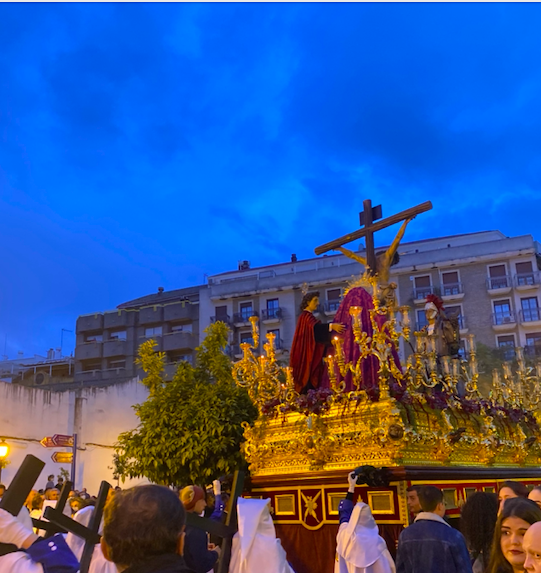 Travel Editor Jessica Haines recounts the religious tradition that is celebrated in Spain every Easter
In comparison with Easter traditions in the UK, where typically the Easter Bunny hides chocolate eggs in the garden for children to find, the serious nature of the religious festival in Spain is in stark contrast. First of all, there is no Easter Bunny or chocolate eggs. Instead, Spaniards typically get involved in processions during the week between Palm Sunday and Easter Sunday, known as Semana Santa.
These processions, that are most impressive in the Andalusian cities of Seville and Granada, are organised by different hermandades (religious brotherhoods) and consist of large pasos (floats) adorned with precious metals, stones and materials that each depict a scene of the Easter story in the Catholic faith. These impressive statues are carried by around 30-50 costaleros that are underneath it, and are accompanied by candlelighters and nazarenos, who walk in a slow procession in front of and behind the float, while dressed in pointy, hooded robes and carrying long candles or crosses. A marching band will also follow each float, so it's very easy to know when a procession is near you! 
As I lived in Spain last year during my Year Abroad, I was able to witness a few processions for myself – one even happened right outside my flat, so I very quickly went outside to see what was going on. Instantly, I was blown away by the seriousness of the celebration and the grandeur of each float. I was taken back to a moment that happened a few weeks before, when two girls from one of my classes (who were Spanish and had lived in Huelva their whole lives) asked me if I wanted to see the floats in one of the churches, while we were on our way back from a group meeting. Inside this tiny church were about 6 to 8 floats, where the vast majority depicted the Virgin Mary crying. I was thinking to myself that each float must have cost thousands of euros to create and maintain, highlighting how important this celebration is to Spaniards, and how deeply ingrained in religion their traditions are.  
Despite only happening for one week a year, this tradition is prepared all year round, with practices for the costaleros happening during the night, which of course, makes sense, considering each float weighs around 600kg (one time my friends and I saw one of these practices happening while coming home from a night out!).    
In terms of Easter food, the most popular is torrijas, a sweet snack consisting of white bread soaked in milk that is then fried and coated with sugar and cinnamon, similar to French toast. Another traditional sweet treat is the Mona de Pascuas, a sweet brioche cake representing the end of Lent and usually topped with a boiled egg.
Generally, as Semana Santa is such an important tradition in Spain that is known all over the world for its uniqueness, it is a very busy time for tourism, meaning that some hotels book out several months in advance, particularly in Seville. Therefore, if you wanted to go and see this unique sight for yourself but didn't want to pay extortionate prices for accommodation, I would recommend staying in a nearby town, and travel to a larger city for the day (of course, the nearby town will probably have its own processions as well).
---
Enjoyed reading this article? Find more Travel articles here:
One for the Bucket List: Ecuador