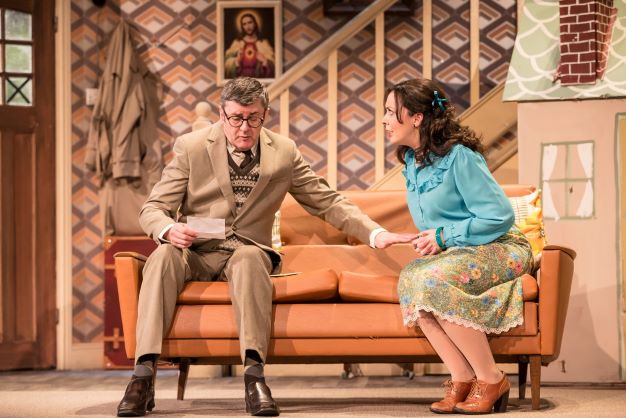 Culture Writer Charis Gambon reviews Some Mothers Do 'Ave 'Em, finding the show to be a hilarious watch and one to definitely look out for
Some Mothers Do 'Ave 'Em is absolutely hilarious. You will find yourself laughing at everything. Even when you see part of the plot coming it is still incredibly funny. Anything that can go wrong does in this production. Additionally, anything that can be made into a joke is. The jokes are either caused by the dim-witted Frank Spencer or at the expense of him. However, it does not feel that Frank is targeted. Frank is usually a victim of his own foolishness or lack of understanding. The rest of the cast seem constantly to be trying to cope with the problems caused by Frank, such as his DIY, cooking and lack of world sense.
Even when Frank appears to have done something with talent, it seems to be part of a greater failing, for example rewiring his house, but in a way that means the doorbell rings constantly unless you smack the wall. The semantics and plays-on-word throughout are a key element to the humour of this piece. The humour typical of comedy from that era remains, while also appealing to modern culture and jokes.
Frank Spencer is played by famous comedian Joe Pasquale and he was most certainly a great choice for the role. Betty is played by Sarah Earnshaw; she portrays a Betty that is perfect to star alongside Pasquale's Frank. The two together are truly superb. Frank is incredibly childish and at times idiotic but Betty always loves him anyway. She sees that even if he always messes everything up, he does truly mean well.
Mrs Fisher, Betty's mother, is played by Susie Blake. Her portrayal of the mother is also incredibly funny. She portrays a disapproving mother in law which many can relate to; she also plays an older woman who is always after men. Both bring about great scenes to watch.
Finally, James Patterson as Father Patterson, Mr Luscombe and Mr Worthington, both portrayed by Morary Treadwell and Desmond, and Constable played by Ben Watson. The whole cast is only five members large but it does not feel small at all. The BBC scenes are possibly some of the funniest in the production, although it would be impossible to choose which bit is truly the funniest.
The house set designed by Splinter Scenery was truly mesmerising. The house was created in a perfect state of disrepair and looks superb even when fully damaged at the end of the piece. The house truly looks believable for the era that the piece is set in.
Overall, I would suggest that the piece is certainly worth going to see if anyone finds themselves with spare time. Everything about Some Mothers Do 'Ave 'Em is absolutely funny and any adults of all ages can engage in the humour.
Rating: 4/5
---
Enjoyed this? Read more from Redbrick Culture! 
Theatre Review: Catch Me If You Can
Theatre Review: The Play That Goes Wrong