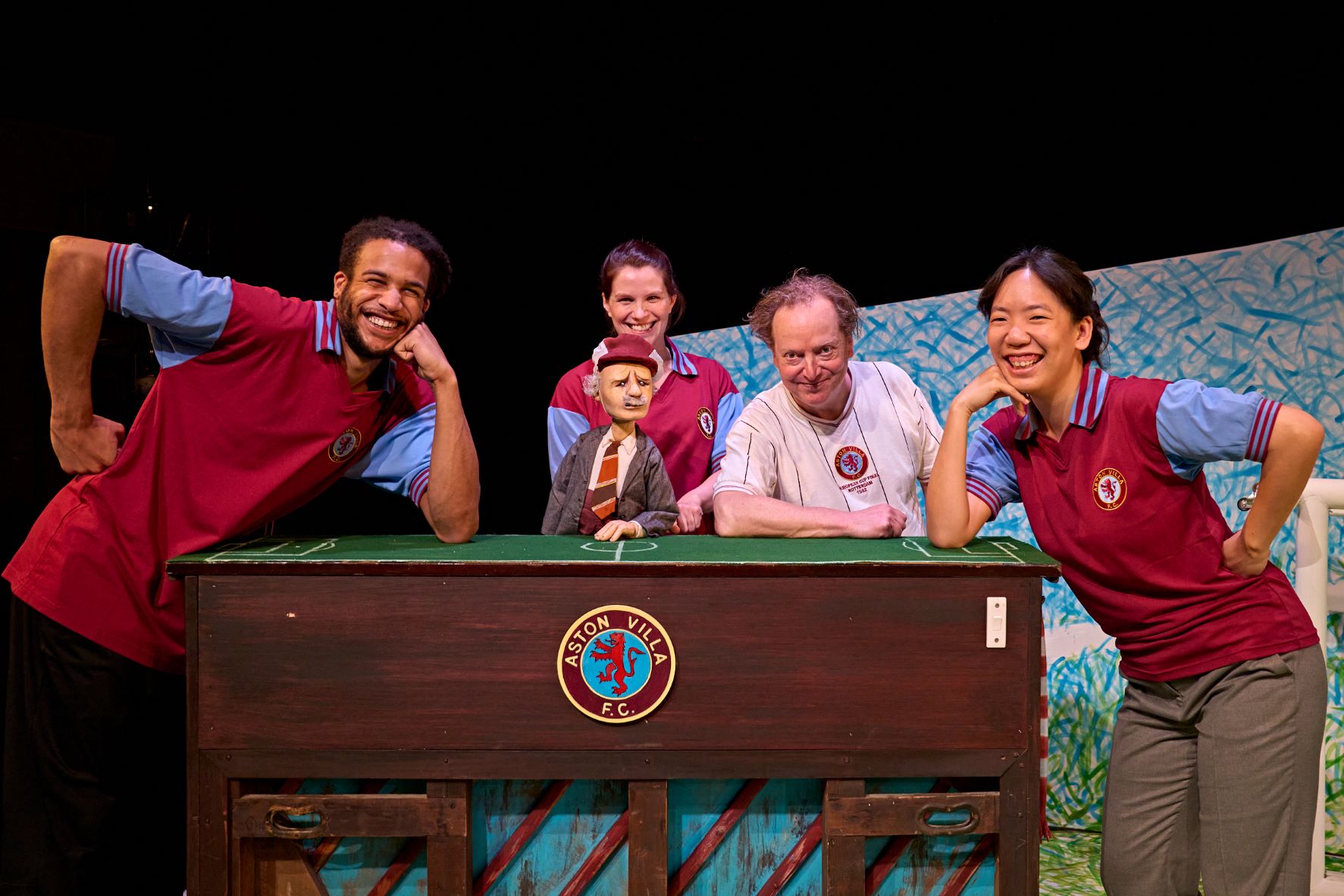 Culture Writer Benjamin Oakden praises Would You Bet Against Us? at the Birmingham Rep as a heart-warming tale of backing yourself against the odds, and the power of sport to bring people together
Would You Bet Against Us? is a celebration of how sports can impact our lives. The play is an autobiographical depiction of Aston Villa's legendary run to win the 1982 European Cup, contrasting the team's successes on the pitch with the coming-of-age story based on writer Paul Hunter's own upbringing. At first, I was worried that the play would struggle to balance these two narratives, but the two feed into each other very well, making the production feel varied and engaging.
While Would You Bet Against Us? is not afraid to introduce occasional moments of dark comedy, much of the play's humour is light-hearted and cheerful. There are only four actors in the production, including Hunter himself, but this is hilariously made up for by using a puppet, balloons and even vegetables as characters in the play. Audience interaction too was used well, with spectators playing the part of stadium fans and even journalists grilling Villa manager Ron Saunders in a press conference. Not every joke is a hit; some are a little too heavy-handed on references to Villa's history, and one gag, in which Hunter and Lori Hopkins pretend to be rewriting the script of the play, is perhaps a fourth wall-break too far that detracts from an emotional scene. However, the pace of the show is fast enough, and the enthusiasm of the actors is high enough, that the laughs quickly return following any missteps.
The production values of the play are intentionally makeshift, which only adds to the personal touch that Hunter is looking for. The props and costumes feel like they have been taken from his childhood home, with actors largely donning Villa shirts and scarfs, a piano being reused as a pub table or school desk, and the football scenes played out with a plastic ball tied to a stick. The soundtrack is made up of popular music, and this homemade tone enables you to imagine Hunter recording the songs from a teenage radio. 
That production style makes the strength of the plot more impressive. While it was likely the Aston Villa story that attracted people to the theatre, it was actually the biographical side that really stuck out. Hunter pours a lot of himself into the play, depicting his struggles as an aspiring actor to be accepted by a family and his peers. Despite the aforementioned instance where the humour distracts a little, the play blends comedy and drama successfully; puppets can carry a surprising amount of emotional depth. Hunter also reveals that he took great inspiration from Villa's underdog story in his own life, a poignant depiction of how football can influence people far outside of the game, and yet this underdog element could have been explored further within the football side of the plot. While Aston Villa's European journey is warmly recreated, that underdog spirit could've been made more vivid by placing a greater focus on their opponents and their naysayers. It is mentioned in passing how people wrote Villa off, but the true strength of their opposition, and thus a true portrayal of how the odds were stacked against them, would have made the final victory feel even more satisfying.
The key to the success of Would You Bet Against Us is its warmth. It's a story about family ties, backing yourself against the odds, and how sport can bring people together. Those themes make for a crowd-pleasing comedy that has a lot of emotion mixed in with its playful style of comedy. Even with the occasional misstep, the passion that Hunter has for Aston Villa's story shines through, leaving us with an incredibly personal and unique look at one of football's greatest miracles. 
---
Enjoyed This? Read more from Redbrick Culture here!
Theatre Review: The Play That Goes Wrong