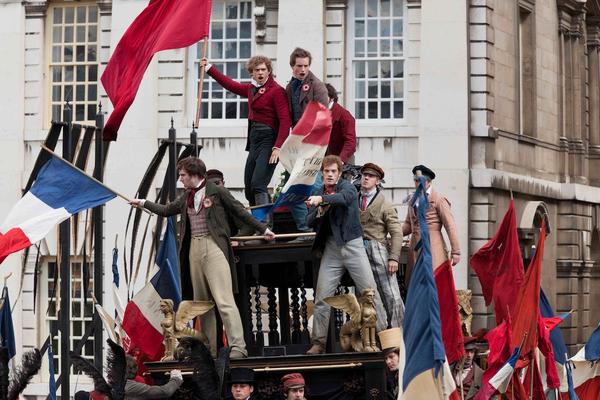 Life and Style Editor Julia Lee explores the genre of the movie musical, looking at the successes and failures of taking the stage to the screen
Since La La Land's Oscars bid in 2016, we have seen a resurgence in the movie musical genre. Is it time to legitimise musical films as equals to Hollywood's dramatic or 'Oscar-bait' offerings? The Golden Globes' conflation of 'musical or comedy' as a single category seems more outdated by the year. Modern musicals are no longer just the big-band, jazz square filled spectacles of decades past. What unites the genre is rather the centricity of emotion and personhood- after all, once words run out, songs fill what could not be said. The 2022 awards season did not hold back in recognising the years' offerings. West Side Story, tick, tick… BOOM! and Dear Evan Hansen. With the latter dominating the Razzies, there is clearly a distinction between what is considered a 'good' and 'bad' musical adaptation. 
Unlike book-to-screen adaptations, stage productions already visually represent the book's (or libretto's) collaboration of artistic and musical directors' intentions (there are also movie to musical adaptations, where there may or may not already be songs incorporated, but that's a whole other story). So, what makes or breaks these adaptations?
Often what triggers a movie adaptation is when the musical reaches a critical level of popularity wherein a movie – that has a substantially wider reach and accessibility– would prove profitable to its producers. Of course, petitions by its fans are taken into account, but I would argue that it is secondary. Wicked, for example, had been in negotiations for a film for the near two decades of its run but only recently found its leads and received the go-ahead. 
The movie adaptation, if successful, will shift the way the musical is perceived for good. The most important by far in determining this is, I believe, perfect casting. Films that show just how impactful casting can be include 1978's Grease starring John Travolta and Olivia Newton-John, and 1965's The Sound of Music starring Julie Andrews. These actors' look, voice and mannerisms are forever associated with the role, becoming benchmarks by which future casts are measured. Sometimes the cast for the movie could be controversial, notably the casting of Audrey Hepburn as Eliza Doolittle in 1964's My Fair Lady instead of Julie Andrews, who originated the role on Broadway. Hepburn was thought to be an inadequate singer despite her name recognition and film experience. However, there is no denying that, by now, Hepburn's portrayal is just as iconic as Andrews'. A more recent example of perfect casting is 2007's Hairspray, which from Michelle Pfieffer's Velma Von Tussle to Elijah Kelley's Seaweed, created a whole new generation of fans. 
Movie adaptations have the chance to earn a coveted Oscar. Movie producers are incentivised by the 'Best Original Song' category to insert a new, and at times incongruent, unnecessary or simply unmemorable song. While not the most egregious example by far, Hugh Jackman's 'Suddenly' in the 2012 adaptation of Les Miserables is one such example. Jean Valjean arguably had the overwhelming emotion that necessitates a song, but it paled in comparison to the character's other soliloquies and took up the run-time of an already incredibly long film that could have been given to thematically relevant songs cut for time (this writer is still bitter 'Drink With Me' was reduced to a 1.5 verses). On the other hand, some new songs in adaptations have historically enhanced it or even the musicals they had adapted from. Beyoncé's 'Listen' from Dreamgirls and Olivia Newton-John's 'Hopelessly Devoted To You' from Grease were not in the original musicals, but were so well-loved that they became staples in later productions. 
Another way screens have a leg up to the stage is versatility. Characters could romp through the city streets, multiple characters could share a song without having to share a space. From the tiniest set details that serve as Easter eggs to hardcore fans, to larger-than-life locations that reflect the characters' psyche, there are no limitations to the setting of movie musicals. The stairs on the island and sparkling waters around it 2008's Mamma Mia immediately transport viewers into a Grecian state of mind. In another musical that hinges on its setting, In The Heights' titular song allow the audience glimpses into the everyday life of those who call it home, while '96,000', set at a public pool, is one that could never have been staged. A storytelling cliché I adore is the setting as its own character. This may be accomplished on stage and screen both, but it is greatly satisfying when movies take full advantage of their medium to bring the setting alive. Everybody's Talking About Jamie (2021) is filmed in its intended location of Sheffield, and the story about an aspiring drag queen is all the more profound in small-town England compared to glowing blue squares.
This is also why, in my opinion, contemporary coming-of-age ruminations are inherently less suited to big-screen adaptations. On stage, there is a built-in suspension of disbelief, whereas on-screen any abstract elements are forced to become literal– similar to how animated films lose some of their whimsy once they are adapted to live-action. Dear Evan Hansen is a musical that uses internal monologue in its narration and social media in its central conflict. It is much easier to lose yourself in shiny projections and Evan's emotive riffs in person; without the barrier of the stage, performances become stilted and unnatural. That is not to say leaning too deep into the magic of cinema is always beneficial. The musical Cats works because it is a loosely tied song and dance compilation stylised for the stage. The 2019 CGI monstrosity failed to recognise what made the musical successful– a pro-shot with a theatrical release would have worked just fine (and already exists).
Movie adaptations, especially if they are some years removed from their source material, may update upon the original in refreshing ways. Annie (1982) while having some of the best acting performances, contains eyebrow-raising racism that is removed in the 1999 and 2014 versions. The 2014 version, while introducing the viral version of 'Little Girls,' clumsily changed the setting to the modern age by involving technology. West Side Story (2021) did not seek to change the time period, but solved some problems of the original in its casting of Latine actors and minor changes to the storylines, such as Maria and Tony's backgrounds and Anybodys' trans identity. tick, tick… BOOM! (2021) takes a biographical route to honouring auteur Jonathan Larson's legacy that is distinct from both the original monologue and 2001 stage production. 
There are other forms of filmed musicals. Fans of the stage will no doubt be familiar with bootlegs, the less than legal amateur recordings that are circulated through personal trades or discrete public sharing. Alternatively, professional or 'pro-shots' fulfil the accessibility caveat of musicals on film without changing their original staging (although cuts may focus on one part of the stage or the other). Captions allow those that are hard of hearing to enjoy the musical as well. Most fans of theatre agree that this is perhaps the most ideal way to bring stage to screen, and many popular musicals have pro-shots that preserve performances of that moment in time. Some in the industry worry that pro-shots would lower the demand for live theatre, but fans are first and foremost fans of the music, many discovering the musical through the original cast recordings. Concerts certainly have not been made obsolete with the emergence of recordings. Another concern is costs associated with filming and distribution that prevent smaller budget shows from making a pro-shot at all. Finally, there was the mini resurgence of musicals broadcast 'live' staged in studio lots with both in-person and television audiences. Grease: Live! (2016) was perhaps the most successful. This medium is most suitable for high energy, ensemble musicals, and hinges greatly on the popularity of the source material, the cast's magnetism, and skilful direction and cinematography. Needless to say, such a perfect storm is hard to come by. 
Without the stage to screen adaptations, whether it is a fully-fledged movie all its trimmings, pro-shots, live broadcasts, or even bootlegs, the only way a musical fan may enjoy it is through cast recordings. Although I am reassured by the increase in movie adaptations of musicals, both beloved and obscure, there is still a way to go to reach true accessibility in theatre. 
---
For more thoughts on cinema, check out these articles from Redbrick Film: 
What Makes a Good Book Adaptation?