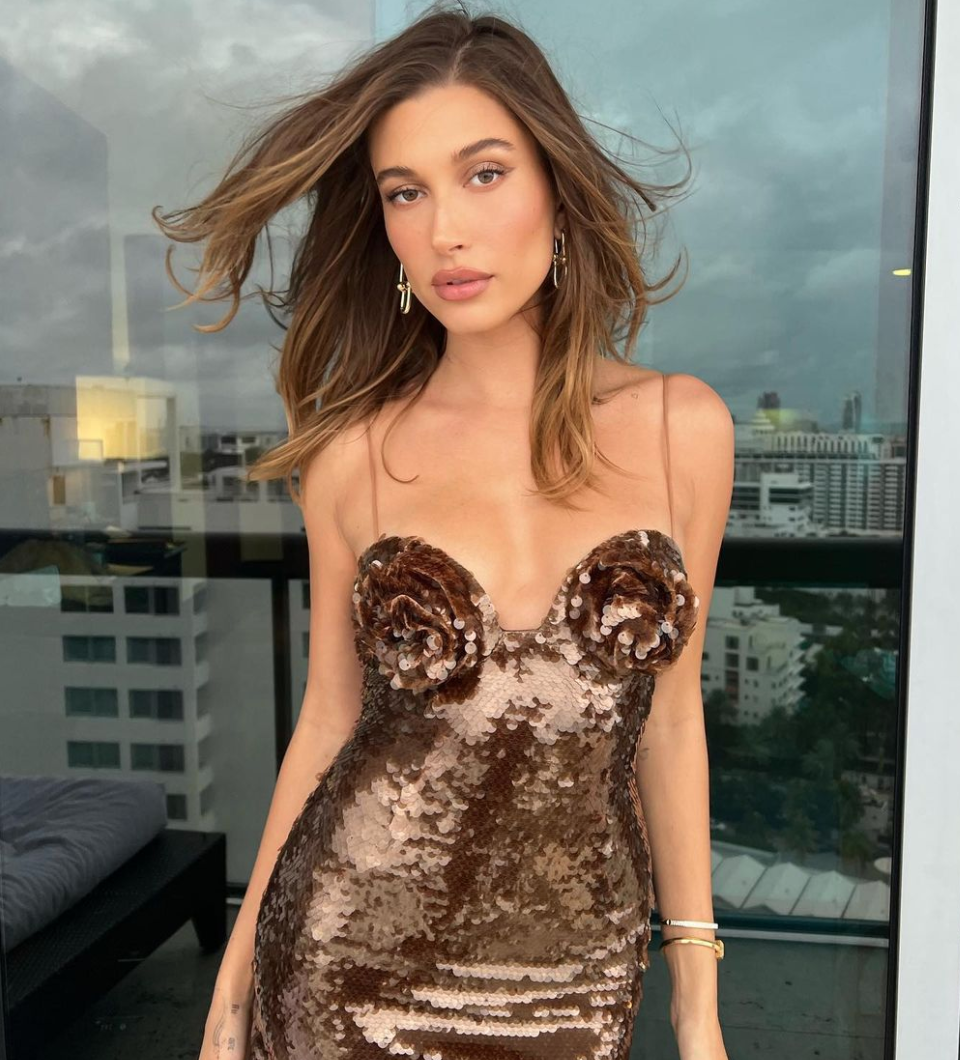 Life&Style's Georgia Quirke predicts the newest hair trend, 'expensive brunette', reflecting on why it is gaining popularity and how to achieve the look for yourself
From Hailey Bieber to Dove Cameron, we have seen A-list celebrities ditch their blonde locks for a new brunette this winter. In the post-lockdown world, women are tired of high maintenance hair and are transitioning back to their darker roots for a more natural, easy look. This updated version of the classic brunette has been coined as 'expensive brunette' by social media. This new look is characterised by multiple shades and tones of brown with an emphasis on hair health. There is no denying that the classic brunette emerges every winter, but I think this luxe, low maintenance hair colour is seriously perfect and here to stay.
After lockdown and the explosion of hair experimentation (from dying hair with food colouring to a newfound obsession for mullets after Netflix's Tiger King), women have turned to a more natural look. 'Expensive brunette' is a radiant brunette with depth, dimension, shine and subtle face framing. It is all about embracing your natural hair colour by staying as close to your roots as possible. Essentially, looking expensive without breaking the bank. The term 'expensive brunette' refers to the end result; more luxurious and healthy hair.
Naturally, going into the winter months, the brunette trend does occur almost every year. However, during lockdown, the inability to visit hair salons meant that people simply opted for a low-maintenance style. This new brunette trend needs little upkeep and is less damaging, saving you money in the long run and making it easier to maintain healthy hair. Therefore, it is no surprise that celebrities have jumped into the brunette scene and are loving this bold brown look.
The origin of the 'expensive brunette' trend can be traced back to the queen of fashion, Hailey Bieber. Bieber has swapped out her signature blonde for her natural hair colour. Whilst she had dyed her hair before the pandemic, during her time at home she stopped highlighting her hair and let the colour grow out. In Hailey Bieber's case, 'expensive brunette' does not have to cost a thing and is ultimately a grown-out root. Celebrity colourist Tracey Cunningham says the grown-out-root trend could indicate a general shift towards stress-free hair-colour aesthetic. This natural look is seen on many more celebrities, with Sofia Richie removing her blonde highlights and going back to her brunette roots. Perhaps more drastically, famous blonde Blake Lively has turned to a grown-out shade of bronde.
The #expensivebrunette tag on TikTok has gained over one million views, featuring women posting their brunette transformations. TikTok has even gone as far as declaring that blonde is officially out. The founder of Shewolf, Mariano Ruiz, says that 'everything is changing to a more natural, relaxed and easy style' as clients are 'embracing their true styles and hair colours.' Others have linked the 'expensive brunette' to a more inclusive beauty world. A TikTok trend forecaster, 'The Digital Fairy' states that 'the trend away from blonde may also be a trend towards more diverse beauty ideals.' Clearly, the natural look is continuing to become popular, placing it at the forefront of trends this year.
So, if you do want to try out this chic new trend, this is what to ask for. According to celebrity hairstylist, Liam Curran you need to ask for different shades and tones of brown created by mixing colours and finishing with luxe toners. 'Expensive brunette' is a colour bespoke to you depending on your eye and skin colour. There are two ways to achieve this look, either matching the rest of your hair to your roots or simply growing out your hair. Ultimately, the idea is to stay as close to your roots as possible and just emphasise your natural hair. I am loving this new trend, especially now we can get the celebrity look for less.
The 'expensive brunette' trend is clearly anything but average. So, maybe it is time for brunettes to honour their natural hair colour or even for blondes to give brunette a go. Perhaps blondes are not having more fun after all! I am so here for winter hair trends, but I have a feeling that this one is here to stay. So, let's do brunette this year – and make it look expensive.
---
Read More from Life&Style:
The Boomerang Effect: Fashion Trends That Just Keep Coming Back