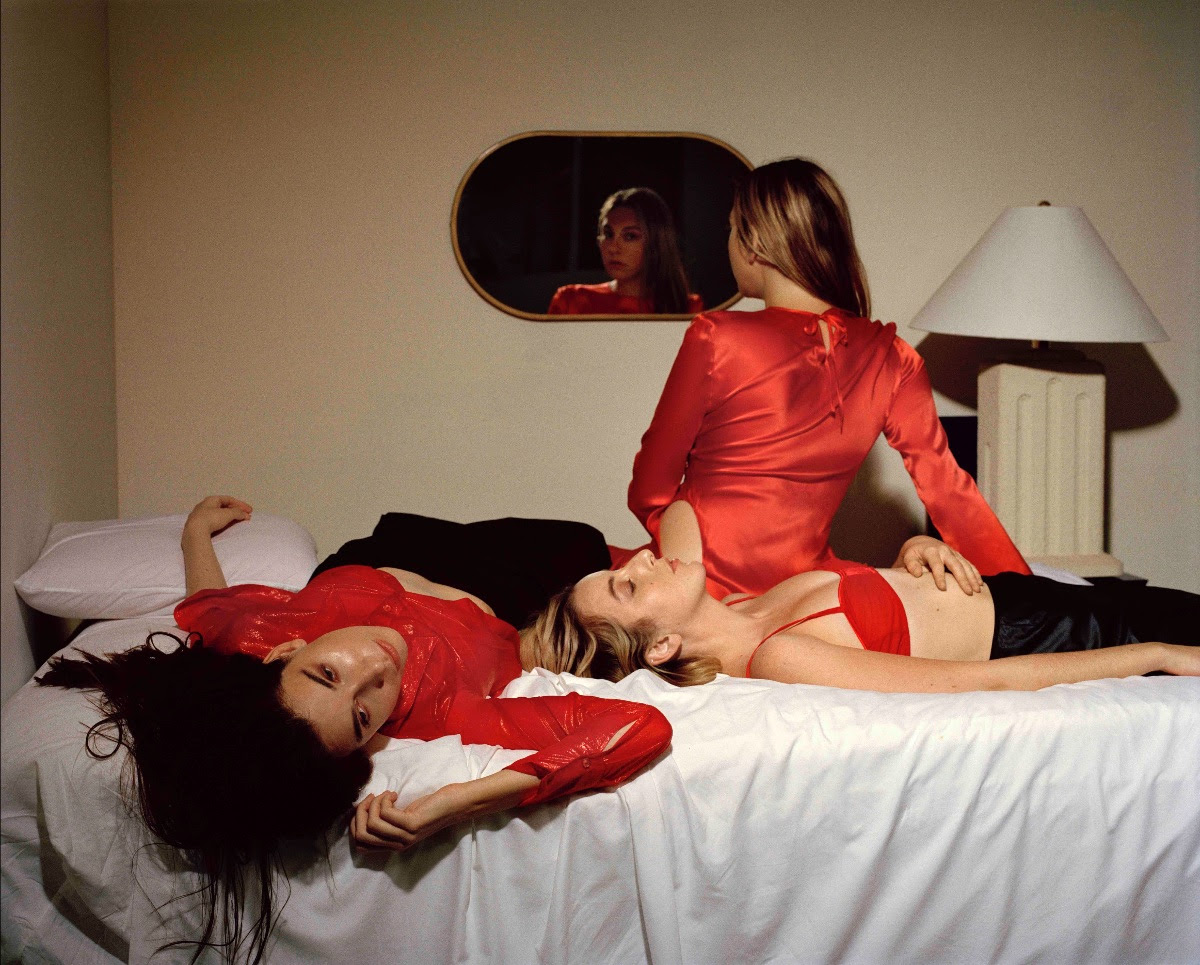 Women In Music Pt.III is HAIM's best album to date, coherently bringing together a number of different musical influences, Samantha Andrews writes
HAIM's third studio album Women in Music Pt. III stares into the face of sadness and confronts it head on. Coming after a difficult period in the sisters' lives, having each battled with depression and other major life events, this album is a cathartic release of darkness. This is a much more melancholic album than anything we have heard from HAIM in the past, but it excels because of that. Women in Music Pt. III still carries HAIM's signature calm summery indie-pop sound through the funky saxophone and basslines that filter through each track. But there is a level of emotional maturity and vulnerability that shines in the album. This is HAIM's calling to darker times but is also a rejection of them, beautifully, and at times forcefully, expelling them.
The album opens with a testament to HAIM's smooth, summery sound. Opening track 'Los Angeles' is a love letter to the band's home city, but also deals with themes of imposter syndrome and belonging. The song opens the album with a saxophone melody that immediately establishes the sunny funk underscore of the album. The guitar riff that carries the verses alongside the melodic basslines immediately establish the musical influences from country to jazz and R&B, whilst still keeping to HAIM's indie-pop sunshine sound. This sound is prominent in lead singles from the album 'Summer Girl' with a similarly catchy saxophone melody and 'Now I'm In It' which shines in its repetitive and upbeat production. The album is HAIM's sound elevated to a matured level and with a sensibility towards experimentation, both musically and emotionally. 
Women in Music Pt. III shines in its eclectic influences that bring a certain freshness to HAIM's sound. The clear jazz and funk influence in the basslines and saxophones that filter throughout the album is evident. But tracks such as 'Up From a Dream' and 'Leaning on You' also lean towards country with their twanging guitars. Other tracks such as 'FUBT' and 'Gasoline' benefit from guitar riffs that could have easily come out of an iconic rock anthem, whilst '3am' has a strong hip-hop influenced funk melody and prominent production. Women in Music Pt. III brings in an extensive range of musical influences but manages to do so with cohesion. Each song sounds like a HAIM song, but without becoming monotonous. 
Some of the most beautiful moments in the album come from the saddest songs. 'I Know Alone' is a meditative reflection upon loneliness, isolation and melancholia set to simple instrumentation and a sombre production. A vulnerable song about committing to a toxic relationship, 'FUBT' is poignant and only set to a slow and echoing guitar riff which serves to intensify the emotion of the song.  'Hallelujah' is a heart-breaking deep cut that reflects upon both loss and gratitude for loved ones, and how these two emotions balance in times of personal struggle. Looking into such bleak themes, HAIM capture delicate elegance with the strings and country inspired guitar riffs that lift the song into something truly beautiful.
As HAIM look into themselves and their experiences, they reject and expel the sense of darkness through the power of certain songs on Women in Music Pt. III. The track 'I've Been Down' is a cathartic force that feels as if you've stumbled upon an argument. Its lyrics are conversational and lines such as 'you say there's no stupid questions, only stupid people / well I've been feeling pretty foolish trying to get myself through this' really hit you with a big impact. Similarly, the forceful drums, electric guitar licks and angsty vocals in 'All That Ever Mattered', a song about lost love, have an immediate drive to them. The production is experimental and chaotic in parts, but it holds such a sense of freedom in this. You can feel the frustration; it is a complete outburst of emotion. 
Aside from their emotional exploration within Women in Music Pt. III, a standout part of the album is HAIM's questioning of gender standards within the music industry. Even the title is a subtle and ironic nod to their roles as female musicians. Lead single 'The Steps' is an upbeat and catchy self-affirmation of female empowerment. Yet perhaps the biggest statement is made in 'Man From The Magazine.' The first verse recounts Este Haim's experience being asked by a male journalist if she 'makes the same faces in bed' as she does on stage. The song immediately brings into question the double standards between men and women in the music industry, and the sexualisation of female talent. Other lyrics reflect upon the belief that women buying guitars are beginners and how women are expected to deal with these standards until they are 'perfectly numb' to them. Led by a gritty bassline and guitar riff, the song makes an impact and asserts its message brilliantly. HAIM make it clear in Women in Music Pt. III that things need to change for women in the music industry, and they pave the way for female musicians and female bands.
Women in Music Pt. III is HAIM's best album to date. They approach difficult themes and emotions with maturity and eloquence, whilst using music to expel and release them. This album is simultaneously a force to be reckoned with and a fragile admission of vulnerability. It is eclectic in its sound, whilst maintaining a summery and indie-pop sound that HAIM have been known for. Women in Music Pt. III thrives in its experimentation, and HAIM have really gone all in on it. 
Rating: 8/10
Women in Music pt. III is available now via Universal Music Operations Limited
---
Why not have a look at some recent music features?
Sports Team's Near Miss in the Race to Number One: A Visual Journey
Musicians in Lockdown
The History of Rock Against Racism
Live Review: Salford Music Festival