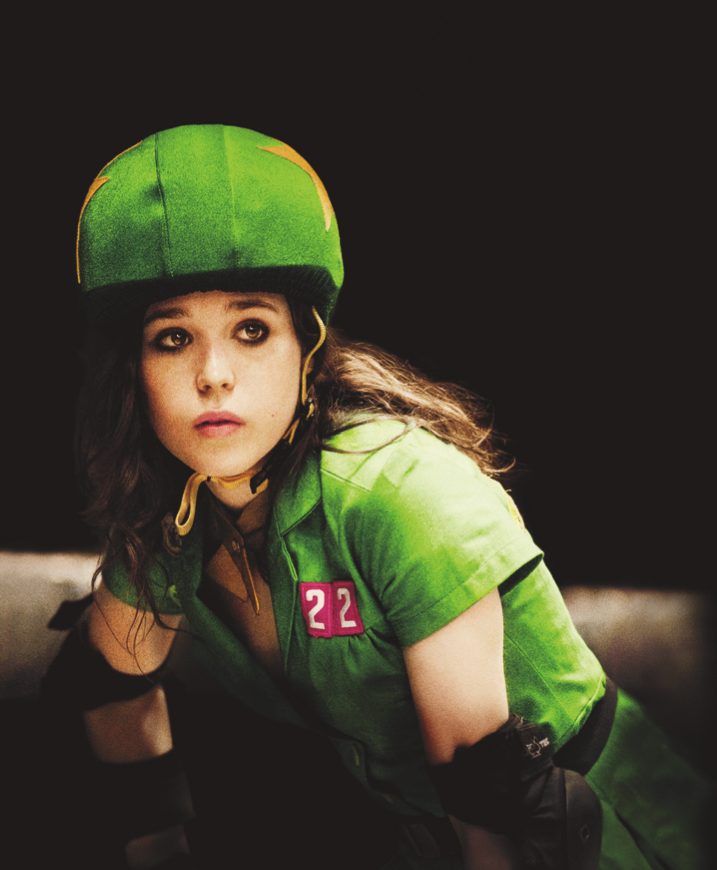 Comment Editor Emily Baldwin reflects on the late-2000s rollerskating classic, Whip It
It is the typical story: small town teenager Bliss Cavendar (Elliot Page) is tired of rural American life and wants to rebel against her pageant-queen mother by finding her freedom in the nearby city. Except, rather than apply for an out of state college or visit the city for the weekend, Bliss joins the rambunctious, fun-loving and intimidating Hurl Scouts Roller Derby team, lying about her age and dating an older indie musician in the process – it is always the indie boys. The layered outfits are questionable, the side partings are aggressive, the raccoon eyeliner is impossible to ignore and the soundtrack would fill even the most well-adjusted adult with unbridled teenage angst. Whip It is not only an embodiment of the early 2000s teen genre, but an homage to my favourite activity: roller skating. 
Whip It was released in 2009, which sandwiches it right in the middle of the exact indie coming of age movies I would watch whilst scoffing a bag of maoams on a Friday night sleepover in 2013. Think Juno (2007), Adventureland (2009), Scott Pilgrim VS. the World (2010) or even The Perks of Being a Wallflower (2012) and you are on the right track. The cast is a testament to the genre. Elliot Page and Alia Shawkat play a relatable pair of equal parts frustratingly awkward and undeniably loveable best friends who grapple with the realities of coming of age in a sleepy town with few opportunities. I couldn't help but think of them when I watched Olivia Wilde's Booksmart – whose protagonists Amy (Kaitlyn Denver) and Molly (Beanie Feldstein) face similar challenges of academic expectation, anxiety about the future and friendship drama. Yet, unlike Wilde's polished and contemporary hit, Whip It takes us back to a time of awkward silences, first-jobs and public transport, perfectly encapsulating the trials and tribulations of small town teenhood. 
You could easily play a game of early 2000s bingo while watching Whip It. The cast includes SNL superstar Kristen Wiig in an unusually heartfelt role, as well as Drew Barrymore who takes-on the comedic role. On top of that, there is a slightly more random appearance by Jimmy Fallon and, of course, teen-favourites Page and Shawkat. The characters are imperfect. Their skin is not clear, they are not upper middle class, they are not all educated, employed or sensible and their decisions are questionable. Yet Whip It, while refusing to take itself too seriously – I mean, Bliss and Pash work in a cafe with a ten foot fibreglass pig on top of it – succeeds in embracing the unorthodox. Released in 2009, there is far less feminist self-consciousness than Olivia Wilde and Greta Gerwig's endeavours. In fact, its plot line involving an age-gap relationship and gross references to purity culture are largely unworthy of praise. Yet, they allow for moments of great heart and vulnerability. The conversations between Bliss and her parents are particularly heartfelt, as the trio navigate miscommunicated desires for love and success there are times of frustration. This embodiment of the gruellingly laboured relationship between parents and teenage children is refreshing and draws me back to 2000s teen films. I love how Barrymore includes moments of stagnation, silence and awkwardness. We see Bliss and her mother trying to find the right words to express their expectations, and we have room to ruminate over the missed opportunities for explanation. A truly relatable mother-daughter relationship is depicted, reminding me Greta Gerwig's modern classic, Lady Bird (2017). 
Throughout my teens I looked to characters like Bliss for reassurance and relatability, I remember cringing over a scene where one of the Hurl Scouts encourages Bliss to apologise to her mother. Yet, in my twenties, I can see these relationships in a new light and feel a similar sense of responsibility for the teenagers repeating the same mistakes as me today. I wonder if director Drew Barrymore's experiences as an unruly teen turned national treasure injected Whip It with this heartfelt nuance. After all, the portrayal of chosen family is a stand out feature. Yet, at the same time, part of what makes Whip It feel so authentic is its homegrown soundtrack. I hate to hark back to the much-spoken-about indie sleaze era, but songs from Radiohead, MGMT and The Strokes immediately inject Whip It with an unshakeable feeling of nostalgia: fermenting its spot among the great pinnacles of cathartic coming of age films. There is something about indie music which makes it pair perfectly with the teen film genre, I wonder if every generation will listen to The Smiths or The Kooks and feel that same sense of longing, misunderstanding and vulnerability. Bliss certainly does, and her interest in class rock provides a unifying line between her and her mother, as well as between Whip It itself and the multiverse of teen films. Juno definitely paved the way for such a stellar soundtrack, but so did the skate community itself. I, for one, already had a number of the songs featured in Whip It on my skate playlist.  
Looking back, it was the gang of strong, powerful and unconventional skaters who stole my heart when I first watched Whip It.  After all, I have seen a host of sun-bleached, character-driven teen movies and none have been as influential to my life as Whip It. Woven throughout the star-studded cast are actual Roller Derby players, who inject an awesome sense of skill and camaraderie into the group and competition scenes. For those of you who have not heard of Roller Derby, it is a contact sport where teams attempt to earn points by having their 'Jammer' successfully skate around the rink which is being defended by 'blockers' who try to prevent the Jammer from passing through. It is high energy, exciting and requires great strength and agility. In the late 20th century Roller Derby was broadcast on TV channels across the US, earning a similar status to Women's Wrestling due to its scripted storylines, camp costumes and theatrical elements. This history is embodied in Whip-It, where the team members feel more like caricatured models of femininity than actual individuals, but I love it. 
I was obsessed with the team's costumes when I was younger. The Hurl Scouts wear tiny girlscout-inspired dresses adorned with fish nets, tattoos and battle-makeup. From the moment I saw them, I wanted to be them. Now, as a roller skater myself, I revel in the skating. Seeing Bliss open her first pair of Riedell derby skates with awe in her eyes and excitement running through her veins is a feeling I experienced when I lifted the cardboard lid on my first pair of adult skates. The unbridled sense of pride, the eagerness to lace them up and the gratefulness to have found a community within such an awesome sport. I have found myself forcing all of my skater friends to watch the movie, and a certain scene where the Hurl Scouts jump over each other on the track inspired my friend and I to try out some new moves for ourselves. I love how Whip It feels so authentic. Bliss skates the streets of her hometown decked out in safety gear and soaking up the early evening air, pushing herself to learn more. As a 13 year old in a similarly dead-end town, I remember watching the film during a long evening of the six-weeks holiday and wanting to be the characters within it. I achieved that goal this time last year as I invested in a pair of gorgeous blue skates, an ugly black helmet and some sweat-stained wrist guards and learnt to skate. It felt like a full circle moment. 
In fact, I was inspired to write this Redbrick Rewind as I hosted a Whip It screening for the Birmingham University Rollerskate Society. BURS is a brand new society and I was fortunate enough to co-found it this academic year. I may not be as naive as Bliss anymore, but I still hold her spirit with me every time I lace up my skates. Whip It is a film of great heart, and a homage to female friendships, relationships, and chosen families. Next time you are looking for a homegrown teen film to watch, steer clear of the overexposed indie romances and load up Whip It. You definitely will not regret it. 
---
For more throwback films, check out these Rewinds from Redbrick Film:
Redbrick Rewind: Clouds of Sils Maria
Redbrick Rewind: Monsters, Inc.