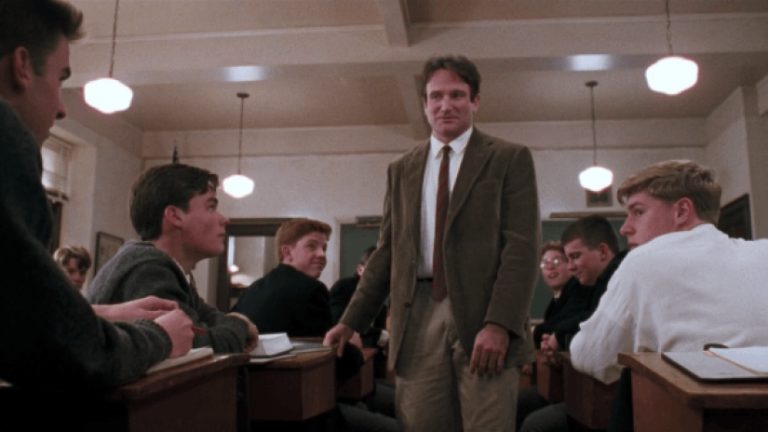 To mark 30 years since its Oscar win, Film Editor Matt Taylor decides to seize the day and make his life extraordinary by winding the clock back to the 1989 classic Dead Poets Society
Sometimes, if we're lucky, the right film comes along at just the right time in our lives to let us know that everything will be okay. What with everything currently going on in the outside world, these are the movies we need right now: those films that give us life, confidence, and faith in humanity. Such is the power of Peter Weir's 1989 classic Dead Poets Society. This is a film that has shot straight into my all-time favourites – and yet I can't quite put my finger on why it resonated with me so much. Perhaps it was its sheer relatability; maybe it was its wonderfully endearing lead performance from Robin Williams; perchance it was its gleeful takedown of an archaic style of education; possibly it was its examination of healthy masculinity; or maybe I just got lucky. Maybe Dead Poets Society, for whatever reason, was exactly the film I needed at this moment in my life. I can't say that I've ever seen anything like it: it is heartbreakingly life-affirming, restoring faith in individuals when we thought all was lost – it is a film that makes me want to be a better man.
Weir's film follows the trials and tribulations of a group of private school boys attending Welton Academy in late-50s America. When they meet their new English teacher Mr Keating (played to sheer perfection by Williams), they decide they must strive to find their place in the world – to seize the day, and make their lives extraordinary.
No one other than Robin Williams could have made Dead Poets Society the film that it is. He touched countless lives over the course of his career, and his turn here proves why he was such a beacon of light for so many. Keating is an unconventional teacher (to say the least), and takes great delight in deliberately pushing his new students away from the traditional curriculum – highlights of this include his encouraging of them to rip out the introduction to their poetry textbooks to illustrate the importance of free-thinking, taking the boys out for sport and making them read lines of poems before kicking a football to allow them to improve themselves, and his fierce-but-gentle encouragement of Todd Anderson to embrace his creativity and let the magic happen.
This latter scene is among the film's most powerful, as it leans into its ultimate message: when we think beyond ourselves – beyond these temporary bodies into what makes us human – then we find who we really are, and what we are capable of. What we choose to do with that information is up to us, but Williams and Weir go to great efforts to push us to that point to realise in and of ourselves the sorts of people we have the potential to be: it is then down to us to realise that potential – something that makes those final five minutes hit harder than any ending I can think of. Despite not winning an Oscar for his turn here, Williams showed, and continues to show over 30 years later, why he truly was one in a million.
In addition to its lead, film such as this needs a good group of lads at its forefront in order for any of its emotional impact to land – and thankfully these boys are more than up to the task. At the head is Robert Sean Leonard as Neil, who's struggling to find a way to become his own man when he's restricted by an uptight father. Moved and inspired by Keating's manner of teaching, Neil restarts the Dead Poets Society with the aim of helping him and his friends become better men – to varying degrees of success as Neil inadvertently finds himself at the centre of something bigger than he ever bargained for. Rounding out the gang are Allelon Ruggiero as Meeks, Dylan Kussman as Cameron, James Waterston as Pitts, Gale Hansen as Charlie, Josh Charles as Knox, and Ethan Hawke in a career-making turn as the aforementioned Todd Anderson. Each of the lads throws their all into their roles, breathing life into these flesh-and-blood boys and elevating Tom Schulman's beautifully lyrical screenplay into something more alive than a film has any right to be. The bonds between the boys are tested to the extreme over the course of the narrative, and not all come out unscathed. Though it is many things, Dead Poets Society is also a love letter to the power of words, which, when used correctly, can at once shatter our hearts and piece them back together again, leaving us forever changed.
Perhaps that is why this is a film that resonates with me so much on such a personal level. It came along at a time in my life when I was struggling with the sort of man I wanted to be, and as such I felt like Keating was speaking straight through the camera, directly to me. It helped me realise things about myself that I would never have otherwise considered, and although its final moments left me shedding more tears than I perhaps ever have at any film I have ever seen, I felt liberated. Never has a film spoken to me quite like Dead Poets Society – I felt seen, acknowledged, understood, and accepted in a way that I have never known in a film before, and I immediately knew that my life would change for the better. Though it makes no secret to hide the fact that it is aimed at young men such as myself, this is a universally accessible feature that wants to teach us two extremely important life lessons: you are known, and you are loved. Such is the power of Dead Poets Society; such is the power of cinema.
Verdict:
If such a thing as a perfect film ever existed, then this is it. Dead Poets Society is a heartbreaking, transcendental film that speaks to people on a deeply, deeply personal level that many films strive for but so few ever achieve. O Captain, my Captain – from the bottom of my heart, thank you.
10/10
Dead Poets Society is available now on DVD and Blu-ray.
---
After some more life-changing cinema? Check out these other articles on Redbrick Film:
Multi-Review: Little Women (2019)